September 2nd 2011
Sincere apologies if I have not replied to your email. I have been inundated with very urgent work these last several weeks.


REPORT in 50 languages including - French, German, Spanish, Italian, Swedish, Dutch, Portuguese and Hungarian - and many others. Be very patient with the grammar of these automatic translations.
COMMENTARY: GIFTED PSYCHCS WHO

WORK WITH THE POLICE ARE NOW CALLED 'FORENSIC PSYCHICS'. When the producers invited psychics to be tested for the Australian and New Zealand versions of Sensing Murder they asked them to do a preliminary test. They had to give details of a solved murder case saying who was killed, where, why and by whom by looking at a photo of the victim. Only 5 out of 100 applicants (in Australia) and 3 out of 75 (in New Zealand) were able to give the details correctly. Clearly some psychics (and I include mediums in that term since all mediums are psychic) are more gifted in helping police than others.

The police are using 'forensic psychics' more often these days but there has to be a bond of trust and discretion and the psychics need to keep quiet about their role. Police are sometimes deluged with information from sincere people whose psychic abilitites have not been fully developed. If 'psychics', or the victims' families (who often bring psychics into a case) go to the media it creates problems.
Media publicity can lead to distortion and embassment. As well it can put a psychic at risk from a killer who does not want to be exposed. And most importantly it gets the police off side because it implies that they can't do their job properly. All psychics are then put into the same box of 'publicity hunters' trying to build a reputation and promote their tours and even the best psychics are blocked from giving information.

In spite of the difficulties a number of brilliant psychics have been able to form working partnerships with detectives. I now have

attestations about these 'forensic psychics' from some fifty police officers of high rank. One of the cases I included in my list of cases in PSYCHIC DETECTIVES shows that the psychic actually identified the killer and told the police where to find the body of the victim - magnificent physical evidence especially when the case had gone completely cold. These senior police officers are coming out in the open and confirming that psychics and mediums do really have special powers and gifts to help them solve crimes.

ABSOLUTELY BRILLIANT EVIDENTIAL REUNIONS IN SPAIN - ROBIN FOY, Co- ORGINAZER OF PHYSICAL MEDIUMSHIP FESTIVAL - According to psychical researcher Robyn Foy, famous for his work in the Scole Experiment, the First Festival of Physical Mediumship in Spain organized by Rob and Barbara McLernon and Robin and Sandra Foy was a stand out success. He has written detailed reports on three materialization sessions with medium David Thompson which can be found on his Physical Mediumship 4 U [which you can join for free]. These were some of the evidential reunions that he reports:
FIRST MATERIALIZATION SESSION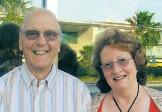 At the first session Ann Harrison (pictured left) was told that she had two people coming for her. The first of these was her husband, physical mediumship campaigner Tom Harrison, who passed just last October . He materialized and spoke with Ann, greeting her in a way known only to the two of them. He kissed her, and then came across the room to speak to festival co-organiser Rob McLernon, and to Robin Foy. Both Ann and Robyn were able to recognize Tom's distinctive voice. As he made his exit, 'Sunrise' - guide of Tom's Mother, medium Minnie Harrison, also greeted Ann in a way she recognized. Lynne, another sitter, had the opportunity to speak to her father. It was an emotional reunion, with evidential information about a pet rabbit she had as a young girl. Her father was able to kiss her. Quentin Crisp helped to bring through Rob McLernon's own guide George. This contact was very evidential for Rob, as the medium had no idea whatsoever of the identity of any of Rob's own guides. Read more on the Physical Mediumship 4 u site... [you need to join to access the report]

Reports on the other two sessions in Spain next week. Again well done David Thompson and Christine Morgan and the team in spirit. It takes an enormous amount of courage and dedication to travel across the world to demonstrate physical mediumship.






LAWYER'S CROSS-EXAMINATION OF INSTIGATOR OF THE GREATEST $1m HOAX IN PARANORMAL HISTORY: Subscribers are enjoying these highly entertaining cross examinations.

Read this week's SUMMING UP TO THE JURY
Part 1
Part 2


Part 3
Part 4
Part 5 (Revised - Police v skeptic J.R.
- 8 more police cases)
Part 6
Part 7
Part 8
Part 9
Part 10
Part 11 Summing up to the jury.



RUSSIAN PHYSICIST CLAIMS ENERGY FIELD INFLUENCES THE WORLD: A Russian

scientist is trying to convince people they can change the world simply by using their own energy. He claims that thinking in a certain way can have a positive or negative effect on the surrounding environment. "We are developing the idea that our consciousness is part of the material world and that with our consciousness we can directly influence our world," said Dr. Konstantin Korotkov, a professor of physics at St. Petersburg State Technical University. To bridge our understanding of the unseen world of energy, scientific experiments are being carried out using a technique called bioelectrophotography.




DR ALAN BOTKIN ON OVERCOMING TRAUMATIC GRIEF Psychotherapists today are consistently helping grieving people experience a reconnection with someone who has passed away, resulting in healing deep sadness associated with grief. The method of inducing this experience, called "induced after-death communication" or IADC®, was discovered in 1995 by Allan L. Botkin, Psy.D. Most people believe their experiential reconnection is real, but they do not have to believe in the authenticity of the experience to benefit from its profound healing effects. Read more...


AFTER EFFECTS OF NDES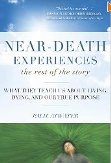 P. M. H. Atwater, L.H.D. is one of the original researchers in the field of near-death studies, having begun her work in 1978. From a research base of nearly 4,000 face to face interviews with adult and child experiencers, she has written nine books about her findings including her most recent excellent book "Near-Death Experiences- the rest of the story." Her new website contains many wonderful articles including a paper on the physical and psychological after effects of a NDE. She writes:
" Not only do near-death states tend to enliven and enrich people's lives, and nudge them closer to a more respectful and spiritual nature, they can also confuse people and lead to alienation and depression. Because of this, the full pattern of aftereffects, a pattern of occurrence as much physiological as psychological, needs to be recognized in therapeutic settings as a unique and transformational state of consciousness."
Read her paper...


DR BRUCE GREYSON ON THE AFTER EFFECTS OF NDES Thanks to Kevin Jones for this link.



HOUDINI'S CODE - FROM THE AFTERLIFE - TO HIS WIFE BESS CONFIRMED BY HIS WIFE TO BE CORRECT.


When magician Harry Houdini died in 1926 he left a widely publicized statement that if there were anything to the claim for survival he would get through to his wife (Beatrice known also as Bessie) with a code message which only she could decipher.Thanks to Robin Evans for sending a copy of the statement made by Mrs. Houdini the day after receipt of the message in 1929 through trance medium Arthur Ford. Witnesses: Mr. H. R. Zander, Representative of the United Press; Mrs. Minnie Chester, life-long friend of Mrs. Houdini and Mr. John W. Stafford, Associate Editor of Scientific American (see image below). I also reported a couple of years ago in a weekly Friday Afterlife Report that a spirit claiming to be Harry Houdini came through with Sir Arthur Conan Doyle (they were friends when alive) through David Thompson's materialization mediumship. I actually conversed with the energy calling itself 'Houdini'. He would not let me cross-examine him saying, "You're trying to cross-examine me.. not now ..."

Read Arthur Ford's account of receiving the Houdini messages here.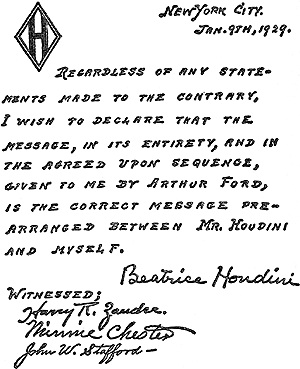 REINCARNATION INVESTIGATION- CAPTAIN BOB SNOW APPLIES HIS INVESTIGATIVE SKILLS
PSYCHIC DETECTIVES: SENIOR POLICE OFFICERS SUPPORT GIFTED 'FORENSIC PSYCHICS' Monroeville police work with PSYCHIC NANCY MYER, (pictured below) " The elderly man had been missing for weeks. Neither the local nor state police had any clues. Search dogs and

helicopters turned up nothing. And the grieving family was demanding answers. Monroeville police detective Will Greenaway couldn't figure out what happened to Sylvester Tonet". So, the family of the missing man Sylvester Tonet suggested to the police officer Will Greenway to bring in a gifted missing persons psychic. Enter psychic/medium Nancy Myer. This gifted psychic gave information to police officer Will Greenaway that made it possible for the Monroeville Police to find the missing man:- Plainclothes police officer Will Greeway said, "I was skeptical at first, but as Nancy began to forward information about the case, I knew I was dealing with a genuine psychic because all information was deadly accurate. Nancy Myer drew a map – showing roads, pond, the rail line, forest, ravine". The psychic with the police went physically in the area – and found the frozen body in the snow exactly where Nancy Myer told them where they would find it. Well done Nancy Myer!! PSYCHIC DETECTIVES




MEDIUM GEORGE ANDERSON ANSWERS QUESTIONS ABOUT THE AFTERLIFE


In this interview with talk show host Joel Martin, tested medium George Anderson answers a number of frequently asked questions about the afterlife including:
Where is it that we go when we die?
Can the spirits come right out and tell you what the other side is like?
Will a suicide, for example, remain on a dark plain?
Once over there, do we maintain the relationships we had here?
Read more....


DIRECTLY FROM LISA WILLIAMS, MEDIUM EXTRAORDINAIRE! (short version): " Well

Norway here we come!! Whoohoo!! Heading back to Norway is very exciting but this time, I am also going to Sweden and Finland, I can't wait. No matter where I go and what language they speak everyone is so lovely. And I'm not sure if you realize this, but Spirit have no language barrier, so if they want to get a message to you, they will and they will do their best to say it in a way that I understand. It's amazing. They help me to help you! ...Hugs, Lisa"


A HIGHLY CREDIBLE INTELLIGENCE: DIRECTLY FROM THE AFTERLIFE DIMENSION"

I know nothing of a jealous, vengeful deity, a capricious or partisan God. I have seen the operation of NATURAL LAWS in every aspect of universal life, not only in your world of matter, but in the world of spirit which is my natural habitat, and wherever I have gone I find that natural law rules. There is no chance, no caprice, no miracle, no accident. All is due to CAUSE AND EFFECT which follow one another in a sequence that is methodically exact and inviolable. Natural law rules throughout the whole universe and all that takes place, no matter where you look, whether it be in the realm of insect life, in human life or in planetary life, always you will see that LAW is in operation. (S.B. The Seed of Truth).