July 15th 2011
Apologies if I have not replied to your email.


REPORT in 50 languages including - French, German, Spanish, Italian, Swedish, Dutch, Portuguese and Hungarian - and many others. Be very patient with the grammar of these automatic translations.
COMMENTARY: PSYCHICS - MEDIUMS-HEALERS LEGAL LIABILITY - (PART 2)


A most significant aspect of the law in relation to any legal matter against a psychic, medium or healer is that the matter is very likely to come under the 'UNDUE INFLUENCE' cases.
This means the matter would be treated the same way as if a patient had a legal matter against a medical doctor or a psychologist or psychiatrist. The dangerous principle here is that there will be a 'PRESUMPTION OF UNDUE INFLUENCE' where the psychic is assumed to be the contractually dominant party and therefore ASSUMED TO BE LIABLE in any legal matter. The usual assumption of innocence does not apply in the cases where there is a 'presumption of dominance'.



What this means is that instead of the client having to prove that the psychic/medium/healer was negligent or in any other way at fault, the onus of proof shifts. Instead it is up to the psychic/medium/healer to prove that he/she was NOT negligent or at fault.
It is highly recommended that psychics/ mediums and healers have an exclusion clause on their website/receipts indemnifying themselves against claims of negligence however caused. Of course, an aggrieved party may challenge an indemnity clause if it is not 'reasonable'. There is a whole body of law regarding the invalidation of exemption clauses.


PART 4: LAWYER'S CROSS-EXAMINATION OF INSTIGATOR OF THE GREATEST $1m HOAX IN PARANORMAL HISTORY: Received a number of responses - here is just one response from last week's cross-examination,"Victor ... that cross-examination of yours is so entertaining ... Never seen anything like it before ... most original and most impressive ..." J.

Click here for this week's PART 4




Part 1
Part 2
Part 3

Next week Part 5
Comments on cross-examinations welcome vz@victorzammit.com


'COURTROOM SCIENCE?': (phrase related to me this week by American

attorney Mike Danner): What happens in a courtroom is in fact a special type of 'scientific analysis'. No doubt, cross-examination is an art itself, but it also has 'scientific' ingredients. Skilled cross-examiners use highly evolved objective techniques. Read more ...


DR PIM VAN LOMMELL- What Near Death Experiences Can Tell Us About the Self
Thanks to Kevin Jones for letting us know about this excellent video.




DR DEAN RADIN WRITES:


My colleagues and I appear on an episode of "Through the Wormhole" on the Discovery Science channel. It will be repeated a number of times on the air, it will eventually will be viewable on the Discovery website, and it is available now on YouTube. Note that on YouTube you can find all of the segments of this show, each of which is 10 minutes in length. My piece is in Part 3.


INTERVIEW WITH RUPERT SHELDRAKE
This complete, unedited interview with Dr Rupert Sheldrake was filmed for the documentary "The Afterlife Investigations" about the Scole Experiment.

WHAT ONE OF THE GREATEST MEDIUMS IN THE WORLD, ALLISON DUBOIS, SAYS ABOUT VICTOR:

(We know of Allison Dubois through the magnificent television series MEDIUM - based on her experiences when she worked in the courts and had assisted the police in solving crime) Taken from an Australian leading national weekly magazine NEW IDEA (July 11th 2011): "Australian lawyer Victor Zammit is a most interesting man who I've been corresponding with for years. He's wise and has a great sense of humor when it comes to life, and he makes a compelling argument for life after death. Skeptics want believers to prove there's life after death and Victor wants the skeptics to prove that there isn't life after death! Check his website – it'll broaden your understanding of believers as well as non-believers. (signed) Allison Dubois.
Read the full page in the NEW IDEA journal. (scroll down ...)
Thank you so much dear Allison Dubois, very sweet of you! We in Australia will always remember you. Victor XX


DEATH IS AN ILLUSION- BOOKS AND WEBSITE
BY ELSE BYSKOV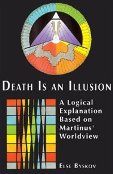 "Death Is an Illusion - A Logical Explanation Based on Martinus' Worldview" is a general introduction to the teaching of Danish mystic Martinus Thomsen, known as Martinus (1890 – 1981) who at the age of thirty had an overwhelming experience of onenness
which left him with an expanded consciousness: "It was as if he had been linked up with an immense sea of knowledge, a divine bank of data." During the course of his life, he wrote over 40 books which collectively became known as The Third Testament. Else's books and website outlines her own search for a logical explanation for the mystery of life which she feels was answered by Martinus' teachings.

THE UNDISCOVERED COUNTRY- a companion book is a non-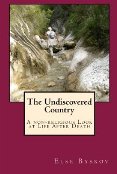 religious look at the evidence for life after death with particular reference to
•The near-death experience
•Children that remember previous lives
•Regression therapy
•The study of death and dying
•Deathbed visions
•After death communication
•The afterlife experiments

Else's website is a wonderful resource which has versions in English, Danish, German and Spanish.
http://www.deathisanillusion.com/
THE AFTERLIFE IS KEEN TO HELP SCIENTISTS AND PHILOSOPHERS "The scientists and philosophers of the earth

are not entirely unknown to us here. Naturally if any one of them shows the least glimmering of perceiving the truth of the reality of the spirit world, we are anxious to bring that man forward as much as we are able, so that by adequate investigation and research he may become a spiritual beacon, as it were, for the incarnate. So much weight is attached to the words that fall from the mouths of the famous on earth that it is not only a matter of the truth but of who speak that truth." former Catholic Mons Hugh Benson through Anthony Borgia in Heaven and Earth.
EVIDENTIAL BRITISH MENTAL MEDIUMSHIP
"No-body could have known".


REINCARNATION ACROSS RACES


Most of Stevenson's publications deal with non-Western subjects, especially in Asia. However he also spent more than thirty years compiling interesting reincarnation cases from Great Britain, Hungary, Iceland, Finland, Belgium, Italy, Germany, France, Austria and the Netherlands published in his book European Cases of the Reincarnation Type. One interesting case is of a young boy born in Hungary who showed memories of a life in Africa.
Read an excellent summary of this case.



CHILD PRODIGY- EVIDENCE OF REINCARNATION OR SPIRIT CONTACT? I'm always interested in cases of child prodigies where the child had skills and knowledge that were not developed by the parents and where they seem to be getting works fully formed "from inside my head".


THE AMAZING PSYCHIC ART OF FRANK LEAH
The portraits on the left (below) were drawn by a psychic artist, Frank Leah who worked in the 1930s, 40s and 50s and had no access to today's information technology. The comparison photographs supplied by families after the portraits were completed sometimes took months or years to find. The wonderful book about his work "Faces of the Living Dead" is crammed with similar psychic drawings matched to pictures of his spirit subjects. .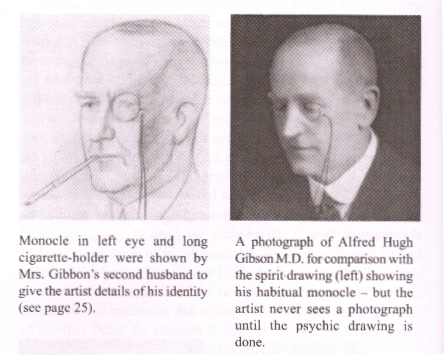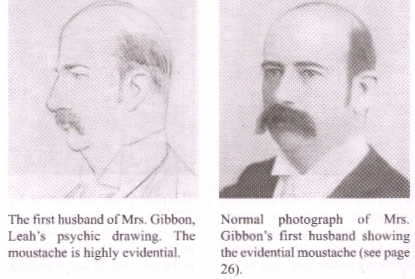 DO PETS SURVIVE DEATH?
Bob Olson interviews psychic medium Carol Lynne on this very important topic. On several occasions in David Thompson's seances we have had pet dogs materialize and bark and on one memorable occasion David's pet rat was materialized and placed on his lap.



IMPORTANT AFTERLIFE 2012 CONFERENCE IN

VIRGINIA BEACH VA. Terri Daniels (pictured) writes: The Second Annual Afterlife Awareness Conference! Registration is now open. We are delighted to announce that the 2012 conference will be held in Virginia Beach, VA., home of Edgar Cayce's Association for Research and Enlightenment (A.R.E). In addition to a great lineup of top-tier presenters, workshops and activities, our agenda will include tours and presentations at A.R.E. We are honored to have some of top afterlife researchers in the world on our roster of presenters, including Dr. Raymond Moody, Dr. Melvin Morse and Dr. Stuart Hameroff. We'll also have a special presentation by noted psychic medium Suzane Northrop, as well as numerous other impressive speakers and inspiring activities, with more being added every day. FULL DETAILS AND REGISTRATION.



HELP WANTED URGENTLY! A grief-counselor or person

able to support a grieving mother in Southern Queensland, Australia is needed. A sensitive lady lost her young teenage son through an accident. She loves him and misses him very much. Is there someone who has experience in this special field who can assist? Because of circumstances this lady does not have the extra financial means for professional top notch care. But I know there are some wonderful people and groups in our community who could really help someone in urgent need of help. If you can help contact me vz@victorzammit.com



OUR DISCUSSION GROUP ON FACEBOOK was started

three years ago by Caroline Sloneem (pictured left). She and group's facilitators and regular contributors and highly knowledgeable, experienced and very patient and supportive of newcomers. Spiritual? Sceptic? Evidence for Existence of the Afterlife is a space where you can discuss any of the issues raised in our reports, share your experiences and ask questions in a safe and respectful space. The changes on facebook make it easy to navigate so if you haven't been there for a while check it out.



DEALING WITH GRIEF- LISTEN NOW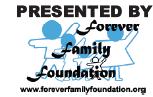 The death of a loved one often causes devastation to the family left behind. Those in such grief often describe having a part of them die as well and are lost in their efforts to lead their "new" lives. Some begin a search for meaning and answers, some look for evidence that we survive our physical deaths, and others refuse to entertain any possibility that our consciousness survives. Listen now as Forever Family Foundation members discuss their lives after suffering the loss of a loved one. Archived program (be patient it takes a few minutes to download).




FEEDBACK:
1) Thank you Victor and Wendy, for this always interesting weekly email. Joining you in fascination, and deep understanding of the power of the soul to communicate after death....when we all get still enough, watch for and listen for the signs and messages that are ever present. Love and gratitude,
Lynne

2 ) As always, thank you for all your efforts and for the Afterlife Report. So much work that you and Wendy put into this. Invaluable to the human experience. Jennifer

3) I hope you keep doing the weekly reports as I look forward to it every Friday.... Love and Light Carole