Bringing light where there is darkness and hope where there is despair."

April 24th, 2020


Last week's report and all previous reports





COMMENTARY: STAYING GROUNDED IN TIMES OF CHANGE The message coming from many spiritual teachers and traditions is that the best way to thrive in difficult times is to use what is happening as an opportunity for spiritual growth. They all point to the importance of staying grounded and focusing on our spiritual practice, of prayer and meditation, of making what is happening inside ourselves the focus. When we are calm and centered and focused on the eternal, we are in a much better position to stay resourceful and connected with our inner guidance system and so make good decisions.

Michael A Singer and Tami Simon discuss the importance of building resilience during these challenging times. Michael stresses the importance of protecting your immune system by staying calm, clear, open, and filled with good energy.



A Spiritual Leader from the Andes Mountains points out that a lot of the energy of fear, of worry, of doubts, that we feel is not coming from ourselves, "it is simply the energy of others, which is coming towards us so that we can transform ourselves as catalysts of that energy and transmute it, release it again converted in light." Watch her message in full.

Silver Birch:
"You must learn to rise above fear and not to allow its vibration to hinder you, to have perfect faith and confidence and trust, to know that you can stand on your feet and say: 'I am the Great Spirit and the wind of circumstances cannot shake me. I will rise triumphant over every difficulty because of the infinite power which is within my soul."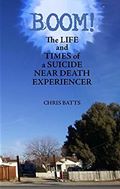 "BOOM! THE LIFE AND TIMES OF A SUICIDE NEAR-DEATH EXPERIENCER" Simon Garfield Brown creator of the brilliant Past Lives Podcast talks with Chris Batts, a para-educator and para-translator for special education children. He lives in Southern California and is scheduled to speak at the IANDS conference set down for September 2020 in Salt Lake City. Read more about Chris' story and Listen to the interview.


WILLIAM BUHLMAN ON THE BIG PICTURE
We can always rely on out-of-body experiencer and spiritual teacher William Buhlman to give us an expanded perspective. Here, he claims that by coming into a physical body, we are making an enormous advance in consciousness and experience, moving from a non-form-based reality to opening to experiences through the entire multi-dimensional spectrum. William is a superb teacher and writer, and we highly recommend all his books. Read more.




ENHANCED PERCEPTION IN THE HIGHER REALMS Out-of-body explorer Jurgen Ziewe is one of the few who describes the beauty of the higher levels in the afterlife from extended first-hand experience.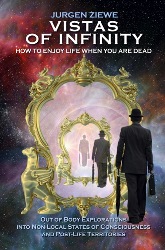 "Every sensory facility is greatly enhanced, but we will find that emotions have a much greater range, often with many more nuances of joy or other positive feelings, which makes the experience here so distinguished from everything we have ever known.

A much broader range of colours with hues we never knew existed can be perceived, and the same applies to sound as well as other perceptions, including smell and taste. We will simply have greater direct access to the intrinsic energy that is manifested in the objects of the world surrounding us, so when we look at a stone we will connect to the energy of the stone with its unique aura and consequently the whole world surrounding us comes to life, is lit up from within and may respond to us as we pass." Excerpt from the book "Vistas of Infinity - How to Enjoy Life When You Are Dead." (Jurgen Ziewe, 2015):



THE TRANSCENDENCE OF TIME IN SHAMANIC PRACTICE Michael Harner, Founder of the Foundation for Shamanic Studies, explains how shamans can be absent from their bodies for 30 minutes, but experience it as being away for days. They can also use rhythmic drumming to travel at will into the past or future to help and heal others. His book The Way of The Shaman is a classic.





MARK MACY ON WHAT IS NEEDED TO CREATE ADVANCED ELECTRONIC CONTACTS WITH OTHER DIMENSIONS In his work with Instrumental Transcommunication, Mark Macy has consistently

emphasized the need for extreme harmony and single-mindedness in creating a successful "bridge" to the afterlife. Mark's article should be essential reading for anyone working in this field.

" ....if a few individuals are committed to sustaining resonance (and all that that entails, such as each member's constant fine-tuning of self), they've provided fertile ground for an ITC bridge.
On top of that, they'll need one highly sensitive person. That's someone who's not just psychically sensitive (someone who gets clear, reliable impressions from finer spiritual beings while dreaming, meditating, and 'day-dreaming'), but also emotionally sensitive—trusting, loving of all creatures, empathetic to those less fortunate, and so on. That is the kind of disposition that resonates with the finer realms of spirit… and an ITC bridge cannot be formed that does not resonate with the finer realms of spirit." Read more about What I Learned From ITC (Part 6): To Establish a Bridge



DOCTORS AND SPIRITUALITY: WHERE SCIENCE MEETS THE SOUL Susanne Wilson discusses spirituality with three physicians: Eleanor Concepcion ("Connie") Mariano, M.D., F.A.C.P. Rear Admiral, U.S. Navy (retired); Eben Alexander, M.D., and Jeff O'Driscoll, M.D., Intuitive Mentor.





THE LAW OF CAUSE AND EFFECT
We know that the conditions we will experience in the afterlife depend on the level of our consciousness - our vibrations. We are creating our future lives here and now by our thoughts, words, and deeds. Mons. High Benson put it like this: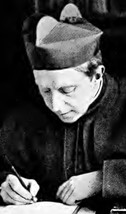 "Whatever a man sows upon earth that will he reap in the spirit world. Such is a full statement of the text. That is the law. The great, inescapable, inevitable, infallible law of cause and effect. It is minutely exact and perfect in its operation. It is incorruptible; there is no bribery that will touch it; no privilege can lodge a claim against it. It operates alike upon ALL men, regardless of age or sex, regardless of social position; regardless of occupation. Whether 'king or commoner,' cleric or layman, rich or poor, all come alike under the supreme law of cause and effect, and it acts in exactly the same manner with each individual." (MORE LIGHT 1995 ed., page 27).



AFTER DEATH CONTACTS An after-death communication (ADC) is defined as an experience occurring when a person is contacted directly and spontaneously by a loved one who has died. ADCs are probably as old as human history and may explain why ancient cave dwellers buried their dead in ways suggesting they were aware of their afterlife. Christine is the author of a book about Children's contacts with departed loved ones: Heaven Talks To Children: Afterlife Contacts, Spiritual Gifts, and Loving Messages.



Read more about the twelve most common types of ADC.



NEXT WEEK'S AFTERLIFE ZOOM GROUPS


Sunday 26th April 2020


Mediumship Development with Dr. Susan Barnes.
Developing the skills of mental mediumship and blending with spirit.
Meetings: Every 2nd and 4th Sunday
Times: 2.00 p.m. New York time Next meeting Sunday 26th April
Coordinator: Dr. Susan B. Barnes, CSNU susanbbarnes@gmail.com
Online in Zoom https://zoom.us/j/8738817733


Global Gathering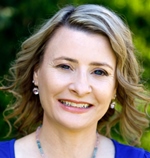 Our guest on the Global Gathering this week will be Kelly Mercieca, an Australian Professional Animal Communicator and Reiki Master who has clients worldwide. She has a Diploma in Animal Communication and Healing, and connects with animals intuitively and telepathically. This enables her to feel their emotions and feelings. She talks with them in a two-way conversation using all of her senses. She will be discussing what an Animal Communicator does and the benefits for both the pet and their owner. Read more about Kelly.


Please note new times since April 4th
Please double-check your time
IN THIS LINK
Los Angeles 2 p.m. Sunday
Phoenix 2 p.m. Sunday
Chicago 4 p.m. Sunday
New York 5 p.m. Sunday
London 10 p.m. Sunday
Rome 11 p.m. Sunday
Sydney 7 a.m. Monday
https://zoom.us/j/7595442928


Tuesday 28th April 2020

Spirit Art
We are meeting for the purpose of creating spirit art with messages.
No art experience required.
Every 2nd and 4th Tuesday at 9 p.m. New York time,
Next meeting after this week Tuesday 28th April 2020
https://zoom.us/j/8738817733
Coordinator: Dr. Susan B. Barnes, CSNU susanbbarnes@gmail.com



Wednesday 29th April 2020

Physical mediumship development group
8 p.m. Central time; 9 p.m. New York; 6 p.m. Pacific Time;
The group is now admitting new members.
Participants sit in a darkened space in their own homes; the group has been going for some time and members are experiencing phenomena.
https://zoom.us/j/4381898190
Contact Rob Blackburn (rkblack@mtco.com) or Craig Hogan (r.craig.hogan@afterlifeinstitute.org) before joining the group.


Deepen Your Conversation with Your Loved Ones who have Died
Based on the teachings of Rudolf Steiner and Lynn Stull
A second round of 6 consecutive weeks which began on Wednesday March 25, 2020 at 8-9 pm EST
During this Zoom Group you will learn to:
*identify the steps to assist your loved one while in the afterlife
*help to prepare them for their next incarnation
*collaborate on activities which will create a better world now and for them to reincarnate into.
Zoom link: https://zoom.us/j/859154703
Please contact Lynn or Mary Beth to register and to receive additional class information.
Lynn Stull, lynn@lynnstull.com
Mary Beth Slivka, marybeth@evaluator.com


Saturday 2nd May 2020

Love After Life
Rebuilding a happy, fulfilling relationship with our **ROMANTIC** soul-mates / twin-flames who have crossed over.
Every Saturday (US TIME)
Online via our own Zoom Group, must be a member of the FB group 'Love After Life'
Coordinators: Mary Beth Spann Mank mbspann@aol.com & William J. Murray wjmurray@design249.com


More details of meetings

Videos of past Global Gatherings

More good news stories from Future Crunch.




TRANCE MEDIUMSHIP WISDOM FROM NICK PETTITT Nick says he used to sit with Colin Fry and David Thompson when they lived next door to each other in Haywards Heath about 20 years ago. He then joined a physical mediumship development circle called The Mercury Circle and later became their circle leader. The circle ended in 2008 when the medium passed over. I was also developing trance mediumship around this time and in 2012 began to sit regularly in Eastbourne with another lady, Liz. He records and transcribes his sittings. Read more.


THE 10th ANNUAL AFTERLIFE CONFERENCE PANDEMIC EDITION June 5, 6, and 7 2020 - ONLINE Dr. Terri Daniel has had to cancel the face to face conference planned for June 2020. The good news is that you can watch it Live or recorded from the comfort of your own home.
Read More.


SYDNEY IANDS GOES ONLINE
We love this small group of Sydneysiders who meet monthly at the Narrabeen Tramshed. Because of the circumstances the monthly meeting had been moved onto Zoom. This coming Sunday, the meeting is at an earlier time to accommodate a speaker from the USA. Sunday April 26, 10 am -11:30 am. Read more.



See Victor on Video
* Subscribe to Victor's Youtube Channel:
* What Happens When you Die
* Afterlife and Science
* Near Death Experiences- Evidence of the Afterlife?
* What You Must Know Before You Die
* David Thompson's Materialization
* Million Dollar Challenge
* The Afterlife on Trial
* A Lawyer on the Afterlife
* Suicide is not the answer
* Religion and the Afterlife
* Ghosts- Randi and closed-minded skeptics when they die
* Zwinge Randi's Challenge Exposed ... Lawyer Explains
* Why Professor Richard Dawkins is Wrong
* God--the Evidence (Without Religion)
* Afterlife Without Religion
* Skeptics Demolished
* Afterlife Objections Demolished
* Ghosts- Randi and closed-minded skeptics when they die
* Victor Zammit speaking at Speakers Corner
* Materialized Houdini speaks to Victor




FEEDBACK: (Three only)

1) Gratitude. There were so many aspects I found value in this week also. Samuel

2) Thank you for sharing and reminding us all that there is hope out there. Daniela

3) I was very moved to see the quilt which Louise made from her late husband's clothes; what a beautiful thing. Keep safe and well both. Alex.


INSPIRATIONAL MUSIC: BECAUSE YOU LOVED ME Our thoughts go out to all those who are grieving or who feel separated from loved ones at the moment.




Whilst we encourage and we publish many papers and reports by afterlife researchers, we are not in a position to guarantee the accuracy of all claims. We accept the imputed claim that the afterlife and paranormal research done by the researchers is done in good faith. ALL WORK IS COPYRIGHT BY THE CONDITIONS SET AT THE GENEVA CONFERENCE