July 11, 2014
Last week's report and read all previous reports



COMMENTARY: IS THERE A 'GOD'? The ongoing 'God' debate - (with Prof. Richard Dawkins, Prof Stephen Hawking and others) provoked the commentary which I published a while ago. But it is still very much relevant to the current God debate. I thank Tom and Lisa Butler for reminding me about it.
"Occasionally, I am asked what I think of 'God' because I do not mention God in my research. I usually allow for people to follow their own concept of God. I was brought up as a Christian so that the concept of God and the 'Trinity' was drummed into me for years. But whilst I accept there is an ultimate power beyond my comprehension, I cannot accept the Biblical Jehovah- a 'jealous God' a God of enormous cruelty, God of vengeance and a 'God of war'. I cannot accept that God willfully ordered the killing of thousands of innocent people because David offended God.

However as an empiricist I have been given the powers of sharp observation. When I look at the universe – seeing billions of stars I see order. A tiny drop of water one millimeter in diameter contains 5,000 billion atoms (5 plus 21 zeros!) all obeying order- the laws of physics. I accept that the order that governs the universe is the product of a UNIVERSAL MIND. I do NOT accept that all has come by chance- because chance does not explain order- a directed force has to maintain order. The possibility of life originating from accident is comparable to the probability of the complete works of Shakespeare resulting from an explosion in a printing shop. Further, when Professor Albert Einstein was asked the same question about God, he replied, "Suppose I bring you a portrait that wins everybody's admiration, do we need to see the artist? No, but we know that there is a MIND that created the portrait."


GEORGE HARRISON'S LAST INTERVIEW- reveals his spiritual search and talks about his desire to learn about life after death.


QUANTUM PHYSICS AND THE AFTERLIFE

Quantum physics, also known as quantum mechanics, began in 1900 when Max Planck used the word 'quanta' to describe the units of force that kept subatomic particles together. It includes the work of Einstein and all the discoveries about what makes up the atom which are still being extended today with the Large Hadron Collider. These are some of the key discoveries so far.....
1) ATOMS ARE 99.99999999999999% 'EMPTY' OF MATTER
This is important in the paranormal because it shows that what we think of as solid is really an illusion (just as all the great religions taught) and that it would be perfectly possible for other solid worlds operating at different frequencies to exist in the same space as ours (just like different radio or television signals co-exist)
NEAR DEATH EXPERIENCE- THE SCIENTIST'S VIEW


NEAR DEATH EXPERIENCE- THE EXPERIENCER'S VIEW




WHAT HAPPENS TO THOSE WHO DIE SUDDENLY?


" Those who have passed away often describe finding themselves outside of their dead bodies immediately after passing. They don't realize they have died, and may walk around the scene as though they were still in a body. Passing into spirit doesn't result in a sudden transformation. After they die, they are the same person they were before death, just without a body."
Read more...
BRILLIANT PSYCHIC DETECTIVES, WHEN POLICE CONFIRM THE PSYCHIC'S GIFTS AND SAY THEY WILL WORK WITH PSYCHICS IN THE FUTURE TO SOLVE CASES: From the television series PSYCHIC DETECTIVES:
Episode: 'Driven to Danger'.
Place: Lamar, Colarado
Case: Murder of male


Psychic: Phil Jordan
Police officers in charge: Detective Rick Black, Det. Rick Hollar
Evidence produced – briefly, by gifted psychic-medium Phil Jordan, "I see things as they actually occur as if I'm right there … I see he had an acquaintance … business deal … has to do with a transaction of a car … He has not skipped town …I definitely feel it's foul play …I feel sharp pain to the head … like penetrating wound to the right side … he has died from a gunshot wound to the head … I see (suspect) with dark

scruffy hair ... beard …disheveled look …I'm getting water … still water like a canal. I feel the body will be found within ten miles from the last time where he was seen … I feel something will be found near the river but not in the river …somehow I can see a face but I cannot see a body with it …orange … the orange color is very important …the color jackets used by hunters … (some time later some five hunters together, wearing orange jacket find a skull … with a gunshot wound to the right of the skull …).
Police find the person the psychic Phil Jordan was talking about regarding a business deal of a car. Police successfully convict the suspect – got life imprisonment.
Police Comments: Detective Rick Black: "Mr Jordan was giving me an impression of the suspect that was accurate … at times it was eerie. Psychic Phil Jordan was strikingly accurate … the psychic always insisted that orange was critical …The psychic removed my skepticism … Where I involved in a similar case to this, I would most certainly use a psychic again."
DETECTIVE Rick Hollar: "Having the psychic telling you what to look for is one thing … then when you actually find those things it certainly gives more credence to the validity of using a psychic …"



'SOUL GROUP': Are group souls people in the same state of spiritual development, with the same interests?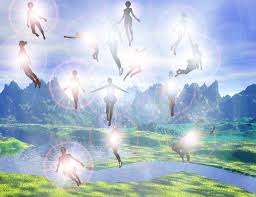 Soul group questions are always interesting as people find that they sometimes with special friends have unusual close spiritual affiliation with them. It appears it is possible for members of the same 'soul group' to incarnate in the same lifetime on earth to help each other and to pursue some spiritual objective. Read carefully this extract directly from the afterlife: - "In spiritual relationships, you have in the supreme case affinities or the lesser instances kinship. Group souls, when referring to their human aspects, are composed of individuals who have a spiritual kinship. Automatically they are drawn to one another because they are 'facets of the same diamond.' It can be, and it does happen, that for purposes of work to be done fragments of the diamond incarnate into your world to have the kind of experience which will help the larger self." Higher afterlife intelligence SBirch.


MEET BRENT ATWATER ANIMAL COMMUNICATOR



'YOUR ETERNAL SELF' - MORE ABOUT THE AFTERLIFE
What a treasure our colleague R. Craig Hogan, Ph.D., has created. You can read his new book Your Eternal Self online on his website which is complementary to and builds the research on this website. His highly recommended book is essential reading for anyone interested in the Afterlife. Look at the website and choose contents page....
http://youreternalself.com/coverlink.htm



RELIGION - more arguments for a new reformation: Vatican says 'INDULGENCES' are valid. The Vatican can get

you a better deal when you cross over if you pay them money. From the Catechism of the Catholic Church, approved by former Pope Ratzinger. "Since the faithful departed now being purified are also members of the same communion of saints, one way we can help them is to obtain indulgences (pay the Catholic Church money - see The Catholic Encyclodpedia " ... to give money to God) for them, so that the temporal punishments due for their sins may be remitted." Section X 1479. But information directly from the afterlife from high sources - including Mons Hugh Benson and Silver Birch and others of their level stated, that no one on earth has the power to change by one iota the Law of Cause and Effect - no one, no Pope, no Ayatollah, no Cardinal, no holy man - no one can change the Law of Cause and Effect. Highly credible information transmitted about this tells us that the Law of Cause and Effect works with mathematical precision.

ON HEALING - DIRECT FROM A HIGHLY CREDIBLE

AFTERLIFE SOURCE."The story of every potential healer and medium follows a similar pattern. They reach that stage when they feel that nothing materially offers any hope. It is then that the soul becomes ready to receive the influx of power and inspiration which will enable the owner to begin to fulfill himself - or herself ... When doctors, despite their skills, learning and experience, say they can do no more, the power of the spirit can often produce results which bring health where it was absent. You will not be able to do this for everybody who comes to you. It is not possible to cure every sufferer who knocks at your door. Some are not read; others have to endure their illness because it is karmic condition which has its part to play in their lives ..." (S. Birch, Light from Silver Birch).



ON SKEPTICISM: WHY IS IT THAT SCIENTISTS DO NOT SUPPORT THE EVIDENCE FOR THE AFTERLIFE?


Victor: Correction: not ALL scientists do not support the afterlife evidence. Let us not forget that some of the most brilliant scientists who ever walked on this planet earth supported the afterlife evidence- scientists, such as Sir William Crookes, Sir William Barrett, Sir Oliver Lodge. In our book A LAWYER PRESENTS THE EVIDENCE FOR THE AFTERLIFE we have nearly two pages of names of brilliant scientists and afterlife investigators who accepted the afterlife. What is happening these days is that scientists can only obtain employment by big business who usually are highly materialistic. Scientists who work for big business will keep their mouth shut for security of employment.

But these days there are retired scientists who wrote and are writing books about why we should accept the afterlife. Wendy and I have some 25 pages of references mainly by scientists who accepted the afterlife.

But remember one very important thing: when it comes to the admissibility of the afterlife evidence, lawyers have higher credibility than scientists partly because much of the evidence for the afterlife involves testimony of first hand witnesses. In cross examinations closed minded scientists do NOT do well at all. See cross-examination of Prof Stephan Hawking. Attorneys are experts in the admissibility of evidence.
LOVE IN ACTION- VIVA LA PASTA

EXPERIENCE MATERIALISATION and TRANCE HEALING WITH DAVID THOMPSON IN ENGLAND


WHERE: The Banyan Retreat Ashford, UK
Seance Dates
Thursday 6th November 2014
Monday 10th November 2014
Trance Healing
Tuesday 11th November 2014
For bookings & Information
'You'll meet me in the light' in this week's report is just WONDERFUL...Kaat
It's my Friday treat... total enjoyment..Mark
Once again, Victor and Wendy, thanks for this wonderful weekly newsletter....Rich.