COMMENTARY: WHAT HAS BEEN THE

GREATEST PROOF FOR THE AFTERLIFE? No doubt, there are many amazingly brilliant areas of evidence for the afterlife: In the new book we list almost 30 of them including brilliant mental and other mediumship EVP, ITC, Proxy Sittings, Poltergeist, Xenoglossy - and other solid evidence. But for me personally the greatest proof for the afterlife has been materializations. This is because for seven years Wendy and I attended materializations with medium David Thompson. When you are in a tightly secured room and an extra person suddenly comes among you it is spectacular. William, David's spirit convener, is solid, able to talk to us, able to answer questions, able to touch us, able to tell us how he materializes and becomes solid. Listen as he claps his hands and stamps his feet.

GREAT REUNIONS: We have been present at more than 150 reunions during David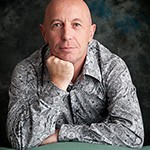 Thompson's (pictured, left) materializations - of someone who died with a loved one still living. The kind of evidence that comes through in a personal reunion is not the kind of thing that can be researched in advance. Spirits say things like what was put into the coffin, thank their loved one for looking after them towards the end, apologize for not being more loving, tell their loved one to be happy and to go on with life or admit they were wrong about the afterlife. What is totally convincing is the extreme emotion of these reunions.

GUARANTEED VALIDITY OF MATERIALIZATIONS: With absolute certainty, there is no fraud. After years of investigating the mediumship of David Thompson, I find that whilst there are many area brilliant areas of afterlife evidence for the open minded, physical mediumship is the greatest, most convincing, most persuasive, unrebutttable evidence in the world to-day.

RUPERT SHELDRAKE TALKS ABOUT THE TEDX ISSUE WITH ALEX TSAKIRIS says that he is surprised at the support he has received and sees it as a paradigm shift in action.


GREATEST EVER VIDEO ON EVP
CALLING EARTH • A rough-cut documentary-in-progress about communication with the deceased through modern electronic technology. (Parts 1 through 9 of 11, so far) Produced, Directed and Edited by Dan Drasin. Associate producer Tim Coleman.
FOREWORD by Dan Drasin • "Because the conscious survival of physical death makes no sense in terms of our materialistic "19th-century" scientific paradigm, Western science is only now beginning to play catch-up in this arena. So please don't take this documentary as the final word. A decade hence we may well look back on this type of research as primitive, but for now it's a start. Just try it on for size and see what you think, keeping in mind that a documentary film can only scratch the surface of any subject. We hope you enjoy it."


Lovely to see German physicist Dr Ernst Senkowski at 11min 30 sec. Tom and LIsa Butler at 12min 55 and Alexander MacRae at 20min 51.
HELP! MORE REVIEWS URGENTLY NEEDED- AND A BIG 'THANK YOU' FROM TO THOSE SUBSCRIBERS WHO GAVE US a '5 STAR REVIEW':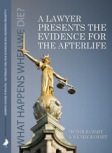 A LAWYER PRESENTS THE EVIDENCE FOR THE AFTERLIFE by Victor and Wendy is now available on
* Amazon in paperback and kindle editions.
* Barnes and Noble in paperback and nook formats.
* The Book Depository in the UK -free delivery worldwide
* The Nile Australia - free delivery worldwide
You can also buy the e-book from:
Kobo and Itunes. Or ask your local bookstore to bring the book in for you from Lightning Source.

IF YOU ENJOY THE BOOK, PLEASE WRITE A REVIEW on Amazon.com or Amazon.co.uk. We are so grateful to all the wonderful people who have already done so much to spread the word.

THERE ARE MANY PEOPLE saying they have a problem putting their reviews on Amazon. You need to have an Amazon.com account and have purchased something (even a 99 cent kindle file) from Amazon. You don't have to have bought the book you are reviewing from Amazon. This short video explains how to post a review. If need to learn how to purchase a book online email books@victorzammit.com
See short trailer for the book.




SKEPTICAL 'TERRORISTS'? CLOSED MINDED

SKEPTICS DOING MALICIOUS HARM IN WIKIPEDIA: With more scientists coming out in the open about the validity of the paranormal and the evidence for the afterlife, the tiny minority of closed-minded skeptics find that they are losing their audience. So claiming to represent "science" and "critical thinking" they have organized themselves to bombard the media, as they did with Ted Talks. One group call themselves "guerilla skeptics". They target wikipedia pages about mediums, the afterlife and the paranormal and 'edit' them to fit their agenda.Tom Butler flagged their activities in relation to EVP a couple of years ago. Their tactics are spelled out in this article and this workshop.
[Note anyone can edit a page on Wikipedia and ask to have it changed if they can cite evidence- it just takes time and energy].



PARENTS REUNITED WITH THEIR MATERIALISED SON- A STORY TO GIVE HOPE
Gwen and Alf Byrne's son Russell died in
1963 at the age of 9. Gwen began looking for (and found) evidence of survival through mental mediums. Then in August 1982 she received a phone call that Russell had materialized at a physical mediumship circle through the mediumship of English medium Rita Goold. He had given the name and address of his parents and asked that they be contacted. After this she was reunited with Russell on more than 100 occasions. He was able to shine a torch on different parts of his body to show he was fully materialized. Read more...




GWEN AND ALF BYRNE TELL THEIR STORY ON VIDEO [ Starts around the 3 minute mark ]



Part 5- Interview with Gwen continued
Part 6- Interview with Alf ByrneAlf mentions the scientists who attended who were not able to make their participation public.

After these experiences Gwen started a support group for bereaved parents. She also wrote a book called 'Russell'. A few copies are available second hand.




WHAT HAPPENS WHEN A CHILD DIES?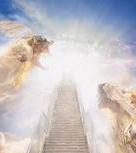 Russell describes his experiences leaving his physical body and settling into the Summerland.

Some of the highlights:
* I knew from the very beginning that I didn't have long upon the Earth plane.
* I now know that you also knew it Mum. From the very beginning you knew I didn't have long.
*During my last days upon the Earth I saw the lights of spirit you know. I saw them many times upon the walls. I saw figures, beautiful figures. I saw figures clothed in white and great shining light that told me my time was not long, but not to be worried because they would be with me. There would be no terror, no horror, nothing nasty and no darkness. It would be all right - they would be there. Read more....



'CONSCIOUSNESS': WHERE SCIENCE TRIED TO HIDE CRITICAL RESULTS: "Anyone who becomes seriously

involved in the pursuit of science becomes convinced that there is a spirit manifest in the laws of the universe ... a spirit vastly superior than man." Prof. ALBERT EINSTEIN. Here is a video where it shows some of the giants of science over the last 100 years conceding the existing of the paranormal, post-physical consciousness and other afterlife evidence: Watch when you have time. (over 2 hours)



ALISON DUBOIS is a superb medium and psychic who has proved

her abilities in extensive testing at the University of Arizona. Allison's show MEDIUM based on her psychic-mediumship skills is the longest running psychic show in Australia - just over some seven years. She will be returning to Australia later this year. Check out her schedule.


IF WE CAN LIVE MORE KINDLY WITHOUT INFLICTING PAIN ON ANIMALS WHY NOT?: Those people who do cruel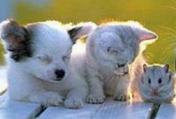 things to others are, no doubt, spiritually retarded. There are those who are viciously cruel to people - and others to animals. Normal people are appalled when they learn that pain and torture is being inflicted on animals by big business for one thing or another - in factory farming, to research soap, perfume, animal foods, and so on. Animals, like humans, are sentient beings and are highly susceptible to pain, fear and trauma. Those who know they are being cruel to animals - for whatever reason - one time in the future will pay the price for their cruelty. The Law of Cause and Effect states clearly: no one gets away with it! Cruelty can only exist in secrecy so that people can pretend it's not happening. Read more about making kind choices. (Has some great cruelty-free recipes).
HEALING AND THE LAW OF CAUSE AND EFFECT:


Can healing over-ride karma - the law of cause and effect? "Sometimes you have a patient with a karmic condition which is a carry-over from a previous existence. If the karmic condition has not out-worked itself, the healing will appear to be a failure. If the patient has reached that stage in spiritual development where the effect has completely followed the cause and there is no more karma to manifest, the healing will be successful because the souls is ready." (S. Birch, directly from the afterlife dimension)


GUIDED AFTERLIFE CONNECTIONS
Dr. R. Craig Hogan writes:


" Thank you for the comment (in the new book) about the potential for our work in afterlife connections. Sometimes we feel discouraged when every day we see the tremendous effect the Guided and Self-guided Afterlife Connections are having on reducing people's grief and convincing people of the reality of the afterlife, but we can't get the word out to people. Any of the 6.5 billion people on the planet can get on the Internet today and have their lives changed in an hour or two. People just don't know these life-changing procedures are available to anyone. We've devoted one website to both Guided and Self-guided Afterlife Connections at afterlifeconnections.org in the hopes that we can get more exposure by combining the message. You've been a great help as we work at making these gifts to humankind available. Thanks.
Love and peace, Craig"

We totally agree Craig.

BASIC GUIDE BOOK FOR DEVELOPING PHYSICAL MEDIUMSHIP Robin Foy writes that he recently had a number of

enquiries from all over the world about developing Physical Mediumship and its phenomena in the more modern 'Energy-Based' way. He claims that the 'Basic Guide Book', was dictated lovingly by the Spirit Team during the now famous 'Scole Experiment' in the 1990's. He also says that a number of developing physical mediums and experimental groups are now already successfully developing different types of physical phenomena quite rapidly using its principles. The 'Basic Guide Book' can be downloaded from the Internet for just 10 euros (about £8.50 sterling). Read more...



DR STEVEN GREER'S 'SIRIUS' PROJECT - visiting

UK CROP CIRCLES: July 27, 2013 - August 3, 2013. Join Dr. Greer visiting the sacred places in the UK and crop circles in the afternoons. Out under the stars at night learning about remote viewing and practicing the Contact protocols you have read about and seen in the film "Sirius". A great opportunity to interact with Dr. Greer in an small group situation. go to http://www.etcontactnow.com for details and submit your application.

EXPERIENCE GENUINE SPIRITUALIST MEDIUMSHIP

In Brisbane Australia 25th-28th May 2013. A Psychic Intensive Weekend Workshop.
A Philanthropic Endeavour to support children in India All funds will be donated to Hope For Himalayan Kids This workshop is anticipated to raise over AUD 3000 to benefit this charity. With International Medium of the Year 2007 Sunny Burgess
Don't miss this rare opportunity to experience an old Spiritualist tradition of table tipping at the end of an exciting weekend delving deep into the spirit world.
When: Saturday 25th and Sunday 26th of May 2013
Where: The Healing Sanctuary, 147 Richmond Rd Morningside
Time: 10.30am until 7 pm Saturday and Sunday
Read more...
LOUISE HERMAN, ONE OF AUSTRALIA'S LEADING

MEDIUMS: WORKSHOP - ACTIVATE YOUR SPIRIT. Just $90. Sydney. Sunday 7th July. 1 Day Workshop-Beginner to Intermediate. Sunday 7th July 2013. As a medium who has conducted almost 500 public demonstrations of "Connecting with the other side", I believe that my spirit Louise Hermann is connecting with the spirits of those on this side of life as well as the other side. We are all connected and what connects us together is varying vibrational levels of love, light and truth. The key to life is to attempt to be the greatest of all you can be in spirit form whilst living a physical life on the earth plane ... enroll now www.louisehermann.com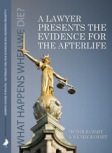 FEEDBACK: SOMETHING SPECIAL: FEEDBACK ABOUT THE NEW BOOK: We decided that for the next few weeks to include some of the most fabulous feedback we received about our new book. Again, thanks a million for your wonderful words.

1) " Victor and Wendy have certainly presented a challenge to anyone who maintains that there is no evidence for life after death, or the existence of paranormal phenomena. A Lawyer Presents the Evidence for the Afterlife should be in everyone's' library."

" As a point of information that adds to the chapter on materialization, Archie Roy also sat in Rita Goold's circle and he saw the toes of a little boy who said that he was Russell. Archie had a torch with red paper over the light and at a given time was asked to shine the light towards the floor. The little boy said 'Watch me wiggle my toes.' He did and Archie saw the toes wiggle and then the torch was lifted up and he saw the little boy's face. In this circle he also had a 'conversation' with Helen Duncan. I have a tape of this. I also have another tape of Helen Duncan's voice from another circle. All I can say is that the phrasing of 'her' words is identical in both tapes and every sentence ended with an upturned tone, almost like a question."

Tricia Robertson
Psychical researcher and Tutor,
P ast President of the Scottish Society for Psychical Research.
Author of Things You Can Do When You're Dead

2) "What an amazing book!"
I was astonished with the amount of references you have supplied to back up the information to further the reading and knowledge. You certainly have gone to a great deal of length to gather all the information together. I love that I can go onto Google and find out more if I want to.

With other people's experiences it will help other readers relate to it and find out that there are other people in the world who had gone through what they have. I never realized just how deep NDEs go with so many variations and circumstances.

You could read this book over and over and still find something new to learn. What's more it is in good plain, easy to understand language so anyone can get something from it.

It is truly an exciting book and I believe it will sell like hotcakes as it is the kind of information people of this world are searching for, the truth and not some fabrication of the truth. I would recommend this book to all of my friends as there is something for everyone.

Sandra Cunliffe.
Sydney Australia.


MUSIC: food for the soul! Listen carefully to this sensational singer Celine Dione singing a million seller 'The Prayer' in a glorious 'virtual duet' with Andrea Bocelli'- enjoy their exquisite harmony.
Lyrics:

I pray you'll be our eyes, and watch us where we go.
And help us to be wise in times when we don't know
Let this be our prayer, when we lose our way
Lead us to the place, guide us with your grace
To a place where we'll be safe
La luce che tu hai
I pray we'll find your light
nel cuore restera
and hold it in our hearts.
a ricordarci che
When stars go out each night,
eterna stella sei
The light you have
I pray we'll find your light
will be in the heart
and hold it in our hearts.
to remember us that
When stars go out each night,
you are eternal star
Nella mia preghiera
Let this be our prayer
quanta fede c'e
when shadows fill our day
How much faith there's
Let this be our prayer
in my prayer
when shadows fill our day
Lead us to a place, guide us with your grace
Give us faith so we'll be safe
Sognamo un mondo senza piu violenza
un mondo di giustizia e di speranza
Ognuno dia la mano al suo vicino
Simbolo di pace, di fraternita
We dream a world without violence
a world of justice and faith.
Everyone gives the hand to his neighbours
Symbol of peace, of fraternity
La forza che ci da
We ask that life be kind
e il desiderio che
and watch us from above
ognuno trovi amor
We hope each soul will find
intorno e dentro se
another soul to love
The force his gives us
We ask that life be kind
is wish that
and watch us from above
everyone finds love
We hope each soul will find
around and inside
another soul to love
Let this be our prayer
Let this be our prayer, just like every child
Need to find a place, guide us with your grace
Give us faith so we'll be safe
Need to find a place, guide us with your grace
Give us faith so we'll be safe
E la fede che
hai acceso in noi,
sento che ci salvera
It's the faith
you light in us
I feel it will save us
Disclaimer: Whilst we encourage and we publish many papers and reports by afterlife researchers, we are not in a position to guarantee the accuracy of all claims. We accept the imputed claim that the afterlife and paranormal research done by the researchers is done in good faith.