13th December, 2013
Last week's report and read all previous reports

For the next three weeks the reports will be coming to you from San Francisco where Victor and Wendy will be visiting.


COMMENTARY: FORGIVENESS


The example of Nelson Mandela shows how important it is to embody forgiveness on a personal level to break the cycle of violence and revenge. No monetary donation or forgiveness from God could have had the effect that his personal examples had on his country at a crucial time.
His capacity to forgive his oppressors in South Africa, after decades of brutality was most powerful. Black South Africans were killed, tortured, brutalized in so many ways over that time that on gaining power they may have seen fit to eliminate every white person there – claiming justified revenge. The anti-white savagery and the backlash would have been too horrendous even to contemplate.
When we reach this level of unconditional forgiveness, we would have reached a very advanced spirituality. Something to seriously consider for the new year of 2014.
A great resource on forgiveness

GLOBAL CONSCIOUSNESS
Events like the funeral of Nelson Mandela can be shown scientifically to affect global consciousness. Roger Nelson speaks about the interconnected nature of consciousness and the Global Consciousness Project. Random number generators react to human emotions and what is most fascinating is that they sometimes react even before an event happens.
http://www.youtube.com/watch?v=D_vbNbAQW0o


THE BRAIN AS A REDUCING VALVE


Dr. Stanislav Grof, M.D., is a psychiatrist and one of the leading researchers into non-ordinary states of consciousness. He has a theory of consciousness based on 'non-ordinary states'. It assumes that consciousness exists as an electromagnetic field outside the body. The brain functions as a "reducing valve" which reduces the amount of input of the cosmic energy that our brains can cope with. When the reducing function is altered (through various triggers such as drugs, psychosis, psychic ability, etc.) or even shut down completely (producing a NDE), the cosmic energy and input that once made up our consciousness is then free to expand. Read more....

LYN MCTAGGART TALKS ABOUT THE LIMITATIONS OF REDUCTIONIST SCIENCE
http://www.youtube.com/watch?v=Mtd00qLYPL8

Near-Death Experiences and the Afterlife
Compiled by Kevin Williams, this page is an outstanding achievement and is by far the most comprehensive resource on NDEs. It contains examples of near-death experiences (NDE's) from many cultures and excellent links. Read more..




AN ANALYSIS OF NEAR DEATH EXPERIENCES COMPARED WITH A COURSE IN MIRACLES
http://www.youtube.com/watch?v=LMprH9t8YhY

NEWS ABOUT DAVID THOMPSON'S MEDIUMSHIP: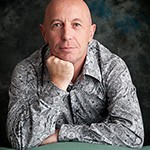 David has conducting a series of workshop in England and Europe to glowing reviews.
" It has been very busy and very successful here in UK. Several seances where the spirit world are endeavoring to experiment with direct voice in lighted conditions and David out of the state of trance. Several personal communications, all verified evidentially. One partner of a lady spoke to her in French, a greeting that they regularly used. Four personal communications in one seance! Phenomena on the ceiling, the walls behind people and excellent trumpet display with two trumpets. A young girl called Louise also has made herself known in the seances more, by touching people whilst the music was being played, walking around the room. Playing with people's fingers and picking up their hands..."
MESSAGES FROM THE AFTERLIFE


Just out this week Mark Ireland's new book.
" The book features detailed accounts of tests and experiments that various people have conducted to obtain proof of consciousness survival, including Ireland's own, involving a secret message left behind by his sister, Robin, who died of pancreatic cancer. The contents of this message were unknown to any living person and remained sealed in an envelope--untouched--until responses had been received from a group of qualified mediums who sought to "crack" the code." Read more...

THE LAWS OF THE SPIRIT WORLD (Khorshed Bhavnagri) The author's two young sons died in an accident --her greatest tragedy---but then they communicated to her and bless her with spiritual knowledge about reincarnation, etc. this becomes her greatest blessing in life to share this with others. Here is an exclusive video recording of the Late Mrs. Khorshed Bhavnagri talking about the book The Laws of the Spirit World.
http://www.youtube.com/watch?v=UyJjOiSlO78
WHY A VERY WEALTHY MERCHANT BANKER BECAME A STRICT

VEGETARIAN: Phillip Wollen writes " I was the merchant banker whose favorite meal was fillet mignon and lobster. Around twelve years ago I was mandated to act for a large corporate client and visited one of their main subsidiaries. It turned out to be a slaughterhouse. And I had never seen a slaughterhouse before. My blood ran cold. This didn't just turn me into a vegetarian. It turned me into a genuinely compassionate human being." Read more...

Since then he has started a remarkable philanthropic endeavor the Kindness Trust and become a vegan and animal rights campaigner. In 2005 he received the Medal of the Order of Australia and in 2007 he won the Australian of the Year (Victoria) award.

He writes:
" Clearly, it is no longer (just) an animal rights issue. It is a social justice issue. Make no mistake about it. Every morsel of meat we eat is slapping the tear stained face of a hungry child."

http://www.youtube.com/watch?v=11IR2DF8SB0



QUESTION: You said in the past that on crossing over we are met by those we can truly trust who will take us to the realm of the Light. Then why does the Church have funeral services AFTER the crossing over? j.s. (N.Y.)
Victor: That is surprisingly a very good question. We have it directly from the afterlife by a former Catholic Monsignor, Hugh

Benson, who transmitted to us that the Church burial services are of no benefit to the person who died. This is because his/her time of greatest need is just before the crossing over. This is the time when positive energies, prayers should be sent to help the soul on its journey. Mons Benson states, " … Church burial services as they are at present constituted both as to time of performance and spiritual content, are mostly too late to be of any practical spiritual value to the departed person." Anthony Borgia (chapter, Burial Service, book MORE LIGHT- download free pdf ).

DR MICHAEL NEWTON'S HYPNOTIC REGRESSIONS
When Dr. Michael Newton, began regressing his clients back in time to access their memories of former lives, he became interested in seeing into the spirit world through the eyes of clients who are in a hypnotized or superconscious state; these clients in this altered state claimed to be able to tell him what their soul was doing between lives on Earth. His book, Journey of Souls, presents ten years of his research and insights to help people understand the purpose behind their life choices. His follow-up book, Destiny of Souls, continues this work.
Read a summary of his findings...




MICHAEL NEWTON- SOULS AND THE SPIRIT WORLD
http://www.youtube.com/watch?v=NnCr4etOZLw


Instrumental- Trans-communication - (ITC) CONTACT WITH ANIMALS?


Anabela Cardoso is a Portuguese diplomat, linguist, founder of a shelter for abandoned animals and a very successful experimenter with instrumental transcommunication. In the following article she describes how ITC experimenters have received messages from loved animals in the spirit world. She writes:
" why would we marvel at animal ITC communications and not at human ones? I would say that in addition to the above mentioned ideas, human arrogance, an attitude that is chiefly based upon the human mental constructs of superior and inferior, also plays a part in it. If we consider animals as 'inferior' we will be surprised that they even survive death and certainly that they could communicate from another dimension. However, if we ponder on the concepts of superior and inferior, we have to realize that they are also erroneous. In Nature, and Nature is all there is, there is no inferior or superior." Read more...


JACK KORNFIELD TELLS INSPIRING STORIES OF FORGIVENESS FROM THE BUDDHIST TRADITION




NEWS FROM THE RHINE RESEARCH CENTRE
The Rhine Magazine is an exploration of interesting and exciting topics in the world of parapsychology. The current issue includes an article exploring one of the early subjects at the Duke Parapsychology Labs - Hubert Pearce, as well as articles about Levitation, Apports, Premonitions, and more. Read more...

FEEDBACK:
1) Hi Victor, As a confirmed animal lover, as well as someone who lived in South Africa for over 20 years, I was enthralled by Anna's video last week. People like her and the equally strong animal lover Anabela Cardoso give me a tremendous lift. Thank you so much for your continuing wonderful work. Warm Regards Al
2) Thank you so much for your weekly report Victor. Every week I remember with joy that it's Thursday night (here in UK) and stay up very late watching the videos. Always inspirational Madeleine.
3) I soooo look forward to Thursday nights now ! thank you Victor !!! Dayna Ket

See Victor on Video



Subscribe to Victor's Youtube Channel:



* What Happens When you Die
* Afterlife and Science
* Near Death Experiences- Evidence of the Afterlife?
* What You Must Know Before You Die
* David Thompson's Materialization
* Million Dollar Challenge
* The Afterlife on Trial
* A Lawyer on the Afterlife
* Suicide is not the answer
* Religion and the Afterlife
* Ghosts- Randi and closed minded skeptics when they die
* Zwinge Randi's Challenge Exposed ... Lawyer Explains
* Why Professor Richard Dawkins is Wrong
* God--the Evidence (Without Religion)
* Afterlife Without Religion
* Skeptics Demolished
* Afterlife Objections Demolished
* Ghosts- Randi and closed minded skeptics when they die
* Zwinge Randi's Challenge Exposed ... Lawyer Explains
* Victor Zammit speaking at Speakers Corner

SOMETHING MOST INSPIRATIONAL: WE REMEMBER

THE GENIUS OF JOHN LENNON - 33 YEARS THIS WEEK WHEN HE WAS ASSASSINATED at the age of 40 years : He was part of the revolution which changed Western values, beliefs and culture. His highly creative music was meant to change the way we see the world. And this had huge influence on the Western world. Mediums in the past stated that was the reason why he was killed. Listen to one of his most memorable songs: IMAGINE where people hearing it for the first time got goose pimples with the huge impact it had on them. Some still get those goose pimples even these days!! Listen to the music and read the lyrics very carefully :

http://www.youtube.com/watch?v=XLgYAHHkPFs
LYRICS FOR IMAGINE

Imagine there's no heaven
It's easy if you try
No hell below us
Above us only sky
Imagine all the people
Living for today...
Imagine there's no countries
It isn't hard to do
Nothing to kill or die for
And no religion too
Imagine all the people
Living life in peace...
You may say I'm a dreamer
But I'm not the only one
I hope someday you'll join us
And the world will be as one
Imagine no possessions
I wonder if you can
No need for greed or hunger
A brotherhood of man
Imagine all the people
Sharing all the world...
You may say I'm a dreamer
But I'm not the only one
I hope someday you'll join us
And the world will live as one
Disclaimer: Whilst we encourage and we publish many papers and reports by afterlife researchers, we are not in a position to guarantee the accuracy of all claims. We accept the imputed claim that the afterlife and paranormal research done by the researchers is done in good faith.