6th December, 2013
Last week's report and read all previous reports


COMMENTARY: LAWS TO CENSOR THE PARANORMAL

AND SPIRITUALISM IN THE U.K.? I was informed that The English Prime Minister is planning to introduce laws which could lead to the widespread blocking of 'esoteric' websites. The Internet Service Providers (ISP) MUST GIVE power to CUSTOMERS to block websites that relate to pornography, suicide, bestiality, obscenity, alcohol, terrorist related content – and 'esoteric' material. Esoteric material could mean that all websites to do with Spiritualism - spirit contact would be censored. Read full article
PMH ATWATER TALKS ABOUT HER NDE RESEARCH



CNN FEATURES PROGRAM ON NDES
It is a measure of the current huge mainstream interest in NDEs that on December 1st Anderson Cooper did a program called To Heaven and Back featuring the Near Death Experiences of Dr Mary Neal, Anita Moorjani and Ben Breedlove.
Read more,,,,
WHAT HAPPENS WHEN YOU DIE?


Directly from the afterlife, "Your society's definition of Heaven is a gross misrepresentation. Heaven sounds like a deathly boring place to be, and I for one wouldn't be caught dead there. All the residents of these spirit realms have well-developed senses of humor, just like you do, perhaps more so. Our humor is never sarcastic or at the expense of someone else. There are many ironies to laugh over and much spirited interchange among us all." A really great place to be!!




AFTER DEATH COMMUNICATION IS NORMAL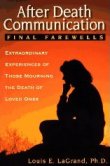 In 1973 a University of Chicago sociologist asked a sample of 1,467 Americans if they had ever felt they had contact with someone who had died. Twenty seven per cent answered that they had (Greenley 1975). A similar survey in Iceland (Haraldsson et al 1976) found that thirty-one per cent said yes.
Dr. W.D. Rees, a British physician found that of a sample of widows in Wales, forty seven per cent had experiences—often repeatedly over a number of years—that convinced them that their dead husbands had been in contact with them (Rees 1971: 37-41). An earlier British experiment by Dr P. Marris (1958) had found a figure of fifty per cent.
Dr. Melvin Morse, a pediatrician who has done many studies of death and dying, claims that they are so common that it is rare for someone to lose a child and not see them again in a death-related vision (Morse 1994: 135).


DIANE ARCHANGEL TALKS ABOUT HER RESEARCH ON AFTER DEATH COMMUNICATION The book, "Afterlife Encounters" is the culmination of author Dianne Arcangel's five-year, international survival study. Arcangel presents all-new, first-hand accounts from individuals who've experienced visitations from the dead. Afterlife Encounters offers a systematic categorization of such encounters.
'PSYCHIC DETECTIVES': POLICE CHIEF AND

SENIOR DETECTIVE PRAISE PSYCHIC:
Case 'The Gambler'.
Place: Gonzales Police Department
Case: Murder of three women
Psychic: Rose Kopp
Police officers in charge:
Chief Bill Landry,
Detective Mike Toney (Ascension Parish Sheriff's Department).
Police Comments: Police Chief Bill Landry: "… the psychic's

description of the suspect - identical to the FBI profile of the suspect! He's …white, five foot eight … he's a laborer … and we found Cindi's former employer at a restaurant. The accused nickname was River Rat – just as the psychic told us before we knew about it – and which I thought it was mind boggling! I think what's important to understand is that you have to believe in the powers of the psychic in order to help you to expand your case or to help you clear up a case …"
Detective Mike Toney (Ascension Parish Sheriff's Department): "There were no tricks or gimmicks here … Rose (the gifted psychic) has psychic ability and she provided that to us and helped us to clear up the case See full article PSYCHIC DETECTIVES case 82

ANIMAL COMMUNICATOR CONVINCES SKEPTIC Anna Breytenbach is an animal communicator based in Cape Town, South Africa. This stunning video shows how she convinces a skeptical zoo keeper that she is able to communicate telepathically with a dangerous black leopard and change his behaviour. Anna believes that all indigenous peoples have the ability to communicate with animals and runs workshops to help people learn to reconnect with the natural world.


Watch the full video and Interview with Anna Breytenbach


DIRECTLY FROM OUTSIDE OUR PHYSICAL WORLD, "I cannot stress to you too much, how important THOUGHT is. THOUGHT is the most powerful thing you possess." Salumet 94/09/12


A BRILLIANT MEDIUM AT AGE 11 SPEAKS WAY BEYOND HER YEARS Cora Richmond became a trance

medium at age 11. From the beginning it was announced that there was a group of 12 spirits, each with different gifts or areas of knowledge who would speak as required on scientific, philosophical historical, political, or other topics chosen by a committee or by members of the audience.

" At age 14, she appeared before a large audience in New York City and was given the topic "The Influence of the Aryan Philosophy upon the Philosophy of Modern Times" to discourse on. The next day, the New York Herald story read, in part: "She gave a most eloquent lecture upon the subject, replete with logic and erudition…and showed a knowledge of the subject far transcending that which [is] possessed by any mortal… Many abstruse metaphysical questions were propounded to her, which were answered with perfect ease and always in the same scholarly, dignified language."

Read more about this incredible medium on Michael Tymn's blog.
SKEPTICAL SCIENTISTS FAIL TO ANSWER MY CROSS-EXAMINATION CHALLENGE: Some people have been asking me recently if scientists have replied to my challenge. My subscribers

were informed not too long ago about my challenge to closed minded scientists to allow themselves to be cross-examined on their beliefs. Very interesting, no genius scientist seems to have the courage to be honest to the people of the world about their closed minded skepticism. I offered to let the world be the jury to decide – to see WHO is being illogical, unfair and unreasonable. I offered to make the cross examination public, so that the whole world would see why scientists will not answer critical questions that will expose the fallacy of their closed minded skepticism regarding the afterlife. Perhaps these skeptical scientists have experienced some kind of true AWAKENING to what is really going on in the world to-day! (See sample of my cross-examinations left column www.victorzammit.com )



GOING HOME- - A MONROE INSTITUTE PROGRAM TO REMOVE THE FEAR OF DEATH

http://www.youtube.com/watch?v=dkTbM63jtT8#t=62


PSYCHIC ESPIONAGE: Russia's Psychic Espionage Service: Nina

Kulagina - from PARANORMAL T.V.: a new youtube I came across confirms that Russia, as the U.S. and some other countries used gifted psychics for espionage. Russia has an extremely brilliant reputation when it comes to espionage. We are informed in documentaries shown on cable television (narrated by actor Roger Moore) that Russia's

brilliant intelligence service penetrated every known intelligence agency known in the world. Here is an example of how the KGB used telekinetic medium Nina Kulagina – and the medium who followed her work after Nina retired from her psychic work. One of the key things is that a gifted telekinetic medium is able to slow down the heart beat – even stop it altogether - first on animals then on humans. One skeptic physician who did not accept her skills volunteered to see if she could stop his heart. Medical observers had to stop the experiment because they said the psychic would have killed - him stopping his heart beat. For those interested, here see for yourselves part one and part two.Nina Kulagina
Part 1. http://www.youtube.com/watch?v=afkDRq8UHeE



Part 2) http://www.youtube.com/watch?v=IBNy-43naOM


REVIEWERS WANTED
BOOK ON GHOSTS AND HAUNTINGS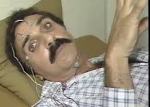 Conversations with Ghosts was an idea for a fourth book for Dr Tanous, (pictured left) a brilliant psychic and researcher who died in 1990. It was intended to be written by Dr Karlis Osis and himself, outlining their various investigations of ghostly phenomena while working with the American Society for Psychical Research. The existing short manuscript - of no more than a couple of chapters - was archived by the Alex Tanous Foundation for Scientific Research, and left incomplete.

Now, thanks to the Foundation's support, the book has finally been completed using additional notes and writings of Dr Tanous, and interviews that were conducted with him on his thoughts and theories into ghosts and conscious survival beyond death. Additionally, this book provides not only a first-hand insight into the Tanous/Osis investigations, but also draws on people's personal experiences with Dr Tanous during his various explorations of ghosts and hauntings. This is a rare insight into the work and mind of a psychic psychical researcher.

Our Afterlife Book Club has been allotted some pdf review copies. If you would like one in return for agreeing to write a review on Amazon.com or another online bookshop email info@whitecrowbooks.com."

ECTOPLASM AND PARANORMAL PHENOMENA


Wagner Alegretti, an electronic engineer, is the president of The International Academy of Consciousness. He offers a 5 hour course about ectoplasm in its London office. " The most amazing multidimensional (often termed paranormal) occurrences happen due to the effects of ectoplasmic activity. This seminar discusses cases, describes the phenomena, presents explanations, and studies some well-known paranormal individuals. The ectoplasmic phenomena studied in this seminar include: psychic surgery, apparitions, extraphysical touch, materialisation and dematerialisation, non-physical noises, poltergeists, teletransportation, extraphysical smells, telekinesis, and many others. Certain cases of healing that require ectoplasm are also discussed. " Read more...and watch video about ectoplasm.

THE SCIENCE OF HAPPINESS--AN EXPERIMENT IN KINDNESS





THERAPEUTIC TOUCH COURSE IN ADELAIDE AUSTRALIA Therapeutic Touch (TT) was developed &

researched within the framework of Nursing & can be used by suitably qualified Nurses & Carers in Hospital & Nursing Homes as a Nursing Intervention. It's also a very effective healing system to use with family & friends too!

THERAPEUTIC TOUCH BASIC LEVEL – SPECIAL ONE DAY INTENSIVE
When :- Friday, December 13, 2013
Time :- 10am - 6pm
Where :- Suite 3/18 – 20 Scholefield Road Seacliff SA 5049
Investment :- $290.00 Elisabeth's Repeat Students $145 Repeat Students of other TT teachers $200
Deposit for all:- $100.00
ESSENTIAL PREREQUSITE COURSES ARE NOW :-
NB! This is usually a 2 day course but can be taken over 1 day for those who have completed ( & are practicing) Isis Lotus Healing Level 1. You can then do the Intermediate course & 14 & 15 December.See Therapeutic Touch brochure HERE
READ MORE....(Scroll down)

FEEDBACK:
1) Dear friend, Victor,
"I have been a firm advocate of the "afterlife" since reading your book and delving into the evidence you have shown me. Your website seems to me to represent a sort of "hub" which branches out like the spokes of a giant wheel, all pointing to the masses of evidence for the continuation of our individual consciousness after what we gloomily call "death". ......
Thank you, Victor, for all the great work you are doing and the inspiration you give us all to do further research ourselves. Best wishes." Terry B.

2) Victor, At this Thanksgiving/Christmas Holiday Season and blessing time, I wish to thank you for your great site and your Friday reports. After the loss of your biggest fan my husband, I am truly grateful for your site and videos. They help me cope with my loss and his memories by reminding me of the afterlife that lies ahead. Knowing I will be with him once again is a huge help and uplift. I am certain many of your other fans who have lost loved ones feel similarly.... S.E.

3) Every week I read this (the report) back to front 100 times, well done as always. Amanda.

See Victor on Video



Subscribe to Victor's Youtube Channel:



* What Happens When you Die
* Afterlife and Science
* Near Death Experiences- Evidence of the Afterlife?
* What You Must Know Before You Die
* David Thompson's Materialization
* Million Dollar Challenge
* The Afterlife on Trial
* A Lawyer on the Afterlife
* Suicide is not the answer
* Religion and the Afterlife
* Ghosts- Randi and closed minded skeptics when they die
* Zwinge Randi's Challenge Exposed ... Lawyer Explains
* Why Professor Richard Dawkins is Wrong
* God--the Evidence (Without Religion)
* Afterlife Without Religion
* Skeptics Demolished
* Afterlife Objections Demolished
* Ghosts- Randi and closed minded skeptics when they die
* Zwinge Randi's Challenge Exposed ... Lawyer Explains
* Victor Zammit speaking at Speakers Corner


SOMETHING INSPIRATIONAL- SOUL COMPANION
A musical celebration of the many different relationships that bring love and joy into our lives
Lyrics:

All of our dreams are laid out and measured
Arrows and pins and a rainbow of threads
Like hope on a string, sewn into the linings
For the courage to face the unknown ahead
My soul companion
Out in the world somewhere
My soul companion
I'll meet you there
I'm packing my compass, trusted and tested
My dog-eared maps to study and fold
Into a pocket, I'm traveling light now
All that we have is all that we hold
My soul companion
In my heart you are
My soul companion
Just like a star
There are no borders, there are no boundaries
There are no fences up around me
But I get quiet and I get lonely
Just like everyone
These are the old roads, these are the stations
I look for my ride, you wait for your train
These are the chances, a life's incantations
These are the places that don't know our names
My soul companion
Love finds its own way in
My soul companion
Now let us begin
My soul companion
Out in the world somewhere
My soul companion
I'll meet you there
Disclaimer: Whilst we encourage and we publish many papers and reports by afterlife researchers, we are not in a position to guarantee the accuracy of all claims. We accept the imputed claim that the afterlife and paranormal research done by the researchers is done in good faith.