FRIDAY AFTERLIFE REPORT



Homepage http://www.victorzammit.com
If you have been sent this link by a friend, or have come across it on the internet, sign up here

October 26th 2012



Happy Halloween to all who celebrate this festival- have a wonderful time next Wednesday 31st October.
Apologies if I have not replied to your email.

REPORT in 50 languages including - French, German, Spanish, Italian, Swedish, Dutch, Portuguese and Hungarian - and many others. Be very patient with the grammar of these automatic translations.
COMMENTARY: INTOLERANT? NEGATIVELY PREJUDICAL? RACIST? RELIGIOUSLY SUPERIOR? Read this very carefully: WHERE DO YOUR BELIEFS COME

FROM? I've come across some tough bigoted people this week - giving the impression they have all the knowledge and everybody else is inferior. Here is an argument why bigotry is unnecessary. The most important question to ask yourself - where did your strong, fundamental beliefs come from? The answer will teach you how to be more tolerant of other religions and those with non-religious beliefs. Historians, psychologists and sociologists tell us we are products of our environment: if you were born in India you are likely to have become a Hindu; in Iran - a Moslem: in Israel, Jewish, in Japan - a Buddhist or a Shintoist; in Western cultures - a Christian or someone with Christian culture. It is so intriguing to accept that our environment - where we were born, where we grew up, where we learnt our beliefs and values, our perception of the world - determined our beliefs.
THE LESSON? That it is very important to be tolerant of other

religions and other beliefs. You are what you are because of your early environment. One big problem we have in this world is that some radicals have hijacked 'religious beliefs' to promote their extreme political objectives. All true religions have fundamental similarities: to unselfishly help others who really need help; to be kind; to avoid cruelty murder or inflicting pain. In short it's all about love. We all have a duty to continue to spiritually grow. Those who cannot see that, will have to come back again and again until they get it right!

STAN GROF ON THE PSYCHOLOGY OF THE FUTURE WHICH NEEDS TO INCORPORATE THE SPIRITUAL A fascinating lecture about how science needs to change its belief system in order to accommodate the experimental evidence from non-ordinary states of consciousness- especially:
1) Prenatal and birth experiences
2) Transpersonal experiences
3) Ancestor experiences
4) Access to the collective unconscious
5) Past life experiences
6) Experiences of cosmic unity
7) The importance of the therapeutic relationship
8) The importance of spirituality- numinous experiences
see from 50 mins onwards.
DR EBEN ALEXANDER ANSWERS THE SKEPTICS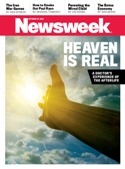 Many of you continued to email us this week with news that Dr Eben Alexander's new book on Near Death experiences is getting wonderful widespread publicity, largely because of his background as a Harvard trained neurosurgeon. Predictably the book has met with a hostile reception from afterlife skeptics. The crux of their argument is that although Eben may have had a wonderful subjective experience, there is no proof that it was not caused by brain chemistry. This is where his background is proving so important. He has the professional authority to argue that he was, in effect, brain dead. He writes:
"Meningitis is unique in its diffuse destruction of the outer surface of the brain, the neocortex (eg. the 'human' brain). It thus has the greatest efficiency in mimicking human death, and still allowing for possible recovery to tell the tale (due to relative preservation of deeper 'housekeeping' structures common to most higher animals). That is why my particular case is having such a dramatic effect on the medical community." In an appendix to his book he counters every hypothesis put forward by neurosurgeon colleagues that his NDE may have had a physical cause. Read Alex Tsakiris' analysis of the skeptical attack on the book.

EXPERIMENTS IN TELEPATHY AND DISTANT HEALING

TELEPATHY PROVEN WITH ODDS AGAINST CHANCE OF ONE IN A TRILLION One method of inducing an altered state of consciousness used

in telepathy research is the ganzfeld procedure. This is a kind of sensory deprivation which was named after the German word meaning "whole field". Honorton, Braud and Parker placed their subjects in a comfortable recliner with hypnotic-like suggestions for relaxation. Vision was reduced by placing half ping pong balls over the subjects' eyes which looked into a red light. Auditory input was reduced by having the subjects wear headphones with pink noise (white noise with all the high-frequency components filtered out). A sender would then try to mentally transmit a picture to the subject while he/she was in the relaxed ganzfeld state. Afterwards the subject was asked to choose which of four pictures had been transmitted. A 1985 meta-analysis of Ganzfeld experiments showed that in 762 sessions of experiments where the chance hit rate was 25%, the experiments achieved a hit rate of 37 per cent. The odds of this occurring by chance were one in a trillion.
'PSYCHIC DETECTIVES': more tough skeptical

police officers - in their OWN WORDS confirm psychics have psychic gifts: see for yourself:-
Number 46. Place: Miami Town Police Department
Case: 'Beautify and the Thief'. Abduction and murder of a female teenager
Psychic: Micki Dahne (see younger Micki Dahne, picture, below)
Cold case: Police contacted psychic – police had no leads at the time. The case came to a full halt without any clues whatsoever.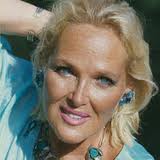 Just some of the evidence produced: "… screaming … not what she (victim) expected …it was her boyfriend … he works with water (worked as a plumber) … I see initials 'R.S.' (turned out to killer's name: Russell Sanborn) … I see letters written by him to her … I see water (was living near car-wash) … I see him near the beach … he's a killer … he's smoking … I see him attacking her … I saw him killing her …"
Police Comments about the psychic: a) Detective Roosevelt Turner - Miami DADE Police Department: "I was a skeptic before .... but now I accept the psychics can help us. We had nothing to go on (before the psychic came on the scene) … she was correct on everything she told us … from his (the killer's) initials ... where the scene was ... his occupation ... the letters … it turned out to be true…"
b) Detective Jerry Zito: MIAMI Dade Police Department – "The information she (the psychic, Micki Dahne) gave us ... was right on the button …"

See full article 'PSYCHIC DETECTIVES' - some 100 SKEPTICAL POLICE OFFICERS FROM ALL OVER THE UNITED STATES ACCEPT THE VALIDITY OF THE PSYCHICS AND MEDIUMSHIP
ROGER WOLGER-ANCESTORS AND SPIRIT ATTACHMENT Dr Woolger holds degrees in Psychology, Philosophy and Religion from Oxford and London Universities. Trained as an analyst at the C.G Jung Institute in Zurich, he has created a unique form of spiritual psychotherapy called Deep Memory Process and is internationally recognized for his pioneering work in past life regression.


QUESTION: Will I really meet up with my loved one when I die? I've been reading in some blogs that when we cross over we lose our human form and not meet those we knew on earth. Gerri M. Sydney.
Victor: Under normal circumstances - if you have been the good

average, normal person, yes, you will be reunited with your loved one, with your soul-mate, with the one you have a positive connection with. That is guaranteed. Information transmitted by those highly evolved spirits and teachers all state that physical death does NOT sever the love we have for others. There are exceptions: if one did not accept the afterlife and that was deeply entrenched and registered in the mind that person could have problems on crossing over. Or if one was habitually cruel or consistently selfish, that person could also have problems meeting up with loved ones. But, under normal circumstances - and one does not have to be perfect- we are destined to be re-united with our loved ones on crossing over. He, she, they - will be waiting for us for a wonderful re-union.

THE WISDOM OF RAMADAHN
An excellent summary of What Happens When We Die from "The Wisdom of Ramadahn" was received through the mediumship of Ursula Roberts (pictured left)
Here are two extracts.
How long is the time of preparation for the withdrawal of the soul from the body? Sometimes as long as two years, though three months is usual. But in your earth today there are such deep, slow disease forces at work and your doctors devise means of lengthening the period of life. Often death is expected by us before it is allowed to take place upon earth.
What happens when a large number of people die at one time because of an accident? There is a certain pattern of experience for each soul, but not necessarily a predetermined length of time. The importance is in learning the lessons of experience rather than in the time taken, so there may be some who can grasp or develop a quality of the soul in a period of twenty years which may take another soul seventy years. Where, there is sudden death through accident, this is not always planned as part of the spirit's experience, but it will often be foreseen by the spirits watching over that one. There will have been an intuitive recognition of the possibility of such a dying, because there is still some preparation given. Such things are foreseen by the Guardian ones, but though warnings are given and intuitive impressions imparted, the people of the earth are so intent upon their own desires that often they disregard what has been conveyed. Read more...



HOW MUCH 'LOVE CAPACITY' DO YOU HAVE?
QUESTION put to me this week: How is love related to getting a better deal on crossing over?
Victor: It's an unusual question. You do see people from time to

time who seem to have an unusual capacity to love others. There are some sad souls who just do not love anybody or anything. Then there are those who can love their partner exclusively and don't care about everybody else. There are some parents who love only their own children - and exclude all others. And then you meet the wonderful souls who love all people, animals and all of creation - their love is unselfish -and general to everyone and everything. Do you think your capacity to love will have an impact on crossing over? Absolutely! Remember, on crossing over NOTHING changes - you are exactly as you were immediately before you crossed over. Those who have learned to love unselfishly and help all others will find themselves in a better environment than others. For inspirational stories of unselfish love in action see CNN Heroes 2012.


DO WE GET INSPIRED INFORMATION? DIRECTLY FROM THE AFTERLIFE FROM A HIGHLY CREDIBLE SOURCE: see for yourself:
"The

purpose of your being here is a very simple one. It is to fortify, to equip, to unfold that spiritual nature which is yours, so that you are prepared for the next stage beyond death. Thus, every experience, good or bad, sunshine and shadow, strength and weakness, love and hate, health and sickness, adds its quota to your spiritual growth ... you will not be called upon during your earth life to face any test or crisis which you do not possess the strength to overcome ... But there are great enemies: fear, worry, anxiety. These are the foes because they set up conditions which disturb and prevent the very help that you want to receive. Calmness, confidence, receptivity, with these the spirit can flourish; with these you will find all you want from day to day ...they will provide all that is necessary for the physical well being ..."

INTERVIEW WITH JURGEN ZIEWE The author of Multi-dimensional Man talks about his 40 years of extended out of body experiences.
ON REINCARNATION - DIRECTLY FROM THE AFTERLIFE: QUESTION: How many times do we have to reincarnate?
Victor: Before you ask that question, there is a more pressing

question to ask first: what is the purpose of life on physical earth? The purpose is to continue to experience life, to continue to spiritually grow. But we have free-will. This means we can delay our spiritual growth. If we delay spiritual growth it will mean having to return more times on planet earth. If you happen to be motivated to spiritually grow at a faster rate, you may only have to return maybe twice. Information transmitted by that very well known personality Frederick Myers of the 'Cross Correspondences': he stated that the average person only reincarnate two, three or four times. Of course, there are exceptions. But that gives you some idea of the number of times we have to reincarnate according to F Myers.




A CHILD REMEMBERS A PAST LIFE

GIFTED MEDIUM AND TEACHER OF MEDIUMSHIP, CHRISTINE MORGAN, ANSWERS YOUR QUESTION:
Question: Is the quality of mediumship related directly to the level of spirituality of the medium?

Christine: I believe that this is not necessarily true, as we cannot

measure one's spirituality. They are some wonderful people who work in many different ways, whom I would believe to be of a higher spiritual nature than some mediums. It is the role of the true medium to unfold their spirituality alongside their abilities, as the ability itself is just a faculty of the mind. Read full article ... Ask Christine a question on mediumship: vz@victorzammit.com
FREE BOOK FOR THOSE WHO CANNOT AFFORD IT - I received

MORE money from Mr Lowson who wants to sponsor free books for those who cannot afford to buy the book: A LAWYER PRESENTS THE CASE FOR THE AFTERLIFE usually $14 per book + & $14 postage ($3 local). So, if you are truly low in your finances and want to acquire a hard copy of the book, just email me and a book will be posted to you immediately. vz@victorzammit.com

FEEDBACK (because of lack of space 3 only selected ) .....

1) Hello Victor, I am an avid supporter of the work you and your wife are doing. You are helping to change the world. I have a copy of your original book and wonder if the updated version is in print? If not, when is expected to be ready? Thank you Clive Siegner (I'd say about eight weeks - fingers crossed!!!)

2) Dear Victor & Wendy, Thank you for the emails. Interesting, informative & inspiring! Much food for thought. Kind regards, A. Ellis

3) Dear Victor & Wendy, You have the best report in the entire world!!!
True fact, I love it every week, I read it so many times that I nearly
know it word for word :) Amanda

INSPIRATIONAL MUSIC: MAGNIFICENT NOSTALGIA: ON THE SAME STAGE: ABBA, ANDY GIBB AND OLIVIA NEWTON-JOHN- at their peak, in the early days: This is a very special request from Shirley, who said she cried when she heard this beautiful music - it brought beautiful memories of ABBA's Dancing Queen, Fernando... and Andy Gibb with Olivia Newton-John (Hopelessly Devoted To You - and others) at their very best, at their peak many, many years ago. For those who can really understand music, one can understand why Shirley's tears came down ... See and hear for yourself this magnificent music of the immediate past.
Disclaimer: Whilst we encourage and we publish many papers and reports by afterlife researchers, we are not in a position to guarantee the accuracy of all claims. We accept the imputed claim that the afterlife and paranormal research done by the researchers is done in good faith.