If you have been sent this link by a friend, or have come across it on the internet, sign up here

Apologies if I have not replied to your email.

REPORT in 50 languages including - French, German, Spanish, Italian, Swedish, Dutch, Portuguese and Hungarian - and many others. Be very patient with the grammar of these automatic translations.

COMMENTARY:"DON'T BE SILLY PROFESSOR!"
(versión en español traducida por Jaume Perea)



UNIFORMED Prof Hawking said this week in an interview with the English Guardian newspaper that our brains are like computers. Then he said, "There is no heaven or afterlife for broken-down computers; that is a fairy story for people afraid of the dark."

I say "PUT UP OR SHUT UP Professor." He made an 'a priori conclusion' - a decision without first investigating the scientific evidence for the afterlife. But other 'genius' scientists: physicists, chemists and biologists - such as Sir Oliver Lodge, Sir William Crookes and Sir William Barrett - and many others (see next item below) - scientifically examined the afterlife. They were men and women of enormous intellectual courage who certainly did not believe in "fairy stories". And they decided that the afterlife does exist.

Professor Hawking may be a brilliant scientist in his small area of specialty - but

clearly, he does NOT have the authority to make any comments about the afterlife. Consistent with my afterlife challenge, I will hand over to this Professor the sum of ONE MILLION DOLLRS if he can show where, when, how and why the afterlife evidence presented cannot be accepted. In ten years, no genius scientist, no genius materialist or scholar or skeptic has been able to dismiss the afterlife evidence.
Professor Hawking, you do not want to go down in history as the greatest coward-scientist who ever lived. Take on my challenge and let's make the challenge open to the world!
Read more....


JUST SOME OF THE DISTINGUISHED RESEARCHERS WHO FOUND EVIDENCE FOR THE AFTERLIFE


Judge John W. Edmonds - Governor Nathaniel P. Tallmadge - Professor Augustus De Morgan - Dr. Robert Hare - Professor James J. Mapes - Allan Kardec, Esq. - Dr. Alfred Russel Wallace - Sir William Crookes (pictured left) - The Rev. William Stainton Moses - Sir William Barrett - Frederic W. H. Myers, Esq. - Sir Oliver Lodge - Sir Arthur Conan Doyle - Dr.

Richard Hodgson - Dr. James H. Hyslop - Dr. William James - Professor Camille Flammarion - Dr. Charles Richet - Dr. Cesare Lombroso - Baron (Dr.) Albert Von Schrenck-Notzing - Dr. Hamlin Garland - Maurice Maeterlinck, Esq. - Professor William R. Newbold - Dr. Carl A. Wickland - Edward C. Randall, Esq. - Dr. Isaac K. Funk - The Rev. Charles Drayton Thomas - Dr.

William McDougall - Dr. T. Glen Hamilton - Dr. Robert Crookall - Dr. C. J. Ducasse - Dr. Raynor C. Johnson - Dr. Gardner Murphy - Dr. Hereward Carrington - Dr. Harry Price - Elisabeth Kübler-Ross, M.D. - Barbara R. Rommer, M.D. - Gary Schwartz, Ph.D.- Jon Klimo, Ph.D. - David Fontana, Ph.D. (compiled and edited by Michael E. Tymn)
Read More...


THE SAD EFFECT OF ACADEMIC HOSTILITY TO AFTERLIFE RESEARCH The subject of the afterlife is of enormous interest and importance to people around the world today- even to scientists. However because of hostility to the study of psychic phenomena and the afterlife by ignorant academics there has been almost no money for research and no career possibilities for researchers. Even today there are very few organizations dedicated to paranormal research and most of the work is being done by dedicated people in their spare time. Dr Dean Radin says this is the result of the "woo woo taboo" [woo woo is a negative name given by skeptics to the paranormal].
A fuller version of Dr Radin's talk can be found at Google tech talks.



PIONEER AFTERLIFE INVESTIGATOR SIR WILLIAM

CROOKES, the most brilliant scientists of his day, conducted many experiments with physical medium Daniel Dunglas Home, who always claimed that his powers came from spirits- people who had died and continued to live in the afterlife. Sir William Crookes was careful not to talk about "spirits" for fear of upsetting the scientific establishment. Instead he talked about a new force which he called "psychic". Sir William's wife, Lady Crookes, was more willing to speak plainly about her observations. According to her she saw a muscial instrument taken from Homes' hand by "a semitransparent distinctly human form" which sank into the floor after playing it. Read more....

This fascinating video about Sir William Crookes experiments with Daniel Dunglas Home was originally filmed in English- (about 1980 from the age of Guy Playfair). If anyone can point us to an English version or provide a translation into English it would be much appreciated.



FOR BETTER MENTAL AND PHYSICAL HEALTH:
I found again that by not watching the evening news on television,

I feel more peaceful. All the items are negative apart from a few human interest stories. So for those who want to feel more positive, be selective in what you watch. There may be some who can watch 15 news items and not be negatively affected. But we find that as one becomes more spiritual, one becomes more sensitive. To avoid negative energy penetrating your mind, pick on things which enlighten, entertain and are positive. This is excellent for mental and physical health. We are informed that sickness first starts in the mind. So be positive to stay in good health.


HOW THE ANCIENT EGYPTIANS EXPLORED THE AFTERLIFE A small but growing circle of scientists authors and researchers speculate that the Ancient Egyptians were able to explore the afterlife through lucid dreaming. See http://www.magicalegypt.com


QUESTION: WHY IS IT THAT FOR SOME SPIRITS IT IS HARD TO GET OUT OF THE DEAD BODY IMMEDIATELY AFTER DEATH?
Victor: Information transmitted from the afterlife dimension tells us that some people on earth are very materialistic. This intense

materialism penetrates the 'psyche' of the person and after they die it is much harder for the spirit to separate from the body. Sometimes it requires a great deal of work. A number of helping spirits try to get the spirit out of the dead body. Of course, eventually the spirit comes out in a 'very bad state of repair.' It is most critical for all people on earth to keep an 'open mind' about afterlife matters. They'll be doing a huge favor to themselves.



THERE ARE NO MISTAKES, ONLY LESSONS! There

is no point worrying about making mistakes. We come on to this planet Earth to make mistakes - without mistakes we do not 'grow'. So adopt a positive attitude to mistakes and see mistakes as opportunities for learning for continuous spiritual growth - that's why we are living on earth, to continue to learn - and to refine in character and to grow spiritually.



ARNOLD V MARIA SHRIVER: ARE WOMEN MORE SPIRITUAL THAN MEN? Very naughty Arnold! Like many men who can't control their sexual urge, Arnold cheated on his wife. My experience these last 21 years attending spiritual-'New Age'

meetings in different countries showed far more women are interested in spirituality, meditation and New Age than men. The divorce, after 25 yeas, between Maria Shrivel

and Arnold Schwarzenegger, is not a surprise. Maria is doing 'spiritual' service, doing a lot of volunteer work. But Arnold wants to be more 'physical', to do more of those silly Terminator movies - senseless violent soul-junk material. Also, spiritually, it is very bad for Arnold to keep the secret for ten years that he had a child from his part-time maid-lover. Approaching older age now in his mid - 60's Arnold should be planning for what is going to happen to him on crossing over. Time to move on Arnold.
**IN THE PAST : I had many emails from women - who like Maria - have husbands who are not interested in the afterlfe. Read more ..


HYPNOTIC REGRESSION - EVIDENCE OF PAST LIFE?


"It can be sometimes, in what is called regression, that a contact is made with a previous physical existence. But it is not always the case that this occurs. The mind's potential is so vast that none in your world has fathomed all its recesses. It is creative, it has subconscious desires, it can lend itself to temporary spirit possession. All these factors have to be taken into account. There can be what you call 'astral projection' and impingement of a series of events which are recorded in the hypnotic trance. This does not mean that the subject is necessarily expressing a past reincarnation." 'S.B.'


THE MILBORO CASE - GROUP REINCARNATION?




IRAN - ACID THROWN ON WOMAN'S FACE: AN EYE FOR AN EYE- DETERRENT, REVENGE OR KARMA?
We read this week in the newspapers that a 25 year

old Iranian woman Ameneh Bahrami (below - before and after acid attack) had her faced totally disfigured. She was also blinded. This was because acid was thrown onto her face by a man she refused to marry. The court found him guilty and initially made an order

that she can place drops of acid into his eyes to blind him. It appears that These attacks are most appallingly common in Cambodia, Afghanistan, India, Bangladesh, Pakistan and other nearby countries. According to Taru Bahl and M.H. Syed, 80% of victims of these acid attacks are female and almost 70% are under 18 years of age. And in only 2% of cases is anyone convicted and then only given light punishment. The sentence has been 'deferred' due to international pressure about this case. Do you think doing to him what he did to her is right? The claim for those who support her say that if men get to know they will be thrown acid on their face, they are not going to do that again to women. Always we must apply the spiritual test - what is the spiritual thing to do? We know with absolute certainty that the law of cause and effect - karma - works with mathematical precision. In the long run no one gets away with it. Read more and have your say....


ARE ORBS EVIDENCE OF SPIRIT?
Since the introduction of digital cameras and the development of ghost-hunting societies a lot of people have claimed that ghosts can be seen in photos as balls of light energy. But is there any evidence? The problem with this is that balls of light can be caused by reflection, lens flare, dust, rain, snow, fog, breath, insects, pollen, etc. And they can be artificially produced using Photoshop. In the video below from Lisa Williams Life Among the Dead- (in Polish) medium Lisa Williams investigates a bar where the owners sense a male presence. Lisa communicates with with the spirit and asks it to show itself on the bar's video monitor and to move to certain area of the room. Orbs of light can supposedly be seen moving in response to her request. Evidential?
CATHOLIC CHURCH THREATENS ETERNAL DAMNATION FOR DIVORCE: one of the Bishops of the

most Catholic country in the world to-day Malta (left), said that those who disagree with the Church (e.g. on divorce or living together before marriage) will not be given 'Holy Communion'. The Catholic Church says that Catholics who remarry are living in sin, living in adultery and will go to eternal hell if they die in sin. Can you believe that? Jesus NEVER said that to gain entrance to 'heaven' - what we call the Third Level - you must not be divorced (from Matthew's gospel). Even if you are NOT a Catholic, this Bishop does NOT want you to have the right to a divorce - even if you are being assaulted every day by your partner! The hypocrisy is that if this same Catholic Bishop Grech was a pedophile, and had sex with 11 year old boys (as we read many times in the media that some Bishops and priests did) this Bishop would be given 'Holy Communion.' Besides, as I stated in the recent past, divorce is permitted in the Bible (Deut. 24:1 and 21:10-14). This is Catholic hypocrisy pushed to its extreme. Perhaps if people investigate where 'Holy Communion' came from, they will find it was a Pagan ritual copied by the early Christians to give power to the priests. Time for a Catholic reformation.



THIS HOUSE IS HAUNTED- NOW AVAILABLE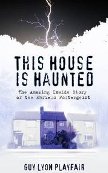 No other case of its kind has been so well witnessed from start to finish or so thoroughly documented as the Enfield Poltergeist story. Incidents are described as they happened, without embellishment, from some six hundred pages of transcripts of live tape recordings. "This House is Haunted" by Guy Lyon Playfair.
Now thanks to Whitecrow Books it is back in print and available on Kindle, iTunes, and other eBook platforms. Read more...



MEDIUMSHIP IN TERRIGAL NSW
When: Saturday May 28th 2011 at 7.30pm
Where: The Country Comfort, Terrigal
154 Terrigal Drive, Terrigal Beach NSW
TICKETS $35
THREE MEDIUMS THREE HEARTS
Marilyn Whall and Michael Wheeler and Kerrie Wearing
As a medium Marilyn is able to deliver messages from the spirit world. Marilyn says her dedication and love of the work is to prove that life is eternal. For more information about the meeting





DAVID THOMPSON'S AND CHRISTINE MORGAN'S WEBSITES ARE BEING REDEVELOPED AND UPGRADED- STAY TUNED The address of the Circle of the Silver Cord new website http://circleofthesilvercord.net/
To contact MEDIUM DAVID THOMPSON for readings, healing, trance demonstrations and physical mediumship
email silvercordcircle@gmail.com silvercordcircle@gmail.com
OR PHONE +61-(0) 411 036 963



To get in touch with MEDIUM/ PSYCHIC
CHRISTINE MORGAN email: indiki1962@gmail.com
OR PHONE +61-(0) 411 036 963







FEEDBACK: 3 SELECTED RESPONSES:
(1) dear - victor zammit i have been following your after life report for over one year now am thankfull to u for showing us the right path venommax aka aniruddha rao

(2) Hi Victor, Thanks again for your kind words and for the work you do for humanity on your site. Carl

(3) Hi victor and wendy, just read yer report! Love the quote from the Dali Lama! I look forward to the report every friday because it always seems to cheer me up, as ye know life on this "plain" can be tough sometimes, anyway keep up this great work and thanks again guys for spreading the good news! Brian.

See Victor on Video



Subscribe to Victor's Youtube Channel:



* Ghosts- Randi and closed minded skeptics when they die
* James Randi's Challenge Exposed ... Lawyer Explains
* God--the Evidence (Without Religion)
* Victor Zammit speaking at Speakers Corner
* Afterlife Without Religion
* What Happens When you Die
* Afterlife and Science
* Near Death Experiences- Evidence of the Afterlife?
* Skeptics Demolished
* Afterlife Objections Demolished
* Why Professor Richard Dawkins is Wrong
* What You Must Know Before You Die
* David Thompson's Materialization
* Million Dollar Challenge
* The Afterlife on Trial
* A Lawyer on the Afterlife
* Suicide is not the answer
* Religion and the Afterlife


'Native American' version of AMAZING GRACE: Native Americans have a unique culture, history and feeling for life on earth which is very spiritual. They have a history of thousands of years of direct communication with spirits. Perhaps because lived so close to nature they are also very psychic. Sad they became victims of near-genocide.




Disclaimer: Whilst we encourage and we publish many papers and reports by afterlife researchers, we are not in a position to guarantee the accuracy of all claims. We accept the imputed claim that the afterlife and paranormal research done by the researchers is done in good faith.