BRAND NEW ON YOUTUBE - videod last night:
ARE YOU INTERESTERED IN BEING A SITTER FOR A RESEARCH MEDIUM? Are you an honest person with integrity and good character? The Windbridge Institute is looking for

sitters to take part in mediumship research sessions by phone, email or in person. To participate in a Windbridge experiment as a research sitter, you must have the following characteristics:
--You are 18 or more years old,
--You reside in the United States,
--You speak and write English as your primary language,
--You have an email address and are knowledgeable about sending and receiving e-mail attachments,
--You experienced the loss of a close friend or family member over one year ago,
--You are familiar with the details of the discarnate's life,
--You are willing and able to rate/score the statements made by a medium in a reading as accurate and/or meaningful and/or relevant once given instructions on how to do so. Read more.....

QUESTION: BUDDING MEDIUM SAYS HELLO!:
Hello dear Victor, I am in my late twenties and feel I have some psychic and mediumistic talents. But there are no development circles close to me and I can't seem to find a good teacher of mediumship. Do you know anyone who can help? Julie.
Victor: Julie, wonderful to hear from you. The world needs good mediums on a very urgent basis and I would love to see you continue to develop your talents. Over the last twelve months I have come across someone who comes highly recommended and has a track record of helping mediums develop. Based in Sydney Australia, Christine Morgan travels internationally and also teaches and does readings by phone. If you are interested I strongly suggest visit Christine's website and take it from there.

Christine's interview - second big week;

WHAT HAPPENS WHEN YOU DIE- THE 'LIFE REVIEW'


" After a period of adjustment and orientation, but before your memories of the recent lifetime begin to recede, you will conduct your own panoramic life review. This carries no judgment and is conducted purely for the learning involved. Because you review your entire lifetime, deathbed repentance does you no good. The only issue is the amount of love in your energy and how you served your fellow men while on Earth. A wise counselor will be on hand to stop you from beating yourself up.
How does knowing that this life review will happen make you feel? That you will be on the receiving end of every harsh word you have ever uttered, and of every mean-spirited act you have ever committed. Of course, you also get to re-experience all the good you did.

If someone once asked you for a favor and you declined to help when you could have, you will get to feel the other's hurt and disappointment. If you shot a 'holier than thou' look at a panhandler in the street or at a homeless person huddled in a doorway, you will experience how it made that person feel – the hopelessness, desperation or panic – because you could have done something but didn't."
Read more about The Life Review from 'DEATH WITHOUT FEAR' by Tony Stubbs.



DR KENNETH RING- THE EFFECTS OF THE NDE
In 1977, Dr. Kenneth Ring, then a brilliant young professor of psychology at the University of Connecticut, read Raymond Moody's book, Life After Life, and was inspired by it. However, he felt that a more scientifically structured study would strengthen Moody's findings. He sought out 102 near-death survivors for his research. In this wonderful interview with Jeffrey Mishlove he talks about his findings and especially about the life review. [Worth watching in full when you have 1 hour and 44 minutes- or go to the 13 minute point for discussion of the life review- NB to turn the video off drag the scroll bar all the way back to the left]





QUESTION: For those who want to make rapid progress in the afterlife to go to higher realms, are there opportunities in the spirit world for service?
ANSWER: AN AFTERLIF INTELLIGENCE ANSWERS THE QUESTION: "Oh, far more than you face on Earth. We have problems such as you cannot possibly realize. We have to deal with millions of souls in many parts of the spiritual universe - sick souls, ignorant souls. Have we got problems? We have them because you send them to our world." (S Birch, More Philosophy of Silver Birch).

KARL JUNG- EVIDENCE NOT BELIEFS...
Considered both a giant intellect and a giant spirit Karl Jung came not to believe in the afterlife but to accept the evidence.

VERY HIGHLY RECOMMENDED: THE

GROUND OF FAITH – I am always deeply impressed with the quality of The Ground of Faith online journal produced by the Rev Michael Cocks (left) and the Rev Victor MacGill (right) and their group of courageous and forward thinking Christians. In the February issue they challenge their fellow Christian clergy to not only preach about the resurrection of the body at Easter time but to investigate the abundant evidence.

FROM THE JOURNAL:' A note to my fellow clergy: When we preach at Easter time, will we have the courage to tell our congregation about today's evidence that the resurrection of the body is a real phenomenon? Yes, we do have worshippers who rely on Bible evidence alone; and some in our congregations will be sceptical about an afterlife. All the same, wouldn't it be better if they knew about the evidence? This passage crops up at Easter.. and at funeral services:
'It is sown a natural body; it is raised a spiritual body. There is a natural body, and there is a spiritual body. - 1 Cor 15:44' We also read of a resurrected Jesus whose body appeared normal, yet could appear and disappear from mortal view.
What evidence of today can we refer to? Below, the reader will find Apparitional Experiences from the Swedish University of Lund's The Journal of Public Parapsychology. There are links to ample persuasive material that can be studied.Read more ....
http://thegroundoffaith.net/issues/2010-02/



JEFFREY KEENE REMEMBERS LIFE IN CIVIL WAR- case of spontaneous past life knowledge.





SCIENTIST, 107, STILL ACTIVE IN SURVIVAL RESEARCH


Michael Tymn this week interviews paranormal researcher Alexander Imich, much of whose life has been devoted to investigating the paranormal and attempting to convince mainstream science that there is more to reality than meets the eye. Like many scientists he was ultimately convinced of the reality of survival by his experiences with a materialization medium. In his 1995 book, Incredible Tales of the Paranormal, he relates some of the best evidence, including his own investigation of the Polish medium referred to as Matylda S. He tells of rings vanishing from the fingers of one person and turning up on another, spirits materializing out of nowhere, large objects (apports) appearing in front of him in thin air. "I will never forget the kiss of a phantom," he offered. "An invisible face, whose breath I could distinctly hear and feel on my face, kissed mine. It was a strong and pleasant sensation." Read the interview...


PAIN IS A CHOICE AND SUFFERING IS OPTIONAL-SEVEN MINUTES TO NATURAL PAIN RELIEF- Medical Dr Daniel J Benor has discovered that by listening to your pain and the message about your life that your body is trying to convey you can eliminate it. Fascinating.


Dr Benor's website contains a number of resources for Wholistic Healing, addressing body, emotions, mind, relationships and spirit
. Read more..

SELECTED FEEDBACK: :'INSPIRATIONAL': Dear Victor and Wendy, I have been a reader of your website for nearly 6 years, and I also subscribe to your newsletters, and always enjoy reading them. They are truly inspirational! J.Wang.
2) 'UPLIFTING': "Dear victor and wendy every week i look forward to your newsletter e-mail for it is so uplifting and reminds us of the sacred without the awareness of which life would be meaningless. Regards. Sarv."

BOOK ON THE AFTERLIFE FOR FREE! Special sponsorship - by someone who wants the world to know all about the afterlife. Thanks G.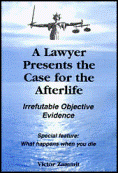 Members of this list can now obtain copies of my book A LAWYER PRESENTS THE CASE FOR THE AFTERLIFE for free – all you have to do is to pay for postage and packing only: anywhere in the world send US $12 through Paypal (you can use a credit card). Within Australia send a $3 stamp. Email 2008@victorzammit.com. or send stamps to P.O. Box 1810 Dee Why 2099 Australia.
Churches and spiritual groups are welcome to apply for multiple copies sent via sea mail (cheaper) to sell as a fund raiser.

SOMETHING INSPIRATIONAL- MY HEART WILL GO ON
Andre Rieu's most evocative, beautiful music. This segment is one of our very favorites accompanied by some spectacularly beautiful ice dancing...enjoy "My Heart Will go On"- on ice in Vienna

" Every night in my dreams
I see you, I feel you
That is how I know you go on"
These beautiful lyrics capture the experiences of many of our subscribers whose partners or loved ones have already crossed over. Read full lyrics

Disclaimer: Whilst we encourage and we publish many papers by afterlife researchers, we are not in a position to guarantee what is published is to be the absolute truth. We accept the imputed claim that the afterlife and paranormal research done by the researchers is done in good faith.