"Bringing light where there is darkness and hope where there is despair."

Friday June 25th, 2021

Last week's report
and
all previous reports

COMMENTARY: THE AFTERLIFE IS EVEN MORE REAL THAN THIS LIFE
One of the


wonderful things that we get from the testimony of out-of-body experiencers is an assurance of the solidity and 'realness' of the afterlife. This is a confirmation of something that has been a feature of virtually all the communications which came through the great mediums of the twentieth century from people living in the Astral.
Recently out-of-body explorer Jurgen Ziewe emphasised this point once again. In a recent post on our Facebook page, he wrote: "I want to stress that the Astral realm is not a place of your imagination. It is as real and as solid as the world we live in and walk through now." He says that he is determined to get this message out to all those who think the Astral world is not real.
He goes on to say that arriving in a solid world has nothing to do with your beliefs. "If you are a non-believer you will end up in the same hard [solid] place as the believer. I guarantee it. Things may feel differently in a hundred different ways. Our senses may be much enhanced, we may see better, feel better, taste and smell better. We may have more fulfilling sex and a hundred other things we enjoy here and will likely enjoy even more".
To get inspiration and more in-depth knowledge of the astral worlds, see Jurgen's
books
, his
website,
and his
Afterlife Answers videos.
ANOTHER TRUSTED VOICE FROM THE AFTERLIFE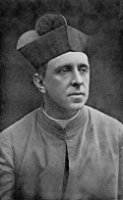 When he was alive, Hugh Benson was a priest of the Catholic Church, a monsignor at the Vatican. After he died, he dictated six books about the afterlife through the medium Anthony Borgia.
Read more about how the books were created.
Mons. Benson tells us that it has been his work to welcome thousands of people when they first cross over and explains:
" ... many souls of the earth world are almost shocked to be told that the spirit world is a solid world, a substantial world, with real, live people in it. They think that that is far too material, far too like the earth world; hardly, in fact, one step removed from it with its spirit landscape and sunshine, its houses and building, its rivers and lakes, inhabited by sentient beings!"
(
Life in the World Unseen
Ed.97. )
MARY HELEN HENSLEY SHARES HER NDE AT IANDS CONFERENCE
Born and raised by a Southern Baptist minister, Dr. Mary Helen Hensley's life was completely transformed by her near-death experience in 1991. She realised that she had planned her own life and was fully responsible for her accident. She also shares how her father had a profound experience at the age of 85 as he approached his death, "After seeing a vision of his deceased father, who he was sure didn't qualify for heaven, he turned to his wife and said, "I've had it wrong all along. Everybody gets to go. You can't mess this thing up."
"BRINGING DEATH TO LIFE: An Uplifting Exploration of Living, Dying, the Soul Journey and the Afterlife"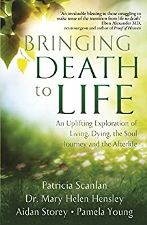 Patricia Scanlan, whose experience of the loss of her parents was the catalyst for this book, shares her own journey through grief, while Aidan, Mary Helen and Pamela -- who have abilities to channel, communicate with angels, and intuit and heal between this life and the next -- share personal experiences along with insight into death and the afterlife gained through their work. Included are chapters on facing fear of death, being present during death of a loved one, the aftermath of loss, and connecting to signs and messages from beyond, along with remarkable stories of the afterlife. Prayers, affirmations and messages from the angels also make up this special, thought-provoking and ultimately deeply comforting book.
Read more.
REBUTTING THE NDE DEBUNKERS

One of the earliest cases of veridical near-death experiences ( those in which experiencers acquire verifiable information that they could not have obtained by any normal means) was the case of the blue sneaker. Maria, a patient, said that she saw it during her NDE and described it to her social worker, Kimberly Clark Sharp. Kimberly went upstairs to the other side of the building and looked on the outside ledge. There she found the sneaker just as Maria described it. Skeptics tried to debunk the case but Kimberly
wrote a spirited defence
. In the video below, she puts more details of the case on record.
THINGS MUCH IMPROVED FOR THOSE WHO HAVE NDEs.
In the video above (at 9 mins 42 seconds) Kimberly Clark Sharp describes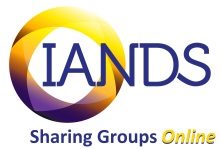 the situation of people who joined her Seattle IANDS organsiation in the early 1980s.
"Some had been institutionalised in mental institutes mind you. Some had been ravaged by their church community - if you didn't see the fact of Christ first, then you were in hell. You're crazy, you're evil. It was horrible. People came in emotionally haemorrhaging. That has changed. Now near-death experiencers come in. There's plenty of resources. There's scientific backup - not across the board- there's plenty of ways to go yet, but now they're coming in because they want to share. They want to give back."




MICHEAL TYMN SETS THE RECORD STRAIGHT
M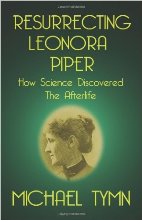 ichael Tymn, author of
Resurrecting Leonora Piper: How Science Discovered the Afterlife
has written a reply to recent articles in prominent magazines by Casey Cep and Emily Harnett that dismiss Leonora Piper as a scammer of some kind. His article is an important example of an informed response to a practice we see frequently today, especially in Wikipedia, where "Historical facts are often twisted, distorted, and misrepresented by historians and authors, especially those who rely on hearsay or second-, third-, and fourth-hand accounts of a person or event". Read Michael's scholarly article "
Was Prof. William James's 'White Crow' a Scammer or a Marvel?
"
IS THERE LIFE AFTER DEATH? A PRESENTATION AT THE UNIVERSITY OF VIRGINIA
University of Virginia's
Division of Perceptual Studies
research portfolio includes investigating children who have memories of past lives; the nature of consciousness and the mind-body relationship; neuro-imaging studies of psi events; and individuals who report experiencing near-death experiences (NDEs). In this video, the legendary actor, writer, and comedian, John Cleese, convenes DOPS research faculty to present an overview of the research to which they have dedicated their academic careers.
AFTER DEATH CONTACTS IN A TIME OF COVID DEATHS
"The coronavirus pandemic has now killed more than 600,000 Americans. Many of us never had a chance to hug or say farewell to loved ones who died alone and isolated in hospital wards due to fears of spreading the virus. But there is another group of pandemic survivors who say they have been granted a second chance to say goodbye.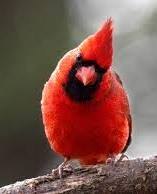 They are people like Horne who believe they've been contacted by a loved one who died from coronavirus. These experiences can be subtle: relatives appearing in hyper-real dreams, a sudden whiff of fragrance worn by a departed loved one, or unusual behavior by animals. Other encounters are more dramatic: feeling a touch on your shoulder at night, hearing a sudden warning from a loved one, or seeing the full-bodied form of a recently departed relative appear at the foot of your bed".
A fascinating article by John Blake, CNN
.
A PSYCHIATRIST TALKS ABOUT AFTER DEATH CONTACTS
Dr. Daniel Benor used to think that people who had after death contacts were suffering delusions until he read an article in the
American Journal of Psychiatry
in 1988 that claimed that two out of three people experienced them and that they are extremely helpful.
REINCARNATION AS A SCIENTIFIC CONCEPT: SCHOLARLY EVIDENCE FOR PAST LIVES
If you want to read one book that will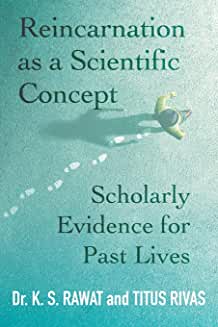 give you a complete overview of impressive research into reincarnation presented with open-minded objectivity and scholarly accuracy, look no further. While it covers many aspects of the topic, it remains wonderfully readable and fascinating in detail. As a bonus, both of the authors bring to the table enthusiasm generated by their personal research: Dr. Rawat from an Eastern - and Titus Rivat from a Western perspective. Together they have created a masterpiece that shows that the reincarnation hypothesis may now be taken as scientifically (in the sense of scholarly) "acceptable" if not yet "proved" to the satisfaction of all.
Read more
.
NEXT WEEK'S AFTERLIFE ZOOM GROUPS - FREE - ALL WELCOME
These groups are led by independent facilitators, all of whom volunteer their services.
Friday June 25th/
Saturday June 26th Australia
Exercises to expand consciousness
2nd and 4th Friday of the month with Catherine Chapey.
8 p.m. EDT
Meditations, spiritual practices, and modalities to expand our consciousness and connect with our higher self and inner awareness.
8 p.m. New York time EDT
5. p.m. Los Angeles and Phoenix Pacific DT
10 a.m. Saturday Sydney/Melbourne AEST
Email:
cathrin33@aol.com
https://us02web.zoom.us/j/89931348720?
pwd=d2ovbGV2MG9rQnBpL2JGSE5BTXFBdz09
Sunday 27th June /
Monday 29th June Australia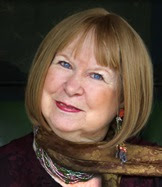 Mediumship Development
with Dr. Susan Barnes.
Developing the skills of mental mediumship and blending with spirit.
Meetings:
Every 2nd and 4th Sunday
Times:
2 p.m. New York time EDT
Coordinator
: Dr. Susan B. Barnes, CSNU
Email:
susanbbarnes@gmail.com
Online in Zoom
https://zoom.us/j/8738817733
Global Gathering: THE JOY OF PHYSICAL MEDIUMSHIP
An ordained spiritual minister, Tom
Newman, is also a certified medium, healer, and teacher with a love for
physical mediumship
. He's been a passionate spiritual explorer and investigator for well over 50 years. He worked as the Executive Director of the
Sarasota Center of Light
for 17 years, and in 2013 moved to Santa Fe, New Mexico where he teaches classes and continues to do readings, both in person or on the phone. He will share some of his many experiences with physical mediums including David Thompson for whom he was a circle leader.
Los Angeles 2 p.m. Sunday
Phoenix 2 p.m. Sunday
Chicago 4 p.m. Sunday
New York 5 p.m. Sunday
London 10 p.m. Sunday
Rome 11 p.m. Sunday
Sydney 7 a.m. Monday
Check the time for your city
Contact:
karynjarvie@ozemail.com.au
and
wendyzammit@gmail.com
https://zoom.us/j/7595442928
Spiritualism Today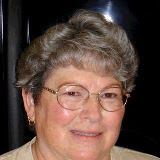 Every Sunday
It will be a combination of a presentation of some aspects of Spiritualism and spirituality followed by open discussion. If you have questions about Spiritualism or spirituality or religion, bring them here.
California 4 p.m.
Mountain (Phoenix) 4 p.m.
Central (Illinois, Texas) 6 p.m.
Eastern (New York) 7 p.m.
Sydney Australia - Monday 9 a.m. AEST
Contact:
njturner@earthlink.net
Norma's Room:
https://zoom.us/j/3499782616
Monday 28th June 2021
/ Tuesday 29th June Australia
Dream Circle with Kim Parker

A small group of 15 meets every two weeks - to share and explore the meaning of their dreams.
Los Angeles 2 p.m. Monday
Phoenix 2 p.m. Monday
Chicago 4 p.m. Monday
New York 5 p.m.Monday
London 10 p.m. Monday
Rome 11 p.m.Monday
Melbourne and Sydney 7 a.m. Tuesday AEST
https://zoom.us/j/7595442928
Email: Kim at
kmrainbow57@yahoo.com
Co-ordinators:
Kim at
kmrainbow57@yahoo.com

Tuesday 29th June 2021
/ Wednesday 30th June Australia
"Army 4 Love" FREE Gathering:
No meeting this week - Debra is on holiday.
Wednesday 30th June 2021
/ Thursday 1st July Australia

Physical mediumship development group
with Rob Blackburn and Craig Hogan
Illinois 8 p.m. Central DT.
New York 9 p.m. Eastern DT California 6 p.m. Pacific DT Sydney/Melbourne 11 a.m. Thursday AEST
The group is admitting new members.
Participants sit in a darkened space in their own homes; the group has been going for some time and members are experiencing phenomena.
Contact Rob Blackburn (
rkblack@mtco.com
) or Craig Hogan (
r.craig.hogan@afterlifeinstitute.org
) before joining the group.
https://zoom.us/j/4381898190

Thursday 1st July 2021
/ Friday 2nd July Australia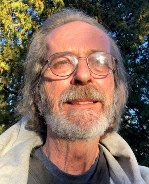 Afterlife Book Club
led by Gary Langley
1st Thursday of the month at 6 p.m. PDT. The book for July is Out-of-Body experiencer William Buhlman's
Adventures Beyond the Body
Sydney/Melbourne 11 a.m. AEST Friday
https://zoom.us/j/7595442928
.
Contact:
garylangley@earthlink.net
Friday 2nd July 2021
/ Saturday 3rd July Australia
"Safe Space Sharing Group"
with Catherine Chapey 1st and 3rd Friday of the month. 8 p.m. EDT
Share about your different types of experiences related to consciousness expansion such as Spiritually Transformative Experiences, NDEs, OBEs, Metaphysical Experiences, Mystical Meditations, Dreams, Unusual and Unexplained, UFOs, ETs, Spirits, Angels, Guides, Christ Consciousness.
8 p.m. New York Eastern DT
5. p.m. Pacific DT
10 a.m. Sydney Saturday AEST
Email:
cathrin33@aol.com
https://us02web.zoom.us/j/89931348720?
pwd=d2ovbGV2MG9rQnBpL2JGSE5BTXFBdz09
Saturday 3rd July 2021
/ Sunday 4th July Australia
Trance Healing:
Session 3 of a series of 4 free monthly healing sessions.
10.30 a.m. Saturday New York time.
Best-selling author Karen Frances McCarthy, author of
Till Death Don't Us Part,
is conducting healing sessions on Zoom once a month. Karen is an experienced medium trained at the AFC who teaches internationally.
REGISTER HERE
to join.
California 7.30 a.m. PDT,
Arizona 7.30 a.m. MST
New York 10.30 a.m. EDT
Illinois 9.30 a.m. CDT
London 3.30 p.m. BST
Rome 4.30 p.m. CEST
Sydney 12.30 a.m. AEST Sunday

See time in your city

More details of meetings

Videos of past Global Gatherings
THE MEDIUMSHIP OF SANDY INGHAM
Medium and Spirit Artist Sandy Ingham, from Cornwall, England, is not an artist herself. She goes into a trance and a spirit she calls Leo takes her hand, and draws portraits of people's loved ones in spirit. On her webpage, you can scroll down to see some images she has received
compared with real-life photos.
But the image below is special. It was drawn before the child, Agnieszka Senenko, had been born. It pictured her at age nine.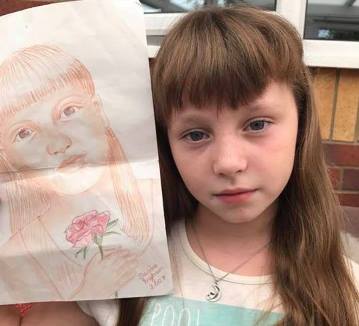 THE BUDDHA ENCOURAGED CRITICAL THINKING
Like Silver Birch, the Buddha taught the value of subjecting your beliefs to evidence and reason: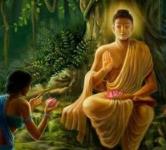 "Do not believe in anything simply because you have heard it. Do not believe in anything simply because it is spoken and rumored by many. Do not believe in anything simply because it is found written in your religious books. Do not believe in anything merely on the authority of your teachers and elders. Do not believe in traditions because they have been handed down for many generations. But after observation and analysis, when you find that anything agrees with reason and is conducive to the good and benefit of one and all, then accept it and live up to it." ~ Buddha
RICHARD MARTINI'S NEW DOCUMENTARY SEQUEL TO FLIPSIDE NOW ON GAIA
There are three sections in the two-hour documentary:
1) "Hacking the Afterlife" via hypnotherapy with interviews or footage from hypnotherapists.
2) "Via mediumship" with different mediums shown accessing people that the director knew, or that the answers they are giving are verifiable in terms of new information.
3) "Via meditation" or asking people who had a near- death experience (or a vivid dream) to access their memory of that event, and from there, walking them in to visit with their guides, teachers, or council members.

HELP NEEDED
Wendy needs a few minutes on Zoom with someone who can help her to restore a couple of settings on Dreamweaver CS.5 which we use for this report. Email wendyzammit@gmail.com if you can help.

FEEDBACK: (Three only).
1) "
Silver Birch's teachings embody the essence of common sense and spiritual thought, relative to all humanity. Nothing he ever said betrayed common sense or Nature's laws".
Riley
2)
"Oh boy oh boy do I Love the words and giving energy from this wonderful and friendly Spirit Guide (Silver Birch). Thank you so much Victor for bringing them forward in your weekly reports".
David
3) "A billion thanks for your unfailing faith in the truth of the afterlife and in our loved ones who live on!"
Mary Beth
See Victor on Video
*
Subscribe to Victor's Youtube Channel
:

* What Happens When you Die
*
Afterlife and Science

*
Near Death Experiences- Evidence of the Afterlife?
*
What You Must Know Before You Die
* David Thompson's Materialization
* Million Dollar Challenge
*
The Afterlife on Trial

* A Lawyer on the Afterlife

* Suicide is not the answer
* Religion and the Afterlife
* Zwinge Randi's Challenge Exposed ... Lawyer Explains
* Why Professor Richard Dawkins is Wrong

*
God--the Evidence (Without Religion)
* Afterlife Without Religion
* Skeptics Demolished

*
Afterlife Objections Demolished
*
Victor Zammit speaking at Speakers Corner
*
Materialized Houdini speaks to Victor
BRILLIANT, HIGHLY INSPIRATIONAL MUSIC
We remember you Whitney Houston. You were certified the most awarded female artist of all time by Guinness World Records and were one of the best-selling recording artists of all time with sales of over 200 million records worldwide. You died too young. We miss your sweet, angelic voice! We miss the way you sing with so much control and love! Here is one of Whitney's greatest songs ever: "I WILL ALWAYS LOVE YOU".

Whilst we encourage and we publish many papers and reports by afterlife researchers, we are not in a position to guarantee the accuracy of all claims. We accept the imputed claim that the afterlife and paranormal research done by the researchers is done in good faith. ALL WORK IS COPYRIGHT BY THE CONDITIONS SET AT THE GENEVA CONFERENCE ON COPYRIGHT.