May 15th, 2020


Last week's report and all previous reports
COMMENTARY: AVOID THE TRAP - WE ARE NOT BELIEVERS, WE ACCEPT THE EVIDENCE
We receive emails from

people asking for assistance to suggest ways to tell their skeptical loved ones about the afterlife. First, I suggest that you agree with them that it's important to be an open-minded skeptic and to be willing to test any claims that people make.

While there are a few people who are irrationally skeptical, the vast majority are simply not aware of the vast amount of evidence for the afterlife that has been accumulated by some of the most brilliant people who ever lived. At the same time, they have probably grown up with an education system and mainstream media which is totally materialistic, and dismisses, and even ridicules, anything paranormal.

One way is to point out that in the last hundred and fifty years there has been an accumulation of evidence for the afterlife which has never been disproved. Encourage them to look at some of the videos and resources we include in the Friday Afterlife Report. You can also mention that whereas religion relied on 'faith' and 'belief', nowadays accepting the evidence for the afterlife has nothing to do with belief. That is hugely important because there are many skeptics who mistakenly say that those who accept the afterlife are 'believers', implying that they have not given the matter any serious investigation. Do not fall for that one.




UNIVERSITY OF VIRGINIA PRESENTATION ON EVIDENCE FOR THE AFTERLIFE
This presentation is well worth watching in full - even in segments.
3.30 - 14.18 Bruce Greyson, evidence from NDEs
A brilliant articulate summary.
16.20 - 27.33 JIm Tucker, children's past life memories. Best cases.
29.00 - 37.00 Emily Kelly, deathbed visions.
38.00 - 1.00.00 Questions and answers.
1.00.00 - 1.09.00 Kim Penberthy, how meditation leads to amazing psychic/afterlife experiences.
1.10.00 - 1.29 Edward Kelly, psi research and the failure of scientific materialism. He claims that Western science is at a major turning point in intellectual history and is close to rejecting materialism.





TWO VERY IMPORTANT BOOKS In his talk (above),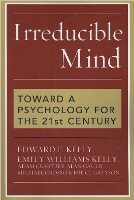 Edward Kelly mentioned two groundbreaking books he co-wrote for "scientifically-minded, intelligent adults" who fit generally into the "spiritual but not religious" category. Irreducible Mind: Toward a Psychology for the 21st Century (2009) demonstrates empirically that reductive materialism is not only incomplete but false. Beyond Physicalism: Toward Reconciliation of Science and Spirituality (2015) This latter book is being hailed as the sign of a major turning point for modern science. Read Don Salmon's excellent overview.




NEAR-DEATH EXPERIENCES OF AMERICAN VETERANS Dr. Diane Corcoran, president of IANDS, talks about the needs of veterans who have NDEs. In the second half, experiencer Robert Caplan talks about his NDE experience while in the Navy.






QUANTUM PHYSICIST SAYS AFTERLIFE CONSISTENT WITH QUANTUM PHYSICS


Prof. Fred Alan Wolf says: "There is evidence that suggests the existence of a non-material, non-physical universe that has a reality even though it might not as yet be clearly perceptible to our senses and scientific instrumentation. When we consider out of body experiences, shamanic journeys and lucid dream states, though they cannot be replicated in the true scientific sense, they also point to the existence of non-material dimensions of reality."

If you scroll past all the adverts, this is a great article on Fred. who lost a son at age 25 and said "I've had a number of deaths, and a number of -- let's call it "visits" of certain kinds." He also said "there are a number of really good scientists out there who have had these kinds of experiences but will not talk about them -- they like to keep their science in one pocket and their spiritual beliefs in a whole other pocket."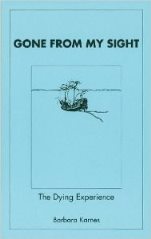 CARING FOR DYING LOVED ONES DURING SOCIAL DISTANCING
American hospice pioneer Barbara Karnes (see above) is the author of
Gone From My Sight: The Dying Experience
. It is well known in end of life education as "The Little Blue Book." This was the first and remains the most widely used patient/ family booklet on the signs of approaching death. She suggests how it and other publications can be used at this time in
her recent post.

FASCINATING STORIES OF PRE-BIRTH MEMORIES
Can babies come back to the same family after a miscarriage? Listen to the story of a 3-year-old girl told who told her mother that she had been in her mummy's tummy but decided that the time wasn't right to be born. Twelve months later it was, and she was again conceived. This story appears in print in the book
"Cosmic Cradle: Spiritual Dimensions of Life before Birth,"
by Elizabeth Carman, Ph.D, and Neil Carman, Ph.D.
MORE INSIGHTS ABOUT THE DUPLICATE OF THE PHYSICAL BODY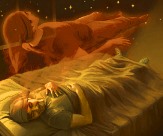 "when the body sleeps, the spirit body temporarily withdraws from it while still remaining connected to it by a magnetic cord [the silver cord]. This cord is the veritable life-line between the spirit body and the earth body.
The spirit thus situated will either remain in the vicinity of the earth body, or it will gravitate to that sphere which its earthly life, so far, has entitled it to enter. The spirit body with all consciousness and mind, will thus spend part of the lifetime of the earthly body in spirit lands, visiting our loved ones and others we know." (Mons. Hugh Benson Life in the World Unseen).




RARE PHOTO OF A SILVER CORD
At the bottom of the photo, you can see the silver cord coming out of scientist George Meek's physical body, which now looks transparent (you can see the chair through his leg). His spirit body (out of sight behind the camera) is still attached to the physical body. The photo was taken in a room where there was no visible light. Read technical details.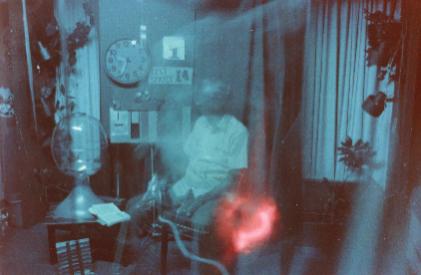 COSMIC MEMORY: MATIAS DE STEFANO'S MEMORIES FROM OTHER DIMENSIONS
Jannecke Øinæs (Wisdom from North) interviews Matías De Stefano, who was born in Argentina in 1987. He claims that, from the moment of his birth, he remembered everything he did before this incarnation and could understand how the Universe works.






"UNDERSTANDING LIFE AFTER DEATH"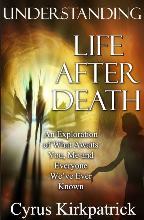 Wendy and I thoroughly recommend Understanding Life After Death. Cyrus Kirkpatrick writes in an easy to read, personal and conversational style, which is very engaging. His grasp of the evidence for the afterlife is impressive, as is his ability to penetrate the arguments of the pseudo-skeptics. His book contains excellent sections on the evidence for mediumship, near-death experiences, Leslie Flint, and his own experiences of out-of-body travel. As a young tech-savvy, college-educated, globe-trotting writer, journalist, and film maker, his is a wonderful fresh voice in the field of afterlife research. The book would be a wonderful gift for a college-age friend or relative to counter the skepticism that pervades academia. Check out the contents.
Cyrus also makes regular videos about his travels and thoughts on all things afterlife - see his Youtube channel.


WE ALL HAVE A SPIRITUAL GUARDIAN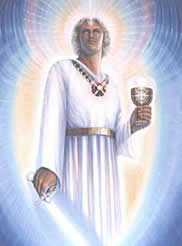 We have repeatedly been informed directly from the afterlife that we do have a protector or guardian while we live on planet earth. Whilst the role of the protector is to protect us, he/she is also responsible for helping us to fulfill our life plan. However the protector does not interfere when we exercise our free will. "Your spirit-protector is obliged to watch over you, because he has accepted that task; but a spirit is allowed to choose his ward among the beings who are sympathetic to him. In some cases, this office is a pleasure; in others, it is a mission or a duty." (Allan Kardec, The Spirits' Book)
DIVALDO FRANCO - A MEDIUM IN THE BRAZILIAN SPIRITIST TRADITION is perhaps the most influential figure in Spiritism today. Like Chico Xavier, 93-year-old Divaldo Franco is a brilliant psychic and medium. To date, he has written, in automatic writing, more than 250 books, by 211 authors now in spirit. The proceeds from the sale of his books and lectures go to charitable work, including his centre, which has helped more than thirty-five thousand children in Salvador da Bahia, a city on the northeast coast of Brazil.






NEXT WEEK'S AFTERLIFE ZOOM GROUPS


Sunday 17th May 2020


GLOBAL GATHERING
Our Guest on the Global gathering next week will be LINDA Burnham N.D., who will be introduced by her long-time friend Sheri Perl. Linda will talk about WiseBody protocols to strengthen your immune system and whole being. She writes:



"In the 70's I used New Age tools and healing principles. By the 80's, I began creating my own health protocols and healing modalities. It seems miraculous to me that in 2020, they All still work!!! I'll be talking about them and about my e-News and Blogs, which provide you with practical solutions and simple dependable tools to use for your daily needs or in crisis. My focus will be on WiseBody protocols to strengthen your physical systems and spiritual reminders to strengthen your whole being."

Please double-check your time
IN THIS LINK
Los Angeles 2 p.m. Sunday
Phoenix 2 p.m. Sunday
Chicago 4 p.m. Sunday
New York 5 p.m. Sunday
London 10 p.m. Sunday
Rome 11 p.m. Sunday
Sydney 7 a.m. Monday
https://zoom.us/j/7595442928



Monday 18th May 2020

NEW GROUP Dream circle with Kim Parker
A small group of 15 meets fortnightly - to share and explore the meaning of their dreams.
Los Angeles 2 p.m. Monday
Phoenix 2 p.m. Monday
Chicago 4 p.m. Monday
New York 5 p.m. Monday
London 10 p.m. Monday
Rome 11 p.m. Monday
Sydney 7 a.m. Tuesday
https://zoom.us/j/7595442928
Email: Kim at kmrainbow57@yahoo.com


Wednesday 20th May 2020

Physical mediumship development group
8 p.m. Central time; 9 p.m. New York; 6 p.m. Pacific Time;
The group is now admitting new members.
Participants sit in a darkened space in their own homes; the group has been going for some time and members are experiencing phenomena.
https://zoom.us/j/4381898190
Contact Rob Blackburn (rkblack@mtco.com) or Craig Hogan (r.craig.hogan@afterlifeinstitute.org) before joining the group.


Automatic Writing and Mediumship Discussion
Share resources and discuss what participants are experiencing
1st and 3rd Wednesdays, 5:30 p.m. Pacific Time
Next meeting Wednesday 20th May 2020
https://zoom.us/j/7595442928
Coordinator: Sheila Lowe sheila@sheilalowe.com



Saturday 23rd May 2020

Love After Life
Rebuilding a happy, fulfilling relationship with our **ROMANTIC** soul-mates / twin-flames who have crossed over.
Every Saturday (US TIME)
Online via our own Zoom Group, must be a member of the FB group 'Love After Life'
Coordinators: Mary Beth Spann Mank mbspann@aol.com & William J. Murray wjmurray@design249.com


More details of meetings

Videos of past Global Gatherings



IT'S ALL ABOUT LOVE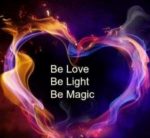 "When I asked God, in my moment of earnest and deep yearning, why my life was not working, God said, "That's easy. You think your life is about you."
I was made to understand that my life had nothing to do with me, but rather, with everyone whose life I touched—
and with how I touched them."
Neale Donald Walsch



SELFLESS SERVICE IS A KEY PART OF ALL RELIGIONS While many people in the West are familiar with Christian-based charities, Sikhs serving free meals to the needy may be something new. In the Sikh religion, one part of the core teachings is selfless service, and, wherever Sikhs have settled, you will find community kitchens with meals prepared and served by volunteers, some of whom may not be Sikhs. This video shows how Sikhs around the world are responding to the pandemic. Read more about Sikhism.





RELIGION IN THE AFTERLIFE Alberto Oyarvide, a young subscriber from Mexico, sent me this short video he made from something in a past report. It is in Spanish with English subtitles. Check out some of his other videos.



MEDIUMSHIP WORKSHOP ON ZOOM - SATURDAY 16th MAY 10:00 a.m. – 4:00 p.m. SYDNEYTIME


International medium Christine Morgan is conducting a workshop on Zoom for mediums who wish to improve their skills in demonstrations and private readings. See times in your city here. Read more and book.here.

See Victor on Video
* Subscribe to Victor's Youtube Channel:
* What Happens When you Die
* Afterlife and Science
* Near Death Experiences- Evidence of the Afterlife?
* What You Must Know Before You Die
* David Thompson's Materialization
* Million Dollar Challenge
* The Afterlife on Trial
* A Lawyer on the Afterlife
* Suicide is not the answer
* Religion and the Afterlife
* Ghosts- Randi and closed minded skeptics when they die
* Zwinge Randi's Challenge Exposed ... Lawyer Explains
* Why Professor Richard Dawkins is Wrong
* God--the Evidence (Without Religion)
* Afterlife Without Religion
* Skeptics Demolished
* Afterlife Objections Demolished
* Ghosts- Randi and closed minded skeptics when they die
* Victor Zammit speaking at Speakers Corner
* Materialized Houdini speaks to Victor





FEEDBACK: (Three only). Received always with thanks!

1) I can't wait to see my loved ones in spirit again and hug each of my beloved animals. Thank you, Victor and Wendy, for all that you do. Linda

2) What an inspired choice of inspirational music! (Here Comes the Sun). Keep safe and well. Alex

3) Theresa Caputo was my late beloved friend and co-author Anny Dirven's favorite TV-medium: Being quite psychically gifted herself, Anny felt Caputo certainly was "the real deal."
Titus Rivas.




INSPIRATIONAL MUSIC: LOVE IS MY RELIGION
We are told that in the higher realms of the afterlife, there are no religions as we know them - only love.


Whilst we encourage and we publish many papers and reports by afterlife researchers, we are not in a position to guarantee the accuracy of all claims. We accept the imputed claim that the afterlife and paranormal research done by the researchers is done in good faith. ALL WORK IS COPYRIGHT BY THE CONDITIONS SET AT THE GENEVA CONFERENCE ON COPYRIGHT.