July 25th, 2014
Last week's report and read all previous reports

COMMENTARY: SKEPTICAL SCIENTISTS ON THE

RUN. Fellow afterlife researcher Dr. Deepak Chopra has issued his own million dollar challenge to the same scientists and extreme skeptics that I challenged in the past- viz: Prof. Richard Dawkins, Prof. Stephan Hawking and that flamboyant closed minded skeptic from Florida. But what is likely to happen? These skeptical scientists and others will just run away from his challenges as they ran away from mine!!

As to my other challenge, no genius closed skeptic, no genius scientist, no genius materialist has accepted my challenge for an open cross-examination of their non-afterlife beliefs. Why not? Because guaranteed, these scientists and skeptics would be torn to shreds under tough cross examination. Yes, these once flamboyant skeptics who used to attack us are on the run, clearly

admitting defeat. Judge for yourself how these professors and other extreme skeptics would perform by reading my hypothetical cross-examination of them based on what they have stated in public: Read cross-examinations.
AFTERLIFE CONFERENCE IN ARIZONA -Addressing a

full house - standing room only, we were given a most generous enthusiastic reception for our presentation. My speech, with Wendy assisting, was about my experiences with materialization medium David Thompson over the last nine years. People told us it was a magnificent show and wanted more - hence, we were asked to participate in the September afterlife conference in Arizona next year. Many, many of our subscribers attended this conference - responding to our publicity for it. See below for a very special conference offer.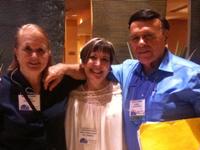 MESSAGE FROM LORNA "Wendy and Victor….thank you so much for finally getting to meet in person. You both were the highlight of the conference..loved, loved, your presentation. What a team you are and what a blessing to humanity. I hope you had a lovely trip back home and I look forward to seeing you again at next year's conference Warm Regards, Lorna". (Yes, Lorna, we'll see you again at the Conference in Arizona in September next year - looking forward to it!!!!)





VICTOR AND WENDY INTERVIEWED BY ROBERTA GRIMES FOR SEEK REALITY [Listen on itunes].




A VERY SPECIAL OFFER FOR OUR SUBSCRIBERS


Next year the the non-profit Academy for Spirituality and Consciousness Studies will be holding TWO afterlife conferences.
1) The June conference in Durham, North Carolina, from June 11-14 2015.
2) The September conference LIFE IN THE AFTERLIFE in the Embassy Suites hotel in Scottsdale Arizona from 25-27 September 2015.

Dr. R. Craig Hogan has agreed to halve the registration fee for our subscribers who register BEFORE July 31st. That means you can attend next year's 3 day conference NOT paying $215, but you will pay ONLY $107.50 for three days (25-27 Sept. 15)
REGISTER HERE...



THE LESSON OF NEAR-DEATH EXPERIENCES
DIRECTLY FROM THE AFTERLIFE DIMENSION: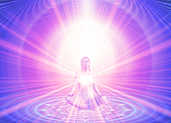 "For those who wish to evolve and to advance, to attain and to attune themselves to the highest reaches of our life, there is no easy way, no short cut. It requires arduous discipline, constant meeting with crises and the determination to fulfil the task on which you are engaged and on which you all decided to engage before you came into the world of matter ... The spiritual race cannot be easily won. Spiritual supremacy is a long and arduous process. The prizes once gained are eternal - they are never lost. The prizes of the spirit will never be stained, they will never rust, they will never be corrupted. They will be yours for all time. These are the eternal possession which you, each one of you, must acquire for yourselves." PHILOSOPHY OF SILVER BIRCH Stella Storm ed.1989.



SPECIAL MESSAGE- PLEASE KEEP SENDING OUT THE LIGHT- We have had requests from mediums working with the victims of the MH17 and people affected by the violence in the world to ask all our our subscribers to go on sending light to those who are making their transition, to the rescue teams who are helping them and to their loved ones coming to terms with their sudden deaths.

Some people are doing this while listening to Reba McEntire's chant "Pray for Peace".



CAN ANYONE BE A SPIRITUAL HEALER? Jim Smith

writes " I had read about spiritual healing and believed it was possible but I didn't imagine I could do it myself until I took a class at a Spiritualist church. I didn't understand that you can tell when it was occurring until I experienced the sensation of healing energy when I gave and received healings. Anyone can do this but people don't because they don't know it's possible."
Read more...



DOES MEDIUMSHIP HELP GRIEF? Author and psychic medium Carole Lynne is interviewed by Bob Olson about spirituality, spirits and the spirit world. This video answers the question: Does mediumship help grief?






DAN DRASIN'S "CALLING EARTH"

Dan Drasin has added one more new sequence to his film which we featured last week. This involves controversial Dutch psychic Robbert van den Broeke who claims to be able to capture images of deceased people – and much more besides – on digital cameras. In this sequence Dan sets up an experiment in which he provides the cameras and memory cards as he films Robbert in action capturing an image of EVP dead pioneer Frederick Jurgenson.





ROBBERT VAN DEN BROEKE AND ROY BOSCHMAN describe being present as a crop circle forms around them.





ANTI-PARANORMAL PREJUDICE: WHY? The real

reason why people in the 'Christian cultured West' generally have anti-paranormal prejudice: for nearly 2,000 years the Church dominated the mind and the hearts of the people. Until late nineteen century, all knowledge about anything came from the Church. Throughout the dark ages - during the Inquisition there was an effort by the Church Inquisitors to completely annihilate the paranormal - mediums, psychics and those who supported them. Arthur Findlay, the highly credible British historian tells us that between 1272 and 1835 more than TWENTY MILLION became victims of the Inquisitors. See Arthur Findlay's THE CURSE OF THE IGNORANCE volumes one and two. The reason why there is no anti-psychic prejudice in places like India - a Hindu country, is because most of India was not dominated by Christians. When we were in India, we found no prejudice against the paranormal or mediums.

Those who were mediums and psychics - and their supporters,

once identified most were tortured and all burnt at the stake. That kind of systematic anti-paranormal prejudice initiated by the Church over nearly two thousand years became part of our culture, history and tradition. Hence, throughout the Christian countries, in Europe, UK, America even as far as some of the Eastern countries, many people these days speak against the paranormal without understanding how that negative prejudice came about. Karma? Ironic in the extreme, we now have more people seeking the services of mediums and psychics than go to church on Sundays.


DEAN RADIN'S SYNCHRONICITY STORY
Many people on the spiritual path experience strange co-incidences which Carl Jung called Synchronicity. Here Dr. Dean Radin explains how it seems to work.

INTERNATIONAL PSYCHIC ASSOCIATION ANNUAL DINNER SYDNEY It's only a little over 4 weeks to the Annual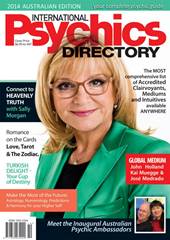 Dinner put on by the Australian (now International) Psychics Association. Last year it was a wonderful night which generated enormous goodwill. Great for networking and sharing future plans. Everyone was very supportive of each other and of the need to work co-operatively. Wendy and I will be going and would love to meet up with lots of our subscribers there. Get Details


FEEDBACK- only 3 selected.
1) Thank you Victor, for your clear description of "God is" in your previous news letter. As NDE websites and the likes of Youtube, bring to us more information from the spirit world, I believe more and more will begin to understand that there is a soul and we keep on coming back to the earth plane to clear what karma is outstanding. My prayers go to Malaysian flight MH-17 the near 300 lost, as you suggested in your current news letter I sent light to them. Regards Vince
2) 'Nobel Prize'? Recommending Victor for a Nobel Prize(!), says Bryan Quinton, "Victor deserves a Nobel Prize for spreading the word and the truth in an effort to create peace." Bryan Quinton. (Maybe our good friend Simon Turnbull will second the motion?)

3) Victor, Well done in what you do and thank you so much for publishing info on my new book! George Moss.


SOME WONDERFUL FEEDBACK ON OUR BOOK
Thank you to all you lovely people who have been giving us positive feedback about our new book. This one from Dennis Grega on Facebook made our day.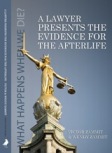 " In my humble opinion, this is one of the most important books ever written about the afterlife and should be on everyone's reading list who is seriously interested in exploring the evidence and reality of life after death. I've read it at least 4 times in its entirety and have referred back to it countless times when I needed evidence and information on certain areas that I was researching." Dennis Grega


See Victor on Video
* Subscribe to Victor's Youtube Channel:
* What Happens When you Die
* Afterlife and Science
* Near Death Experiences- Evidence of the Afterlife?
* What You Must Know Before You Die
* David Thompson's Materialization
* Million Dollar Challenge
* The Afterlife on Trial
* A Lawyer on the Afterlife
* Suicide is not the answer
* Religion and the Afterlife
* Ghosts- Randi and closed minded skeptics when they die
* Zwinge Randi's Challenge Exposed ... Lawyer Explains
* Why Professor Richard Dawkins is Wrong
* God--the Evidence (Without Religion)
* Afterlife Without Religion
* Skeptics Demolished
* Afterlife Objections Demolished
* Ghosts- Randi and closed minded skeptics when they die
* Victor Zammit speaking at Speakers Corner



BEAUTIFUL MUSIC: The combined brilliance of Diana Ross and Julio Iglesias in one of the most beautiful love songs ever - ALL OF YOU. This is really special music - let the most wonderful music penetrate your heart and mind for a moment or two. Enjoy!


Lyrics of "All Of You"
(feat. Julio Iglesias and Diana Ross)

I've never had this feeling before
I've never wanted anyone more
And something in your eyes tells me
You feel the way that I do
(I feel like you do)
If you would like to stay here all night
You know that I would say
It's all right
'Though I'm saying yes
I confess
I've got more on my mind
'Cause I want more of you
Than your time
All of you, your body and soul
Every kind of love you can express
All the secret dreams you've never told
I want everything
And I'll take nothing less
All of you as long as you live
Everything you've never shared before
I want all of you that you can give
All your joys and all your sorrows
Your todays and your tomorrows
How I long to feel the warmth of your touch
And then if I'm not asking too much
I'd like to spend my life wand'ring through
All the wonders of you
And when we're lying close in the dark
So close I feel each beat of your heart
I want you to reveal what you feel
All you hold deep inside
There is nothing I want you to hide
All of you, your body and soul
Everything you want this love to be
I want all of you
All that you can give
And in return for all your giving
Let me give you all of me
All of you, your body and soul
Every kind of love you can express
All the secret dreams you've never told
I want everything (everything) everything
All of you as long as you live
(As long as you live)
Everything you want this love to be
I want all of you
All that you can give
In return (in return) I wanna give you