7th November 2008

Last week's report




COMMENTARY: The Great American Dream! Long-term thinkers see what happened in America on the Presidency has to be seen in its true spiritual perspective. Theoretically, the Presidency, America's highest office is open to anyone there irrespective of age, color, creed and gender.The fact is that the Americans have shown they have spiritually matured over time and were

able to put an African-American family in the Whitehouse. That is something of great value spiritually because they transcended the racial bigotry and discrimination which once were deeply entrenched. The fact is that the Americans perceived someone who would make a better president that anybody else. They judged not by color, but on intelligence, potential skills and competence to lead America during the coming turbulent times of grave financial crises and war on two fronts – as well as the very serious continuing war on terrorism. The world respects American democracy now more than ever - and the President-elect who faces some of the toughest times ahead in the history of the United States.
See Gallup Poll's "If the World Could Vote".

A FOOTNOTE IN AMERICAN SPIRITUAL HISTORY

When President-elect Obama was giving his victory speech he made a comment that his grandmother was there watching him becoming President! That was also the response of Ray Charles, the jazz singer, when his wife said " If only mother was here to see this all happening" when he was given a huge welcome at City Hall.
AFTER DEATH CONTACT


Bill Guggenheim says he was a materialist stock investor who had no interest in life after death until he met Elisabeth Kubler Ross. With his former wife Judy, he then went on to conduct seven years of research on After-Death Communication (ADC) for their book, Hello From Heaven! During this time, they interviewed 2,000 people and collected more than 3,300 first-hand accounts of After Death Contact experiences. Listen as he talks to George Noory on Coast to Coast AM about how he discovered the truth about life after death. He includes many fascinating stories including how his dead father told him to go to the pool and save his youngest son from drowning. Highly recommended interview.
Part 1 Part 2 Part 3 Part 4 Part 5 Part 6
Part 7 Part 8 Part 9 Part 10 Part 11 Part 12

FREEDOM IS KNOWING YOU DON'T DIE
A short 50 second video by late Robert Monroe who developed techniques for out of body experiences
Read more...




THE PARANORMAL AT THE WHITE HOUSE Readers of the book "Oval Office Occult: True Stories of

White House Weirdness" will learn which U.S. presidents have claimed to encounter UFOs, and which have been connected to ghosts, as well as which of our nation's leaders have consulted with fortune-tellers or otherwise been associated with other aspects of the occult. Famous subjects include Warren G. Harding and the curse of the Hope Diamond, the uncanny similarities between the lives and deaths of John F. Kennedy and Abraham Lincoln, George Washington's visions, Ronald and Nancy Reagan's reliance on psychics, the haunted homes of Dolly Madison and Rosalyn Carter, Jimmy Carter's UFO sighting, Hillary Clinton's experience with channeling, the mysterious curse of Tecumseh, the secret societies of presidents, and much more. The author Brian M. Thomsen is the author of more than 12 books and has edited more than 15 anthologies and collections. He resides in Brooklyn, NY. Read more...

TRUTH: "All truth passes through three stages. First, it is ridiculed, second it is violently opposed, and third, it is accepted as self-evident." - Arthur Schopenhauer- philosopher.

SOME SCIENTISTS WHO ACCEPTED THE AFTERLIFE... Sir William Crookes (pictured), Sir William Barrett, Frederick WH Myers, Sir Oliver Lodge, Professor James H Hyslop, Dr William James, Professor Cammille Flammarion, Dr Charles Richet (Nobel Laureate), Dr Cesare Lombroso, Dr Enrico Morselli, Dr Gustave Geley, Dr Julian Ochorowicz, Baron Dr Albert Von Schrenck-Notzing, Dr Carl A Wickland, Dr William McDougall, Dr T Glen Hamilton, Dr Raynor Johnson, Dr Gardner Murphy, Dr Elisabeth Kubler
Ross MD, DR Barbar R Rommer MD, Professor Gary Schwartz, Dr Jon Klimo, Dr David Fontana, Ronald D Pearson Esq. Dr Jan W Vandersande - physicist (pictured)- learn more about these and others from the current issue of the Zerdin journal.


LUIGI GALVANI, Italian physician, discover of animal-electricity and was attacked by the closed minded skeptics stated, "I am attacked by two very opposite sects – the scientists and the know-nothings. Both laugh at me- calling me "the frogs' dancing master." Yet I know that I have discovered one of the greatest forces in nature. "

PSYCHIC RESULTS: ODDS AGAINST CHANCE A BILLION BILLION TO ONE!
Refer any skeptics who say that successful results in psychic

experiments come about by chance to brilliant paranormal investigator Dr Dean Radin' s The Conscious Universe (translated into 14 language) at page 101. There he details the work of Edwin May and his colleagues who in 1988 analyzed all psychic experiments conducted at Stanford Research Institute from 1973 until that time. The analysis was based on 154 experiments consisting of more than 26,000 separate trials. Of those, just over a thousand trials were laboratory remote-viewing tests. The statistical results of this analysis indicated odds against chance of MORE THAN A BILLION BILLION TO ONE to one.

PSYCHOMANTEUM RESEARCH


Dr Raymond Moody worked on ways of inducing facilitated apparitions in a controlled setting. He took as his model classic works from Ancient Greece which suggested that when people wished to contact a deceased loved one they consulted with an 'oracle' at a psychomanteum. A psychomanteum is a specially built laboratory where people gaze into mirrors to help facilitate the psychic process. Part of the actual psychic process includes the sending of telepathic messages, sending vibrations, to the selected recipient in the afterlife. Professor

Arthur Hastings (pictured) at the Institute of Transpersonal Psychology in Palo Alto, California. Dr. Hastings and his research team took 27 persons through a three hour process with the intention of contacting a friend or loved one who had died. Half of the participants said they had felt the presence of the person they sought. The research has just been published in the winter issue of Omega, a professional journal on death and dying, and is the first to scientifically measure this process. Read more...

BRILLIANT SCIENTIST/ PHYSICISTS#8 Advanced thinkers helping to shape the destiny of our planet earth.


Dr Adrian Klein and Dr Robert Neil Boyd (pictured below) take us further on the journey


into a new scientific paradigm built upon a whole spectrum of replicable experimental data which contradicts mainstream scientific paradigms. Read this week's article "Reality is neither absurd nor paradoxical".

A REAL LIFE HALLOWEEN VIDEO


This BBC documentary is the real life story of a little English boy who wanted to be a farmer but whose life changed when he began to experience poltergeist activity. His bed was moved and hundreds of signatures of people who had links with his house began to appear on the walls of his bedroom. Apports began to arrive including a bread roll which was analyzed and found to have been baked before 1914. The boy began writing in languages he could not understand and drawing in the style of deceased artists.
Part 1
Part 2
Part 3

"WITNESSING THE IMPOSSIBLE"
Most readers of this column would know that Robin Foy was one of the

mediums involved in the famous Scole Experiments, (See chapter 8 The Scole Experiments)
His book "Witnessing the Impossible" brings the reader nearer to the story - deeper into the "Scole-Hole" - than any other publication. On the basis of Foy's complete Seance Protocols you become witness to one of the most validated and successful psychical research efforts of the twentieth Century: Get Payment Details & Order your edition now from Martin Marshall, East Anglia, distributor of the book!
nrgfilms@btinternet.com or per phone 0044 1502 740516

DOES THE END JUSTIFY THE MEANS? This has been, and continues to be, one of the greatest problems in history – doing evil for a 'greater good'. Would you torture a

terrorist suspect who may or may not have critical information? If you were an intelligence chief, would you cheat, lie and harass political opponents or kill off someone who was a 'suspect' of some serious crimes, by-passing the due process? Most interesting information from the other side states that we are all accountable for our deeds and omissions and our etheric/spiritual body on crossing over will have the vibrations brought about by our decisions and actions. The level of vibrations will take us to a particular 'realm' that can accommodate our vibrations. This process is completely objective and does not accommodate 'deathbed-mercy' or 'deathbed forgiveness' or 'deathbed conversion'. We all get exactly what we deserve. Rationalization that murder, maiming and mutilation or causing genocide or killing was for some 'higher good' would be irrelevant. Any individual who worked for a government or any religion's 'dirty works department' inevitably will be accountable. That will come as a surprise to many.



"SPREAD THE LIGHT" So many people have written to us over the years saying that reading the evidence for the afterlife changed their life. Because of changes in the currency we are now able to sell print copies of A Lawyer Presents the Case for the Afterlife for US$10 plus postage. Buy one for yourself, for someone you care about, or for you local library.

FEEDBACK AND QUESTIONS:

FALL OF HIGH FLYING AUSTRALIAN FEDERAL JUDGE 'KARMA'? Do you think it is the result of the karmic Law of Cause and Effect that high profile former Australian Federal Court judge Marcus Einfield is likely to go to jail for up to 15 years for perjury?

Victor: This very high profile judge Marcus Einfeld (pictured

left)has now admitted that he lied when he gave a statement on oath (Statutory Declaration) that he was not the driver when his car was caught on camera exceeding the speed limit. He caused some TEN MILLION dollars in investigation expenses by pleading NOT guilty at first. I don't know whether this is a matter of karma or not, but we are informed from afterlife sources that nothing comes by chance. If this judge's conduct was oppressive or if he bullied others using his power, these could be a karmic issues. We are credibly informed that no one gets away with it – sooner or later, the law of Cause and Effect will take its course. We'll have to wait until February to see what jail sentence the judge will get.

QUESTION ON UFO: Victor, you included site last week which included orbs and UFO's. How do you know they are real?

Victor: First of all I don't endorse the claims of all the items we put

in the report. That is for the readers' to make up their own minds about. However I am very open to the existence of UFOs. Some twenty years ago on a very calm and hot summer day, very early in the morning, I was walking with my wife on the beach with our two dogs. There my wife and I witnessed two UFO's. How do I know they were UFO's? Because what we witnessed far exceeded aviation technology we have on planet earth. They were maneuvering with fantastic skills unheard of anywhere. They were not balloons, or air-force planes or lights or anything man made. Further, highly credible afterlife teachers tell us that we should not be so arrogant to think that we humans are the only intelligent beings in the immensity of the universe. Further still, a good friend of ours with the highest credibility (now deceased) told us in strictest confidence that she too had a close encounter with a UFO. All intelligent beings from UFO's would be light years ahead of us on planet earth regarding the unqualified acceptance of the afterlife. From memory, this is my very first time ever that I mentioned publicly that I witnessed a UFO.

WHO IS THE REAL JESUS? More controversy: Alfred sent me

a Wikipedia explanation of Jesus – see for yourself:Jesus of Nazareth (7–2 BC/BCE—26–36 AD/CE),[2][3] also known as Jesus Christ, is the central figure of Christianity and is revered by most Christian churches as the Son of God and the incarnation of God. Islam considers Jesus a prophet and he is considered an incarnation of God by the Rastafari movement.The principal sources of information regarding Jesus' life and teachings are the four canonical gospels though some scholars argue that other texts (such as the Gospel of Thomas) are as relevant as the canonical gospels to the historical Jesus.[4] Most critical scholars in the fields of history and biblical studies believe that ancient texts on Jesus' life are at least partially accurate,[5][6] agreeing that Jesus was a Galilean Jew who was regarded as a teacher and healer. Read more …

CATHOLIC-MUSLIM DIALOGUE BEGINS


According to a press release from Vatican city last Tuesday this week Senior Vatican and Islamic scholars launched their first Catholic-Muslim Forum to improve relations between the world's two largest faiths. The three-day meeting comes two years after Pope Benedict angered the Muslim world with a speech implying Islam was violent and irrational. In response, 138 Muslim scholars invited Christian churches to a new dialogue to foster mutual respect through a better understanding of each other's beliefs. In their manifesto, "A Common Word," the Muslims argued that both faiths shared the core principles of love of God and neighbor. The talks focus on what this means for the religions and how it can foster harmony between them. Read more...

MATERIALIZATION CORNER

ZERDIN JOURNAL I have just received this issue of the Zerdin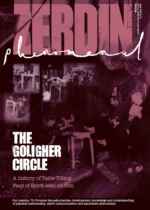 Journal – which I regard it to be the best afterlife journal in the world to-day. I urge every subscriber and every reader of my website to subscribe to the fabulous Zerdin journal. I have always stated that materializations are the very best evidence for the afterlife and the Zerdin journal is a specialist in materializations. In this current issue there are: ITC, the new machine/The Evidence, regular features, Special Feature: Freidrich Jurgenson's EVP, Claus Schreiber's EVP and ITC experiments, and the materialization of Jack Webber and Eusapia Palladino. This means NO beliefs, no subjectivity, no blind faith but only hard core objective and repeatable evidence for the afterlife and the paranormal. It's only 22 pounds sterling in the UK or $12 per quarter.
Email Roz to subscribe: roz@zerdin.co.uk and Read more...

"CHURCHILL'S WITCH"


Good news- this long awaited book about materialization medium Helen Duncan will be published on Helen Duncan's birthday- November 25th. It will be available as an e-book online. The brilliant author is Michael Colmer, former British Fleet Street journalist - who spent 20 years on "The Times" and "Financial Times". Michael has been a Spiritualist medium for three decades and has lectured to many groups around the world on different aspects of the paranormal. Stay tuned for details.

NEW FEMININE POWER: IMPRESSIVE RESPONSE!


Congratulations to all of the women who tuned into the telecast for women on The New Feminine Power and to all of you gathering for the 3 day workshop in Los Angeles this weekend. For those of you who would still like to be part of this momentous "Shift for women" it's not too late to join the community and LISTEN to the archived version of the online conference which saw 700 evolutionary women coming together.
More details...
YOUR LEGAL QUESTIONS ANSWERED BY VICTOR ZAMMIT: 'SERVICE TO MY REGULAR READERS AND TO THE COMMUNITY': whilst this has nothing to do with afterlife matters, over the

many years of doing afterlife research, I received many questions from my regular readers who needed legal advice but did not have the money to go to a lawyer. Accordingly, I have put on the website a special section for the many legal questions/answers (eg. negligence, defamation, police matters, murder, assault, divorce, Wills, probate, property, claims against insurance co's., leases, marriage rights, medical assault, police radars - and for other, click on archives on the blog) for for my regular readers - and for general readership and information.
Read more ... http://victorzammit.wordpress.com/

BEQUESTS: It is vitally important that professional accredited and registered afterlife researchers be given funding so that

they can help the world understand that there is an afterlife. After you have provided for your family in your will consider making a bequest which will bring about 'LIGHT' on a global level after you've gone. So far, we can highly recommend the following legally registered organizations who will use your funding to benefit humanity:

* Sonia Rinaldi's IPATI- Brazilian based research on ITC
* The American Association of Electronic Voice Phenomena
* The Windbridge Institute for applied research
* The Forever Family Foundation
* Mark Macy's World ITC- American based research on ITC
* Rhine Research Centre- Institute for Parapsychology
In the future we will include other registered organizations which are doing afterlife research. Please email for details.

Housekeeping note: The URL'S on these early reports are temporary and after a few weeks will disappear. You are more than welcome to bookmark or link to the articles once they are put onto permanent reports section of the webpage www.victorzammit.com one week after they are made available to subscribers. See index page...

MORE OF THE MOST INSPIRATIONAL MUSIC EVER WRITTEN
.. Enjoy the most beautifully evocative "The Music of the Night" from the movie Phantom of the Opera!