Afterlife News Report November 23rd 2007

EARLY EDITION FOR SUBSCRIBERS




HAPPY THANKSGIVING TO OUR UNITED STATES NEWSLETTER MEMBERS
Thanksgiving is a harvest festival celebrated on the fourth Thursday of November in the United States, although most people also take the following Friday off work. Many of our North American readers will be enjoying a long weekend getting together with family members who often travel long distances to be together. It is a wonderful festival hopefully without too much commercialization. Our thoughts are with you.

SHOULD I TELL FAMILY MEMBERS ABOUT THE AFTERLIFE?
One problem that confronts people who have recently discovered the existence of the Afterlife is when they try to share it with loved ones or close friends, expecting them to be just as excited as we are. Sadly it seems that unless people are at a certain level of readiness all we can do is to "sow seeds" that may or may not lead them to ask questions when the time is right. But there will be plenty of other people around us who are interested to share our discoveries,

FACEBOOK DISCUSSION SITE
In the meantime you can find lots of people to talk to about afterlife issues on Our Facebook discussion group which now has 87 members. http://www.facebook.com/group.php?gid=6417546403 Caroline Bennet is doing a wonderful job as moderator and there are now 31 topics on the forum boards including What are your thoughts on the Afterlife? Mediumship development? Have you made contact with the spirit World Yourself? To contribute you just go to http://www.facebook.com create an account (a quick and easy process) and start making friends from all over the world with people who are interested in the things on this site.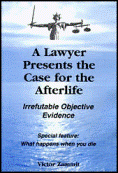 FREE COPY OF VICTOR'S BOOK (but kindly send postage) An ideal opportunity for 100 subscribers to introduce a friend or relative to the most important information they will ever come across. Send an email to freebook@victorzammit.com with your name and the address of your friend of relative and a message to accompany the book. We will then send you an email with an invoice for the postage which can be paid via creditcard, paypal or cash. Postage to US or Europe is $10US ($11Australian) and to Australia is $2US ($2.50 Australian).
THE AFTERLIFE EXPERIMENTS
Recently detailed investigations into the genuineness of mediumship have been carried out by Professor Gary Schwartz and colleagues at the University of Arizona who conducted a number of double blind research studies with some of the top mediums in the United States including (in order of working with them) Laurie Campbell, John Edward, Suzanne Northrop, George Anderson. Anne Gehmen, George Dalzell, Allison Dubois, Catherine Yunt, Mary Ann Morgan, Janet Mayer, Christopher Robinson, Traci Bray, Sally Own, Mary Occhino, Debbie Martin, Doreen Molloy, Sally Morgan, Robert Hansen and Angelina Diana. He writes:

" These mediums have been tested under experimental conditions that rule out the use of fraud and cold reading techniques commonly used by psychic entertainers and mental magicians."
In January of 2007, a paper describing a triple-blind study conducted by the VERITAS Research Program that achieved positive results was published in the peer-reviewed journal, EXPLORE: the Journal of Science & Healing. 2007;3(1):23-27.
View On-line
Download the PDF version
Details of his experiments in the Veritas Program and other academic papers on mediumship published in peer-reviewed journals are available on his website http://veritas.arizona.edu/.

RICHARD MILTON ON SKEPTICS AND THE MEDIA
"Whenever a major TV network carries a programme whose content CSICOP disapproves, the organisation alerts members by email, encouraging them to bombard the network and the programme's producers will vociferous complaints, insisting that such content should not be broadcast. Not unnaturally, some producers and network executives feel it wiser to give in to this kind of pressure from prominent academics and avoid such subjects in future."
Read more...

THE SENSING MURDER CONTROVERSY IN NEW ZEALAND
MICHAEL COCKS has written a very sensible analysis of the current attacks on the integrity of the New Zealand version of the television program Sensing Murder using the above tactics. He writes:
" Skeptics feel safe to ignore the work and findings of thousands of psychic researchers over the past 150 years, including that of leading philosophers, psychologists, physicists, and mystics. They consider the research to be a nullity because of their "knowledge" of the rightness of Materialism. Because of their "knowledge" they feel justified in ignoring the picture of reality now being presented by world figures in the field of Quantum Mechanics." To read his full analysis go to
http://thegroundoffaith.net/issues/2007-11/

COMMENTARY: THOSE WHO OPPOSE THE AFTERLIFE – THE TRUTH! And those who are on the winning side: Over the last eight years since I started my website, I received thousands of emails from all over the world about my afterlife research- from North and South America, Europe, Africa, many countries in Asia, Australia – and Russia. As a matter of fact my book was translated into Russian some years ago and is being sold in Russian bookshops. Some 99.9% of the emails support directly or indirectly my afterlife research. Of course, I do get a couple of emails from the skeptics- from the three kinds.
1) OPEN MINDED SKEPTICS who intially oppose the afterlife: there are the searching open minded skeptics – like me – who ask important questions and investigate using scientific method – as I do. I refer these open minded skeptics who contact me to the relevent research and most of them, in fact, go away and investigate, then start having their own experiences and come to accept the evidence of the afterlife. Note very carefully, when the open minded skeptics accept the evidence, they are NOT into beliefs. They say, "yes, we ACCEPT the evidence."
2. CLOSED MINDED SKEPTICS - who oppose the afterlife: Also, there are the closed minded skeptics who use their closed-skepticism to promote their own careers – many of them academics. Some people call them 'intellectual expedients'. They will change their views overnight if they think that by accepting the paranormal their career will be advanced. We see them publishing articles on the "paranormal" - debunking the existence of Bigfoot or claiming they can duplicate orbs and picking on the side-show psychics. But do they try to rebut my TWENTY TWO AREAS of objective, repeatable, empirical evidence? NO!!!!
3. SKEPTICAL DUMMIES- hopeless cases?: those who experience a lot of frustration and despair when they cannot rebut the substantive hard core empirical evidence for the afterlife – especially the hard core sensational evidence for materializations. To offset the colossal frustration, they 'throw mud' at the source of their frustration. They try to parody websites and videos or use fifth rate 'comical' material. In their despair, they inevitably join the team of failed comics. BUT no matter how hard they try to throw mud at their source of frustration, the hard core empirical EVIDENCE for the afterlife remains VALID, remains INTACT and remains UNREBUTTED – no wonder they suffer so much frustration! Some call these skeptical dummies losers and defeatists. But consistent with the Law of Progress, even these dummies will one day inevitably accept there is an afterlife – even if it will take eons of time!
'WE LIVE FOREVER': THE REAL TRUTH ABOUT DEATH - DVD $19.95


Filmed at Transformation Conference 2007, Fayetteville, Arkansas, this two-hour presentation by P. M. H. Atwater focuses on the greatest mysteries of all time - death, heaven and hell, the existence of the soul, and the power of prayer. Dr. Atwater shares how deeply the attack on Pearl Harbor affected her as a first grader in school, and how the specter of death has been a part of her life ever since. Using this and her research of near-death states as a springboard, she discusses in-depth the existence of the soul, soul groups, soul cycles, leaving the body after death, different energetic layers to the afterlife, borderlands and in between spaces, and spirit beings on the Other Side. She shares "What Death Is" and "What It Feels Like To Die" (summarizes from comments of over 3,000 near-death experiencers during her research of the near-death phenomenon). Reference her book: "We Live Forever," A.R.E. Press, Virginia Beach, VA, 2004 Order the book directly from the author http://cinemind.com/store/page5.html

GROUND OF FAITH: The excellent November 2007 issue of The Ground of Faith can now be read: just click http://thegroundoffaith.net/issues/2007-11/(reply SUBSCRIBE and we will try to make sure you are notified, reply DELETE if you want your address to be deleted from our mailing list)
"Sensing Murder - the SKEPTICS exposed"
Editorial: I preach a sermon to myself
Articles: "SENSING MURDER" - Michael Cocks "Houdini knocks their socks off"
Different Kinds of Fundamentalism
The Most Holy Family Monastery: "The Heresies of Benedict XVI"
Rustum Roy: Scientific Fundamentalism the Most Dangerous Video: multiple videos on science and religion THE SCIENCE OF ETERNITY Interview with Deepak Chopra: Afterlife ARTICLES and COMMENTS from READERS: Dr Elizabeth Keane (Brisbane Austr.) My experience with the pendulum Rev. Ian Crumpton (Presby. NZ).
VIDEO- Becoming John Edward


This week's video features a look into the early life of John Edward and Interviews with his family members about what the medium was like as a child and how he developed his talents.
Becoming John Edward Part 1.
Becoming John Edward Part 2.
Becoming John Edward Part 3.


WANTED: TRANSLATORS: Chinese, French, German and other languages … to translate some of the chapters in my BOOK – top right.