December 31st 2010



A SPECIAL THANK YOU TO YOU ALL for sending your best wishes to us! It was so wonderful to receive so many cards, emails, facebook and SMS messages- we virtually could not count them all. THANK YOU AGAIN and let's all together continue to spread the light globally about the afterlife and the paranormal.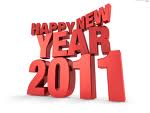 Wherever you are in the world, 'Happy New Year!'

COMMENTARY: 2010 WAS THE BEST YEAR EVER! No

doubt at all, these last 12 months have been the very best ever for afterlife and paranormal results. We see more reports, more videos, more books, more journals, more DVD's, more television programs, more afterlife lectures, more documentaries about the afterlife and the paranormal than at any time in history. More and more we are seeing that consciousness is being discussed and the mind-body connection is being accepted.

We are on the winning side and the opposition knows that. The opposition is getting less aggressive - in fact considering my reports every week, I did not have even one closed minded skeptic challenge me this year.

The only closed minded skeptic still standing- the editor of a skeptics' journal (see item below: INTERVENING NEGATIVE VARIABLE) is so desperate that he has been attacking James Van Praagh personally - trying to belittle someone who is helping thousands of people around the world. The positive actions by those who are informed about the afterlife and the paranormal will, inevitably, one day just make the remaining closed minded skeptics sink into total insignificance - and oblivion.

So, let's all continue to be positive, let's co-operate, let the world know that the light will be spread around the world to shut out the darkness forever. May you, may we all - have the best year yet for 2011!
'SCIENCE' SAYS 'YES' THERE IS AN AFTERLIFE!
Never accept the claim of the closed minded skeptics 'but science does not accept the afterlife' nonsense! One has to know WHICH 'science' are they talking about! Scientists in 'institutionalized' science - which usually refers to governmental bodies and institutions do NOT want to accept paranormal science because these scientists in

institutionalized positions are very likely to lose their well paid jobs - being paid by the taxpayers. They are on record for NOT using science for our personal comfort. It was NOT institutionalized science which made the following discoveries and inventions for our comfort, but the real independent, lone 'scientists' and inventors - for the public, the real GIANTS of science: Anyone who
1. switches on the electric light,
2. turns on the television,
3. makes a phone call,
4. watches a film
5. wants to make a movie or video,
6. takes pictures,
7. drives a car,
8. plays a record,
9. goes on the internet,
10. uses a personal computer,
11. vacuums the floor,
12. travels by aeroplane,
13. takes polaroid photos,
14. uses an I-Pod - an offshoot of the computer ...
15. uses an electric toothbrush,
has the lone 'eccentric' scientist to thank NOT institutionalized science. Not only that, these skeptical scientists from institutionalized science actually ACTIVELY tried to ridicule these brilliant lone eccentric scientists and inventors. These closed minded skeptiscs called Galvani, the pioneer of electrical science, the "frogs' dancing master." They called Edison a 'fraud' - and many others who gave us these marvelous inventions: we remember how SCIENTIFIC AMERICAN journal and those most senior U.S. Army scientists heaped ridicule and insults on to the Wright Bros for stating that have invented a plane - a machine that flies in the air!
THE REAL SCIENTISTS: So, whilst institutionalized scientists can make discoveries about space exploration, when it comes to the real science of people's urgent needs and science of eternity, we listen to those independent scientists who are making a huge contribution proving that consciousness continues to exist after we physically die. Always remember, we are on the winning side - and the independent 'scientists' - and other professionals collectively can prove the existence of the afterlife to-day! (Recommended reading: Richard Milton's brilliant book:Alternative Science: Challenging the Myths of the Scientific Establishment [Paperback] Access also RESPECTED SCIENTISTS WHO ACCEPTED THE AFTERLIFE-PARANORMAL, Chapter 2



DR JULIE BEISCHEL SUMMARISES THE STATE OF RESEARCH WITH MEDIUMS


"At this point, we can definitively state from the results of our proof-focused research that certain mediums are capable of what we call anomalous information reception (or AIR). That is, they can report accurate and specific information about deceased individuals (or discarnates) without any prior knowledge about the discarnates or sitters (the living people interested in hearing from the discarnates), without any feedback during the reading, and without using

fraud or deception. The quintuple-blind protocol we use effectively eliminates all the explanations that a skeptic may claim are responsible for a medium's apparent accuracy: fraud, experimenter cueing, information so general it could apply to anyone, rater bias, and 'cold reading' (a situation in which a medium uses cues from a present sitter to fabricate an 'accurate' reading). The readings take place on the phone between a medium and a blinded experimenter; sitters do not hear the readings as they take place and they later score blinded transcripts." Read more...



OUR NEW WEBSITE SECTION- AFTERLIFE SCIENCES
On our website www.victorzammit.com we are building a new section www.victorzammit.com/evidence - a multi-media introduction to the evidence for the afterlife. Hopefully it will be one of the first sections that people go to when they come to the website. You can learn more about research with mental mediums on our new page-
Afterlife Sciences- Mental Mediums



BRILLIANT PHYSICIST USES SCIENCE TO CONFIRM THE EXISTENCE OF THE AFTERLIFE: author, a giant in paranormal science - and empiricist DR Jan W. Vandersande Ph.D. has based the afterlife evidence on his own eight year investigation- conducted at his own expense and in his own time. We had a long discussion about his book last time Wendy and I met him in Las Vegas. His new brilliant book, which I very highly recommend, Life After Death: Some of the Best Evidence, is now available on Amazon.com


CAN WE SEE THE FUTURE? RESEARCH FUNDED BY THE INSTITUTE OF NOETIC SCIENCES




WE NEED TO SUPPORT AFTERLIFE SCIENTISTS
The truth is that employed scientists only do research that they get

funding to do. With limited funding they are struggling. As Dr Julie Beischel of the Windbridge Institute says : " I get to perform research that interests me and that I find monumentally important and socially relevant but, at the same time, I cannot afford luxuries like health insurance, a car manufactured during this century, or restaurant food. It is not surprising that more people aren't working in this field and that it takes so long for us to accomplish anything: I can't afford the necessary equipment and personnel to perform the types and number of studies I'd like to do."
If we want good scientific papers and presentations it is up to those of us who are passionate about the possibilitites of this research to support those willing and able to do them. Three U.S. organizations that ARE producing brilliant afterlife results and deserve our support are:
The Windbridge Institute..and
Institute of Noetic Sciences and
The Forever Family Foundation


WHAT HAPPENS WHEN YOU DIE?
QUESTION: THE 'WORST CASE SCENARIO'. What is the worst case scenario that could happen to those who do not want to accept the afterlife on crossing over - such as 'closed- minded sceptics': Prof R Wiseman, Dr Chis French, Prof. P Kurtz, Randi, M. Dr Shermer, Prof Hyman and others like them? Richard, New York.



Victor: As long as their mind is locked into not accepting the afterlife they could have very serious problems. They will know that a fundamental change has taken place - and they will experience consciousness. But they refuse to accept they are physically dead. They stubbornly keep on believing that perhaps their mind has gone a little strange - but they keep on DENYING they are dead in the afterlife dimension and they will be confused. Their vibrations of the etheric body will attract others of their level of vibrations - and if they die with lower vibrations - they could experience some kind of horrible existence for thousands of years as we measure time on earth.


BRILLIANT PSYCHIC DETECTIVES: Kim Arlington, journalist

with a mainstream newspaper The Sydney Morning Herald wrote a very interesting article Supernatural Sleuths and the Search for Truth (30-12-10). The critical issue: do gifted psychics assist police in solving crimes? Of course those who have done their research know that in the United States and Australia and Britain gifted mediums (Note carefully: NOT just any medium) – have established a most successful track record in helping the police to solve crimes. We have testimonies from senior police officers that without these gifted mediums/psychics, it is unlikely that the crimes would have been solved – that is the clear inference from what senior police officers stated. And as Simon Turnbull of the Australian Psychics Association says, younger police officers are contacting psychics and building up relationships with them.

All credit to Kim Arlington for quoting Lake Illawarra detective Jeff Little. She writes " In 2005 he was investigating the murder of South Coast woman Maria Scott when he saw Debbie Malone on the TV program Sensing Murder, in which psychics offer clues to unsolved murders. He contacted her, hoping she might corroborate elements of the investigation. Little, now retired, says police do use psychics, ''even though they officially say they don't''.

Of course, Kim Arlington also included the skeptics' perspective – which is ALWAYS - without fail, negative, irresponsible and uninformed. Kim perhaps could ask the skeptic's response when hardened, senior police officers go public on television stating that without the psychic's help the case may not have been solved. See below
Read Kim's article in full:
Senior police officers on PSYCHIC DETECTIVES …Read more

NOTE THE ANSWER TO THIS QUESTION VERY CAREFULLY: HOW LONG IS IT NEEDED FOR A PERSON TO REST AFTER CROSSING OVER?

"It depends on whether the individual has any knowledge of spiritual

matters. If there is ignorance, there can be temporary harm to the soul. Even when the cord connecting the physical and spiritual bodies is cut, there is still a certain amount of interplay due to long association of the two forms of being. Generally it is considered advisable, where there is complete ignorance of spiritual truths, for an interval of three days to elapse before there is either burial or cremation.".(S.Birch - a highly informed intelligence from the afterlife).

CHICO XAVIER- THE MOVIE We finally found a version of the trailer with English subtitles- if anyone knows where we can get the full movie with subtitles please let us know. You can read more about this remarkable medium on our new page- Afterlife Sciences- Writing Mediums

ECTOPLASM: QUESTION: Why do materializations have to be held in darkness?

Victor: First, I have sat with materialization medium David

Thompson for the last five years and can tell you that David has been scientifically investigated by those who are experts in Scientific Method and those others who have expertise in the admissibility of evidence. So, I can assure you that there is absolutely nothing wrong is going on - but that ECTOPLASM - that gaseous, whitish substance which the medium exudes from his mouth is extremely sensitive to light - see photo above.You have to remember that ectoplasm is the medium's life force- taken from his/her white blood cells. In some rare circumstances the ectoplasm can be manipluated by the spirit team to be safe in red light but usually the medium could be seriously hurt or even killed if light is put on without notice.But very close investigation of this ectoplasm shows that those intelligences from the afterlife use this ectoplasm to reduce their vibrations to become as solid as you and me- and these materialized intelligences speak to us in their voice they used when they were on earth. Guaranteed, if the energy is right, ectoplasm will make it possible for afterlife intelligences to become solid. Listen to voices from the afterlife.

VICTOR AT SPEAKERS CORNER - AND THAT 'INTERVENING NEGATIVE VARIABLE' SKEPTIC M.C. it's that closed-minded negatively entrenched skeptical editor of a skeptical journal Michael S who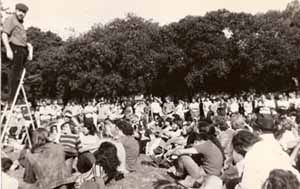 said that famous international medium James Van Praagh "wanted to be an actor!" WRONG! This negatively entrenched skeptics'-editor Michael Sherma got it VERY wrong!

It was VICTOR (pictured on the stand, left) who wanted to be an actor. . Here is Victor at the time when he was attending classes run by the Australian National Institute for Dramatic Arts - where Mel Gibson and Nicole Kidman graduated. Victor was professionally trained to be a professional presenter using acting techniques - and was instructed to do verbal improvisations - up to 3 hours, without notes on a soapbox at Speakers Corner- in public parks - in Sydney and London! Victor became rather proficient - very successful - at it and with that brilliant English orator John Webster, was one of only two speakers who were able to regularly and consistently attract huge crowds - the biggest crowds in Speakers Corners' history.

WENDY ZAMMIT TO BE INTERVIEWED ON SIGNS OF LIFE: While Victor is taking a much needed break from being the public face of our work, Wendy will be doing an interview with the wonderful SIGNS OF LIFE internet radio program on 30th December US time. Wendy is Victor's co-afterlife investigator - (since 1990) and co-researcher and takes an equal part in all our work. She will be talking about our ten years years presenting the scientific evidence for the afterlife online. She will also be mentioning our experiences of physical mediumship- something U.S. audiences are still mostly unfamiliar with.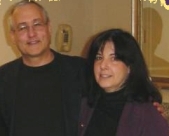 SIGNS OF LIFE- the internet radio program run by Bob and Phran Ginsberg (pictured left) of the Forever Family broadcasts on BBS RADIO
7 PM Eastern/ 4PM Pacific Every Thursday Night
(11am Friday 31st Sydney time)

"The radio show plays a significant role in our quest to change world views by presenting weekly featured guests who discuss their work while providing an opportunity for listeners to call in with questions and views in an effort for us all to reach the truth. Our guests include medical doctors, researchers, scientists, mediums and authors. Typical subjects explored on the show have been ESP, telepathy, remote viewing, consciousness research, mediumship, near death experiences, reincarnation, altered states, dreams, out of body experiences, apparitions, survival research, and physics."
You can call in during the program and talk with guests
Listen to SOME OF THE GREAT ARCHIVED SHOWS FOR 2010
[NB- scroll over to the extreme right to access the download button]

SCIENTISTS DISCOVER THAT DOGS, CATS AND EVEN BIRDS ARE PSYCHIC





EXCEPTIONALLY BRILLIANT BOOKS: PARAPSYCHOLOGY AND THE SKEPTICS - a must read for all. Exceptional writer and researcher Chris Carter. "I

highly recommend this book to anyone who is truly open minded about whether or not psychic abilities exist." Prof. Jessica Utts Ph.D.
" I found a deep well of new information. Carter's book, the first in a series of three, is both scholarly and entertaining; I eagerly await his next two works" Dr Robert S Bobrow, Professor of Family Medicine.
"A masterly guide to the frontiers of science, belief and exploration" - -- Dr Rupert Sheldrake author of The Presence of the Past."

Science and the Near Death Experience -CHRIS IS BEING INTERVIEWED ON SIGNS OF LIFE RADIO
ON THURSDAY 23rd December US TIME (FRIDAY 24th Australian time) on his other book- Read more....


AFTERLIFE TREASURE: CLASSIC AFTERLIFE BOOKS NOW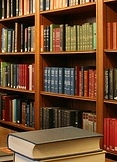 ON THE INTERNET - (100 books est.):


including all of Anthony Borgia (Mons. Hugh Benson)'s books: FACTS, HERE AND THE HEREAFTER, HEREAFTER, LIFE IN THE UNSEEN WORLD, MORE LIGHT, MORE ABOUT LIFE IN THE WORLD UNSEEN - and many, many more afterlife transmitted classics: Courtesy of Aart Bosman. Other books by Arthur Findlay, Sir Oliver Lodge.

http://esotericbooks.deds.nl/index.php/content/esotericbooks
Selected feedback:


1) Hello dear Victor, Thank you for everything Victor my friend. Your newsletter is a highlight of the week for an old timer like me (eighty next May). My health is failing fast but I look forward to being with my lovely Annie where all is tranquil.
God bless you all and have a nice Christmas.
John J L Wright, North Wales.
2) "Victor, i am so impressed with your website, i read a section of it every day. it has made my daily life more spiritual and unselfish. it is truly amazing, you are a credit to mankind. i wish you health, happiness and much progress in your work in 2011.i am so impressed with your website, i read a section of it every day. it has made my daily life more spiritual and unselfish. it is truly amazing, you are a credit to mankind. i wish you health, happiness and much progress in your work in 2011".B B.

3) Hello Victor Thank you for your regular updates and for all the work that you continue to do to share the good news of survival. It's much appreciated. Best wishes...Kerin

4) Hello Victor, ......Anyway thanks once again for the tireless work you and Wendy are doing and I wish you a great New Year. All the best. Robin