July 30th 2010
Apologies: if I have not replied to your email. Patience! Again inundated with work.

Homepage http://www.victorzammit.com

Last week's report

COMMENTARY: 'SKEPTICAL' COWARDICE? - HUGE HYPOCRISY?

"Among U.S. residents, 1 in 2 men and 1 in 3 women will develop cancer at some point in their lifetimes." (According to 11th edition of the Report on Carcinogens-by and large, this applies to all industrialized countries). Why are the highly organized closed-minded materialist skeptics who are always pushing 'critical thinking' in the United States so silent about the issue of cancer-causing agents in food?

There is a crisis in the food industry and pharmaceutical industry and many will be sent to the afterlife before their time. Recent report claims 80% of pharmaceutical drugs do NOT work any better than placebos and actually cause injury! The food and prescription drug problem in the U.S. and other countries- Canada, UK, Italy, Gemrnay, France, Australia, Russia, China - and in 'all modern countries ' is as bad as the crisis we had with cigarettes. If the American - and other - hardline skeptics really want to make a genuine contribution, why can't they apply 'critical thinking' and take on the food industry which is guilty of pumping food with cancer-causing agents?

And then they can take on the pharmaceutical industry instead of trying to pick on psychics and mediums, who are usually too gentle and too sensitive to fight back. Why can't these skeptics complain about the lack of safety in these cancer-causing chemicals - additives, colorings, food enhancers, and estrogen found in everyday foods in soft drinks, hamburgers, hot-dogs, raw meat (full of nitrates), farmed fish, in whitened bread and buns, in chewing gum, in cakes, jelly and custard, in most processed foods. All diet drinks and foods surveyed contain artificial sweeteners, most of which cause cancer in test animals.
Why the SILENCE? Why the COWARDICE? Are these closed minded skeptics in the pockets of the food-manufacturing and drug companies? Think again skeptics, and make a contribution by applying 'critical thinking' to the real causes of cancer- YOU WILL SAVE LIVES - and keep away from mediums who are actually helping a lot of people.



SCIENCE AND THE NEAR DEATH EXPERIENCE- HOW CONSCIOUSNESS SURVIVES DEATH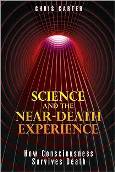 If you are tired with the mass media every so often rehashing the skeptics' arguments that NDEs and caused by the dying brain, or lack of oxygen or some other argument which has been discredited many times over, perhaps you will enjoy Chris Carter's new book due out in about 4 weeks. According to the publisher " He looks at the many psychological and physiological explanations for NDEs raised by skeptics--such as stress, birth memories, or oxygen starvation--and clearly shows why each of them fails to truly explain the NDE. Exploring the similarities between NDEs and visions experienced during actual death and the intersection of physics and consciousness, Carter uncovers the truth about mind, matter, and life after death." Read more and pre-order... (Thanks Stephen S. for the alert).



LECTURE ON NDEs and DEATHBED VISIONS This lecture by Dr Willoughby Britton at Brown University is intended to give an empirical overview of the most common phenomenological elements of these experiences and their after-effects so that health care professionals, families and loved ones may become more familiar with them. The description will be followed by a review of the various scientific investigations of the phenomenon, including neurobiological correlates.





THE 'CHURCH OF ENGLAND' VALIDATES 'SPIRIT CONTACT' - REPORT REVISITED. Why are most of the Anglicans (Episcopalians in the USA) not telling the world about the findings of THE CHURCH OF ENGLAND REPORT ON SPIRIT CONTACT? Why is it that some Anglicans are in fact OPPOSED to discussing the afterlife? Why haven't the Anglicans made a study of this subject part of their theological training? Surely if the Church wants to claim expertise in preparing people for the afterlife it is important to disseminate this critical afterlife information around the world to enlighten people?
It's worth re-visiting one of the most important reports about afterlife communication testing that has ever been undertaken in the world. Just over seven decades ago the (Anglicans) – the Church of England under

the auspices of Archbishop Cosmo Lang (pictured, left) investigated whether or not communicating with the afterlife is possible. The committee – which included senior specialists such as a scientist and a very senior lawyer came to the conclusion that yes, their two year investigation shows it is possible to communicate with loved ones who crossed over.
Time to wake up, time to remove the darkness and put the light on, time to open your eyes – the Anglicans must do a great deal more to educate people about spirit communication and the inevitability of the afterlife. Read the Report.

THE CONVERGENCE OF SCIENCE AND SPIRITUALITY Dr Dean Radin explains how Western science has given rise to a fractured system of disciplines with little hope of being able to address the big questions, while spirituality connects an individual to the rest of the universe in a meaningful way. Clearly there is a need for the two to come together.





WHAT HAPPENS WHEN YOU DIE? Transmitted by an

enlightened afterlife intelligence. "I cannot possibly express the richness of living that exists in our world because there are not sufficient comparisons that can be made. It is a world where the aspirations, dreams and hopes of those who seek to develop the fullness of being are realized. Gifts that were stultified on earth are expressed. We do not have economic or social problems, we do not have color or racial problems. We are concerned not with bodies but with souls. And souls do not have colours of white, red, yellow or black. We have spheres or conditions of being that are graded according to the evolution of those who dwell in them ...you reach that sphere for which you are spiritually ready, not higher,, because that is impossible; not lower, because you would not desire it unless you wish to perform some missionary service."


REMOTE VIEWING SCIENTIFICALLY VALID SAYS SCIENTIST: From Dr Dean Radin's blog ENTANGLED

MIND: "Excerpt from a January 2008 item in the UK's The Daily Mail newspaper: In 1995, the US Congress asked two independent scientists to assess whether the $20 million that the government had spent on psychic research had produced anything of value. And the conclusions proved to be somewhat unexpected. Professor Jessica Utts, a statistician from the University of California, discovered that remote viewers were correct 34 per cent of the time, a figure way beyond what chance guessing would allow. She says: "Using the standards applied to any other area of science, you have to conclude that certain psychic phenomena, such as remote viewing, have been well established." Read more...


REMOTE VIEWING-Supernatural Investigator Trailer
ARTHUR FINDLAY SAYS WE NEED MORE GOOD MEDIUMS Findlay was the author of many classic survival books including On the Edge

of the Etheric and other books such as The Rock of Truth. Coming through Leslie Flint direct voice medium, in 1976 he says he was disillusioned with the state of the Spiritualist movement. He emphasised the need for the development of more good mediums, especially physical mediums. He also shared his views on the state of the Arthur Findlay College.

"I realize there is a shortage of first class mediums, and not enough encouragement and development is taking place for other forms of mediumship such as the physical, which after all is what convinced me. It was the physical aspect of this whole subject that gave me the conviction, through (John) Sloane, and occasionally others, and I feel it is sadly lacking. I'm not suggesting that you mustn't have or shouldn't have mental mediums. Of course you must have mental mediums, and they are the absolutely necessary and essential you must have healing also.
But the point is that I do feel there is a great dearth of good physical mediumship. And we need physical mediums. Why aren't they utilizing this form of mediumship. Why aren't mediums being developed. Why isn't the college being used as a development center of good first class mediumship that can demonstrate the truth to the world. I feel there is a great lack of co-operation, a great lack of co-ordination." Read the full transcript of Arthur Findlay's transmission.



QUESTION: TV JOURNALIST BARBARA WALTERS MADE TO EAT HER OWN DIRTY WORDS SPEWED AGAINST GIFTED MEDIUM JAMES VAN PRAAGH: could you tell us your views about those who attack James van Praagh, such as the attack made by American television journalist Barbara Walters on The View?
"Negatively entrenched closed minded skeptics do not have the skills, the competence and sensitivity to perceive anything paranormal with true objective empirical equanimity and always reject psychics skills."
Victor: This anti-psychic, materialist Barbara Walters (pictured below right)

was told by James v Praagh (pictured, left) that he, as a psychic,

detected a blood flow problem telling Barbara to look into it because it could affect her in the future. Two days later she went on television denouncing James, accusing him of being a fraud, because her doctor gave had given her a 'clean bill of health'. Those who know Ms Walters know she is a closed minded skeptic not only dislikes the work of psychics & mediums, she has set out to debunk and harshly attack a few Mediums on her program, The View. What happened? Some time later, there was a news item that Barbara Walters was suffering from a problem with a valve in her heart that was leaking blood. This blood problem was of course very, very serious. A psychic may detect a potential health problem in the 'aura' which will take some time to manifest in the physical body. So, I do agree with James, this closed-minded skeptic Barbara Walters must swallow her pride, be humble and apologize for the negative statements she about James. She can if she likes sue her own doctor for not picking up the problem at the time. Do you have the moral courage to apologize Ms Walters? Read more and watch video.


SPIRITISM AND SPIRITISTS
in San Paulo, Brazil, more than 7,000 people per day use the main Spiritis Centre for free healing and spiritual support. Below is a trailer made for a movie about healing in Spiritual Centers in Brazil where psychic mediums and healers heal mental and physical illnesses, and enhance spiritual growth. You witness the secret, gentle process of releasing mental patients from obsessions and negative thinking -- which has helped severely ill patients return to normal life. Read more and order the film.


'HOLLYWOOD' NONSENSE I had an hour or so to kill this week

so I decided to see the movie 'KNIGHT AND DAY' featuring Tom Cruise and Cameron Diaz.
I just could not believe the unnecessary exaggerated violence, the killing of government employees as if Tom Cruise was killing flies. Why glamorize brutality, murder and violence? I just cannot believe that someone who claims to be in Scientology accepts a script that makes him a cold-blood murderer. Instead of being exemplary where he can influence especially youth to righteousness, in this movie Tom Cruise behaves in a brutal gangster-like way where killing people is the only way to solve a problem. That is giving youth a horrible example about how to deal with conflict. I know that many people like us are always on the lookout for an exceptionally good spiritual movie– like GHOST – where there is a meaningful message to all the world about the afterlife that awaits us all.
Sad that so many in Hollywood waste the opportunity.


PMH ATWATER'S INTERESTING NEWSLETTER, "Hello, everyone. I

sincerely hope this newsletter finds you well. A reissue of one of my books is being promoted nationally, so I wanted you to know about this in case you are interested - plus, I'll be appearing at the A.R.E. in September - with Dannion Brinkley. A first! I'll be mentioning other books as we go along too and some outstanding opportunities - all of them important and helpful. Enjoy! ~PMH" Read more....


INDUCED AFTER DEATH COMMUNICATION


As a helicopter gunship pilot, Mark (not his real name) killed many people during his 18 months service in the Vietnam War. He was also shot down seven times and wounded twice. The confrontation that bothered him the most involved four boats filled with Vietnamese soldiers. The accident weighed on Mark for many years, until he made contact with his victims through Induced After Death Communication, a therapy discovered by Dr Alan Botkin (pictured). Read more...


PAST LIFE REGRESSIONS- DR BRUCE GOLDBERG
Controversial regressionist Dr Bruce Goldberg has a new book out called Exploring the Fifth Dimension. On his website he has a number of videos of hypnotic regression sessions.


ARE WOMEN GENERALLY MORE SPIRITUAL THAN MALES? Your views invited! I have been

consistently investigating the afterlife and attending spiritual classes investigating spirituality for some 21 years. In nearly all the classes I attended, women always outnumbered men by some 20 to 1. Many times, I'd be the only male in the class. Some experts believe that male's hormone testosterone is a spiritual handicap. Whereas it seems that females have strong maternal instinct for protection, for planning ahead. Males' advantage has to do with energy - the 'hunter', the 'fighter', traditional 'provider'. Any comments on this one?
vz@victorzammit.com


VERY SPECIAL MEETING:

TWO OF THE FINEST MEDIUMS IN THE WORLD IN SYDNEY NEXT THURSDAY 5th AUGUST at 7.30pm (for 8pm start) at 499 Willoughby Rd Willoughby Sydney.


Some people regard David Thompson as the greatest materialization medium in the world to-day. But we can personally attest that like international medium and teacher of mediumship Christine Morgan David is also a superb mental medium. A couple of those who attended Christine's last demonstrations told me she is as good as LISA WILLIAMS! Many people who saw these two reading together some time ago were stunned at the specific detail and evidence they produced. Be quick as these intimate evenings of mediumship with a small group (only 30 people) sell out fast- last time many were

disappointed. Don't miss this chance to see two of the world's finest mediums demonstrating together and answering your questions about mediumship and the spirit world. Wendy and I will be there so do come and say hello after the demonstration. Cost $35 Bookings Robyn (02) 9967 9415 or email robyn@heavenlyenergies.com.au.

SELECTED FEEDBACK

1. Dear Victor, Thank you so much for the weekly Friday afterlife report. I try to read it every week, but since I live in Belgium and speak Dutch, it isn't always easy ... K.D.Belgium
2) "Hello Victor, thanks again for the work you do in increasing our understanding of the afterlife and all its ramifications, there is so much for us to grasp intellectually on your websites and for us to take onboard to enable us to understand all the information that we need, to guide us through all the forthcoming information that appears on your website, we seem on be on the threshold of a greater understanding of our purpose on this planet, many thanks for the important information and help in the near future.many thanks for your guidance,kindest regards T.H." U.K.

3) Hello Victor, As a fellow lawyer, I am very interested in your site. Your arguments and research are very compelling and interesting ... Ms C. Denmark.

From Victor and Wendy: thank you all for your warmth and positive comments.