"Bringing light where there is darkness and hope where there is despair."
March 6th, 2020


Last week's report and all previous reports




COMMENTARY: STAYING GROUNDED IN CHALLENGING TIMES We've had a number of emails this week from people terrified of dying from the new coronavirus COVID19. We have heard about inflated prices for masks, bogus remedies advertised on Amazon, and toilet paper wars in suburban shopping centers. And perhaps most disappointing of all, a scam by a religious group in Norway telling people that if they make a payment their children will not get the new virus.

Studies by psychologists show individuals typically overestimate risks that are memorable, vivid, or generate fear, while underestimating more common risks. This is why some people are more afraid of shark attacks (that on average kill two people a year in Australia) than heart disease (the leading cause of death).

So instead of rushing off to find a "healer" or paying money to a "psychic" or a religion for "protection", we need to make a realistic assessment of the risk and keep it in perspective. The fact is, children and young people rarely get the virus, and, if they do, it is usually mild. Compared with other diseases and epidemics, the fatality rate of the COVID19 virus is very low.

We need to take the standard precautions that are widely advertised, and do what we can to build up our immune systems. But in times of stress and change, it is important to stay grounded and remember that we are spiritual beings having a very temporary human experience. What really matters, in the final analysis, is how much love we show to others, and how we treat them. Remember, we have been through epidemics and disasters before, and somehow life lurches back to normal.



DEEPAK CHOPRA ON DEALING WITH THE CORONAVIRUS A medical practitioner and spiritual teacher talks about strategies for building up the immune system.


https://www.youtube.com/watch?v=j6H0SLNSMXg&t=12s


AND NOW FOR THE GOOD NEWS


Our spiritual teachers emphasise the importance of staying positive and putting our focus on things that we can be grateful for. The mainstream media, however, wants us to focus on violence, fear, and gloom, because fear sells news. Here are some of the inspiring positive global developments that never make it to the TV news. Read 99 Reasons why 2019 was a good year for humanity.

For fortnightly stories about people from around the planet who are using science and technology to make the world a better place, subscribe to Futurecrunch.



THE NEAR-DEATH EXPERIENCE OF JOSEPH GERACCI One reviewer of the video below wrote: "This is one of the most beautifully worded and heartfelt expressions of a near death experience I've ever heard! I've listened to many people discuss their NDEs, and they always say that what matters is love. That is the message from Heaven to us, without a doubt. THANK YOU, Joseph Geraci, for sharing your experience with us."


https://www.youtube.com/watch?v=OzSa5IX0mqA




FASCINATING NEW RESEARCH DATA ON AFTER-DEATH COMMUNICATIONS An international research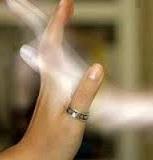 project for a better understanding of the nature and impact of ADCs has been carried out from February 2018 to January 2020 by Evelyn Elsaesser, Chris A. Roe, Callum E. Cooper, and David Lorimer. This mixed-methods, multinational survey conducted in English, French, and Spanish has three objectives:
1) Description of the circumstances and subjective experience (phenomenology) of ADCs.
2) Analysis of the impact of ADCs on the people who have them.
3) Dissemination of research results to the scientific community
and the general public.
Download a copy of the research findings.
Download details of the English cases.



END OF LIFE EXPERIENCES WITH DR. PETER FENWICK AND IAN McNAY Neuro-psychiatrist Dr. Peter Fenwick, author of several books including 'The Art Of Dying,' 'The Truth In The Light' and 'The Hidden Door' talks with Ian McNay about his research into end-of-life experiences and deathbed phenomena, and what these mean in the greater picture of who we really are.


https://www.youtube.com/watch?v=-6kDMl6N3C4




PERSONALITY SURVIVES DEATH: AFTER-DEATH COMMUNICATION FROM SIR WILLIAM BARRETT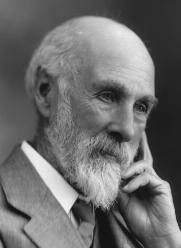 Sir William Barrett was a British physicist and a leading figure in the early years of psychical research. He investigated telepathy and clairvoyance, apparitions, mediumship, dowsing, deathbed visions of deceased persons, and related topics. He co-founded the Society for Psychical Research and the American Society for Psychical Research. His wife, Lady Florence Barrett, was one of the leading gynecologists and obstetricians of her time. White Crow Books has just re-published details of Sir William's 11 years of communication with his wife, after her death in 1945, through one of the greatest trance mediums of the twentieth century, Gladys Osborne Leonard. Read more.



HOW THEY DRESS IN THE AFTERLIFE

"The idea of spirits wearing clothes provokes humor among the skeptics and doubts among the believers. However, if those same spirits were to appear naked, it would likely result in more humor and more doubt. Would it be more believable if they appeared as blue flames or white orbs?" Read more on Mike Tymn's wonderful blog post.





JURGEN ZIEWE ANSWERS QUESTIONS ABOUT THE AFTERLIFE In our online Global Gathering next Sunday, at 4 p.m. New York time, Jurgen Ziewe will be answering more questions about the afterlife, based on his out-of-body experiences documented in his books Multidimensional Man and Vistas of Infinity. In this video, Jurgen and Cyrus Kirkpatrick talk with KAren Swain about what happens when we die.


https://www.youtube.com/watch?v=C_3dNc-MsNQ&t=4186s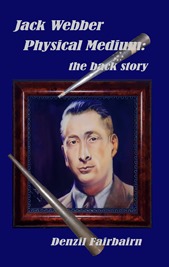 NEW BOOK: "JACK WEBBER PHYSICAL MEDIUM - THE BACK STORY" by Denzil Fairburn
In the 80 years since Jack Webber's sudden passing, he has become a legend. The photographs and descriptions of his mediumship have gone worldwide, largely thanks to the book The Mediumship of Jack Webber which has been reprinted numerous times.
But the story of the years behind those last 16 months has never been fully told. Here, thanks to the author, the nephew of Jack Webber, there are records from family papers, further reports from the Psychic Press of the time, and the photographs which were not considered good enough for inclusion in the original book. Here also are events occurring up to, and after, his passing in March 1940, which have never before been revealed. This is an important piece of physical mediumship history. Read more.



MOVIE CATCH UP: "OH GOD" WITH JOHN DENVER Below is the final scene from the 1977 comedy movie Oh God. God (George Burns) appears as a kindly old man to Jerry Landers (John Denver), an assistant supermarket manager. After a few failed attempts in trying to set up an "interview," God tells Jerry that he has been selected to be His messenger to the modern world, much like a contemporary Moses. Watch the full movie on Youtube.


https://www.youtube.com/watch?v=nxmaYsZjnXo



THIS WEEK'S AFTERLIFE ZOOM GROUPS

Saturday 7th March, 2019

Love After Life: Rebuilding a happy, fulfilling relationship with our **ROMANTIC** soul-mates / twin-flames who have crossed over.
Dates of meetings: Every Saturday (US TIME)
Must be a member of the FB group Love After Life
Coordinators: Mary Beth Spann Mank mbspann@aol.com & William J. William Murray wjmurray@design249.com

Sunday 8th March, 2019
Mediumship Development with Dr. Susan Barnes.
Developing the skills of mental mediumship and blending with spirit.
Meetings: Every 2nd and 4th Sunday
Times: 2.00 p.m. New York time
Coordinator: Dr. Susan B. Barnes, CSNU susanbbarnes@gmail.com
Online in Zoom https://zoom.us/j/8738817733


Global Gathering
Guest Jurgen Ziewe Answers Questions about the Afterlife.
CHECK THE TIME IN YOUR CITY --- Times go forward 1 hour in the USA on Sunday 8th March
Los Angeles 1 pm Sunday
Phoenix 1 pm Sunday
Chicago 3 pm Sunday
New York 4 pm Sunday
London 8 p.m. Sunday
Rome 9.p.m. Sunday
Capetown 10.p.m. Sunday
Sydney 7.a.m. Monday
https://zoom.us/j/7595442928



Monday 9th March 2020


EVP/ITC Practice group
EVP/ITC PRACTICE GROUP Zoom meeting is on the second Monday of each month from 7 p.m. to 8 p.m. - Chicago Time. Please refer to your hand-held device World Clock for your specific time zone.
Zoom room: NOTE CHANGE https://zoom.us/j/883983941
(Please note this is a different zoom room from AREI's main room)
Coordinator: Eloy Flores LCSW efl2432948@aol.com


Tuesday 10th March

Spirit Art
We are meeting for the purpose of creating spirit art with messages.
No art experience required.
Every 2nd and 4th Tuesday at 9 p.m. New York time,
https://zoom.us/j/8738817733
Coordinator: Dr. Susan B. Barnes, CSNU susanbbarnes@gmail.com


Wednesday 11th March

Physical mediumship development group
with Rob Blackburn and Craig Hogan
7 p.m. Central time; 8 p.m. New York; 5 p.m. Pacific Time;
The group is now admitting new members.
Participants sit in a darkened space in their own homes; the group has been going for some time and members are experiencing phenomena.
Contact Rob Blackburn (rkblack@mtco.com) or Craig Hogan (r.craig.hogan@afterlifeinstitute.org) before joining the group.
https://zoom.us/j/4381898190

More details of meetings
Videos of past Global Gatherings



HOW I MET GOD IN A MCDONALD'S
Tracey Lind believes in the inner voice of holy wisdom that resides in each and every one of us. She experienced this voice on a cold January afternoon in a McDonald's. Lind has devoted her life to inspiring people to initiate the conversation, follow where it leads, and make the world a better place. Lind is the Dean at Trinity Cathedral located on Euclid across from Cleveland State University, and an Episcopalian minister.


https://www.youtube.com/watch?v=sZ94JJ-VyF0&t=737s



NON-ATTACHMENT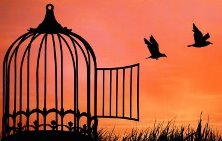 Attachment is something that we have to control since, on Earth, everything changes. There is great danger if a person becomes psychologically over-connected with, for example, the home he/she is living in, or his/her work. If that happens, there is a risk that, on crossing over, the person could be drawn back to the place that he/she is obsessed with. As in all things, balance is the key. Read "How to Practice Non Attachment".




WARRIORS ON WHEELS There are so many amazing people in the world whose hearts are on fire with love. One of them is Ned Norton, who used his physical therapy knowledge to create Warriors on Wheels, a non-profit organization dedicated to helping disabled people improve their quality of life. With many clients paying only $25 per month, he's not in the Warriors on Wheels business for the money. "I just love to see people smile," he said.


https://www.youtube.com/watch?v=xWMuRMnKfu8



See Victor on Video

* Subscribe to Victor's Youtube Channel:
* What Happens When You Die
* Afterlife and Science
* Near Death Experiences- Evidence of the Afterlife?
* What You Must Know Before You Die
* David Thompson's Materialization
* Million Dollar Challenge
* The Afterlife on Trial
* A Lawyer on the Afterlife
* Suicide is not the answer* Religion and the Afterlife
* Ghosts- Randi and closed-minded skeptics when they die
* Zwinge Randi's Challenge Exposed ... Lawyer Explains
* Why Professor Richard Dawkins is Wrong
* God--the Evidence (Without Religion)
* Afterlife Without Religion
* Skeptics Demolished
* Afterlife Objections Demolished
* Ghosts- Randi and closed-minded skeptics when they die
* Victor Zammit speaking at Speakers Corner
* Materialized Houdini speaks to Victor




FEEDBACK: (Three only).

1) The NDE in this report was amazing. I am teaching mindfulness and was talking about anchoring this morning within the context of being present. This was beautiful." Maria


2) With all that is going on in the world today, I find your posts especially hopeful and comforting. Kaye


3) "Monty Keen was a great friend of mine. He was a brilliant scholar and an erudite speaker. Many a time, Archie and I stayed at his home and chewed the fat long into the night. We were also privileged to see much of the original Scole material that he kept in the house. An absolute gentleman." Tricia Robertson



HIGHLY INSPIRATIONAL MUSIC: EVA CASSIDY FIELDS OF GOLD The comments under the video say it all:
1) "Singing at this level requires not only a good voice and good phrasing but also spiritual force and presence."
2) "Sting's original version almost killed me, but this one sent me on a trip I'm still on for years now. A truly immortal voice."
3) "When life is too much, I find myself here at this track . It makes me sad for those no longer with me - but then picks me up with its beauty and inspires me to go on."





Lyrics: 'Fields of Gold'
Songwriters: Gordon Sumner / Dusan Bogdanovic

You'll remember me when the west wind moves upon the fields of barley
You'll forget the sun in his jealous sky as we walk in fields of gold
So she took her love for to gaze awhile upon the fields of barley
In his arms she fell as her hair came down among the fields of gold

Will you stay with me, will you be my love among the fields of barley?
We'll forget the sun in his jealous sky as we lie in fields of gold
See the west wind move like a lover so upon the fields of barley.
Feel her body rise when you kiss her mouth among the fields of gold

I never made promises lightly and there have been some that I've broken
But I swear in the days still left we'll walk in fields of gold
We'll walk in fields of gold

Many years have passed since those summer days among the fields of barley
See the children run as the sun goes down among the fields of gold
You'll remember me when the west wind moves upon the fields of barley
You can tell the sun in his jealous sky when we walked in fields of gold
When we walked in fields of gold, when we walked in fields of gold.


Whilst we encourage and we publish many papers and reports by afterlife researchers, we are not in a position to guarantee the accuracy of all claims. We accept the imputed claim that the afterlife and paranormal research done by the researchers is done in good faith. ALL WORK IS COPYRIGHT BY THE CONDITIONS SET AT THE GENEVA CONFERENCE ON COPYRIGHT.