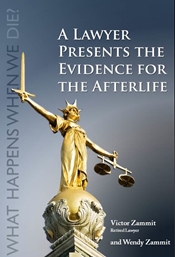 FRIDAY AFTERLIFE REPORT

Homepage http://www.victorzammit.com

BUY BOOK
Buy on amazon.com
Buy on amazon.co.uk
Buy on Barnes and Noble (accepts Paypal
Buy on Book Depository (accepts Paypal and price includes postage)


BUY E- BOOK VERSION
* Amazon Kindle
* Amazon Kindle UK
* Barnes and Noble Nook
* Apple ITunes
* Kobo

Now a best seller on Amazon.com !!!!


If you have been sent this link by a friend, or have come across it on the internet, sign up here
"Bringing light where there is darkness and hope where there is despair."


February 21st 2020

Last week's report and all previous reports




COMMENTARY: IS WEALTH A HINDRANCE TO GOING TO THE LEVEL OF THE LIGHT? Spiritual laws apply to everyone, irrespective of wealth, poverty, gender, race, or social status. What determines our state in the afterlife is our habitual consciousness: our desires, preoccupations, and motivations.

One of the biggest lessons in life is that we gain higher vibrations (increase in spirituality) when we love and help others. If a person gains wealth as a by-product of his/her creativity and hard work, or if a super-rich person is ethical and unselfishly uses his/her wealth to help others, he or she would automatically be drawn to the higher levels on crossing over.

However, many people find that the way they have been making or preserving their wealth does affect their consciousness. After a near-death experience, they say that they were not able to experience themselves as loving and helping others in their previous occupations. As a result, many make a major career change to enable them to do so.



RESURECTED MILLIONAIRE DOESN'T CARE ABOUT MONEY One example that illustrates the change of priorities about wealth that often follows a Near Death Experience is the Gordon Allen Story. Gordon was a very successful businessman who says that he "loved making money." When he came back to his physical body after his NDE, he felt that his heart was "on fire with love" and he could no longer continue in his intense commercial business.

The segment about Gordon Allen is part of a 2003 BBC documentary that featured the leading scientists involved in NDE research. For many years the BBC refused to re-play the documentary or make it available for sale, and it was only in December 2019 that IANDS announced it had been made public. Watch the full version of The Day I Died.




THE SENSATIONAL WILLIAM STEAD In 1912, when the Titanic was sinking, William Thomas Stead is reported to have given his life-jacket to someone else. A famous man during his lifetime, he was a convinced Spiritualist and publisher of books about survival after death. His books included Real Ghost Stories (1891), a collection of reports of psychic experiences, and Letters from Julia (1909), based on his own automatic writing. Within a few days of his death, he communicated through several mediums, and even materialised in front of credible witnesses. Keith Parsons' fascinating video about William Stead gives a wonderful portrait of this great man. To see the entire collection of Keith Parsons' Spiritual Evidence movies, go to this link.