May 24th, 2019


Last week's report and all previous reports


COMMENTARY: LIKE ATTRACTS LIKE IN THE AFTERLIFE Afterlife and out-of-body explorers do not agree with fundamentalist Christians about the existence of "the devil" - Satan. Nor do they agree with the new-agers that everyone who dies automatically enters "heaven".

Instead, the consensus is that there are many different levels or "spheres" in the afterlife – from dim, cold and barren lower levels to various earth-like levels to non-material levels of indescrible beauty and bliss.

On physical death "like attracts like" and we go to the sphere which can accommodate the vibrations we accumulated throughout our life on earth. We get to mix with people who are just like ourselves. We go to a reception station where people are reunited with their loved ones. People who have been ill for some time may need to be helped to change their mental picture of themselves and create with their minds a healthy etheric body. "Hospitals" exist for this purpose. Higher Intelligences inform us that in the afterlife our appearance can regress to our best age – for most people, from the early to mid-twenties.

And whilst there are lower spheres in the afterlife that are dark and unpleasant – some call them "hell" – there is always help available for any soul willing to learn the lessons of kindness and unselfishness. Read out-of-body explorer Jurgen Ziewe's description of different afterlife dimensions he visited.



SCIENCE AND SPIRITUALITY CONNECTION ONLINE THIS WEEKEND MAY 24th to 27th There is still time to register to attend some of the wonderful sessions in this unique online conference. Register here... Ana Castro addresses how the agenda for this online event will work and what you will need to do to prior to day one - we want to make sure you will have a wonderful experience and get the most of out of every session.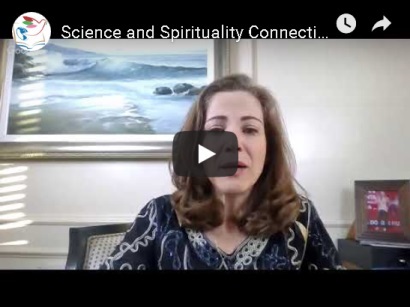 SUSANNE WILSON AND SANDRA CHAMPLAIN TALK ABOUT THE VALUE OF SPIRITUAL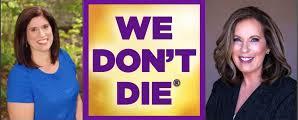 COMMUNITY You can find out more about Susanne on her website. She and Kathleen Malone are co-creators of the upcoming Soul Summit Scottsdale September 12-15, 2019 which will showcase great evidence for the afterlife. Also you will learn techniques for enhancing your health, performance, awareness, intelligence, and intuition.
Listen to Sandra's great interview with Susanne.



DR. GEORGE RICHIE'S NDE Dr. George Richie was in the army, about to go to medical school in Richmond in 1943. He was very sick and was pronounced dead from pneumonia. During the 9 minutes he was clinically dead he had an extremely detailed and evidential NDE which he later shared with Dr. Raymond Moody. Dr. Ritchie put his experiences into a book 'Return From Tomorrow' in 1978.





THIS BAR HAD ANOTHER KIND OF SPIRITS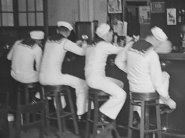 At one point during his NDE, George Ritchie claimed that he was shown a bar which was filled with sailors drinking heavily. Spirits surrounded the sailors trying to taste the alcohol. He was told that these were the spirits of people who died still having a severe alcohol addiction and that they were trying to influence the sailors to drink more. He also claimed that he could see spirits moving into the sailors' protective auras when they passed out. Read a summary of George Richie's NDE.



SPIRIT POSSESSION SPIRIT RELEASE This 18-minute documentary looks at the work of Carl A Wickland, a Swedish doctor who lived in the United States. It is a strange tale in which he talks to spirits through his entranced wife in order to heal his patients. This is one of a series of documentaries by Dr. Keith Parsons on spiritual topics - view the whole collection.





CAN NEGATIVE SPIRITS INFLUENCE PEOPLE?



This is a controversial topic which we will be exploring in next Sunday's online Zoom Global Gathering. Luis Sergio Marotta from Kardec Radio will be explaining the Spiritist view on this topic and talking about his experiences with healing from obsession in Brazil. Sheri Perl will be talking about her experiences with negative entities in EVP research and August Goforth will be adding his perspective as both a medium and psychotherapist. Join us on Sunday at 5 p.m. Eastern time, 10 p.m. London time and Monday 7 a.m. Sydney time https://zoom.us/j/7595442928.





NEXT WEEK'S AFTERLIFE ZOOM GROUPS
Full details at www.victorzammit.com/zoom

Saturday 25th May 2019
Love After Life must be a member of the Facebook group Love After Life mbspann@aol.com

Sunday 26th May 2019

Global Gathering email books@victorzammit.com
2 p.m. Los Angeles and Phoenix; 4 p.m. Chicago; 5 p.m. New York.; 10 p.m. London; 11 p.m. Spain; 7 a.m. Monday Sydney
Topic: Negative entities
https://zoom.us/j/7595442928

Tuesday 28th May 2019

Development Group with Norma Turner njturner@earthlink.net
5 p.m. Phoenix Note moved from Monday
https://zoom.us/j/3499782616


Thursday 30th May 2019

Professional Group with Jane Bissler janebissler@gmail.com
Sydney 7 a.m.; Los Angeles 2 p.m.; Phoenix 2.p.m.; Chicago 4 p.m.; New York 5 p.m.; London 10 p.m.
https://zoom.us/j/7595442928

Saturday, 1st June 2019

Love After Life must be a member of the Facebook group Love After Life mbspann@aol.com



JOHN CLEESE INTERVIEWS JIM TUCKER ABOUT RESEARCH ON CHILDREN'S PAST LIFE MEMORIES John Cleese interviews pediatric psychiatrist and director of University of Virginia Department of Perceptual Studies, Dr. Jim Tucker about his research into the memories of young children who appear to recall specific factual memories of a previous life. Dr. Tucker presents some of the details of the case of 'Ryan' who recalled specific facts about the life of a man named 'Marty Martin'.





SPIRITUAL PROGRESS: WHAT IS THE GREATEST AID IN THE SPIRITUAL PROGRESS, LOVE OR KNOWLEDGE? "I would say on balance that it is love if I am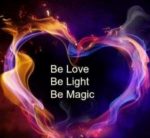 allowed to define love as the love that embraces not only one individual but all humanity. If you have reached that stage where you feel that you can have love for all, not only for those whom you like or who are near and close and dear to you, then that is an indication that your feet are very firmly planted on the road of spiritual progress and it shows that you do have knowledge of spiritual principles."
(S. Birch Q&A, ed.2001, p205.



NEW BRAZILIAN MOVIE FROM THE DIRECTOR OF NOSSO LAR We were very interested to see the trailer for a new Brazilian movie about the life of the founder of Spiritism, Alan Kardec, co-written and directed by Wagner de Assis. So far it is only available in Portuguese but we are hopeful that before too long a version with English subtitles will be available. Read more...





"YOUR BELIEFS DON'T MAKE YOU A BETTER PERSON. YOUR BEHAVIOUR DOES."



ATTITUDE POSITIVE - CANDLE DAD After losing his wife to cancer Tony Sykes was naturally devastated. Left to raise his four children alone, he realised that the only way to get through would be to adopt a positive attitude - so he had the phrase 'attitude positive' tattooed on his chest. Worried about how the future would be for his two younger daughters, Emma and Nicki, who have Down syndrome, Tony has used his entrepreneurial know-how to establish a business, which he operates with Emma. Called Downlights - the venture is a shining success.




See Victor on Video
* Subscribe to Victor's Youtube Channel:
* What Happens When You Die
* Afterlife and Science
* Near Death Experiences- Evidence of the Afterlife?
* What You Must Know Before You Die
* David Thompson's Materialization
* Million Dollar Challenge
* The Afterlife on Trial
* A Lawyer on the Afterlife
* Suicide is not the answer
* Religion and the Afterlife
* Ghosts- Randi and closed minded skeptics when they die
* Zwinge Randi's Challenge Exposed ... Lawyer Explains
* Why Professor Richard Dawkins is Wrong
* God--the Evidence (Without Religion)
* Afterlife Without Religion
* Skeptics Demolished
* Afterlife Objections Demolished
* Ghosts- Randi and closed minded skeptics when they die
* Victor Zammit speaking at Speakers Corner
* Materialized Houdini speaks to Victor





FEEDBACK: (Three only).

1) "I'm always pleased on Friday mornings to find your Friday Afterlife Report newsletter in my inbox. I'm a physicist but I'm of the same opinion as you and Wendy are, the afterlife exists and it's extremely important to get this message out in the world.

My active way of doing that from 2015 until now consisted of giving post-academic courses for 50+ people in quantum physics and, important, the not to ignore connection with the consciousness of the observer. To my surprise the interest in these courses proved overwhelming."
Ir. Paul J. van Leeuwen MSc.

2) "I love the interview with Ed Kelly." Ken

3) "So thankful for your work, Wendy and Victor, and your commitment to moving us forward to a place of absolutely knowing we don't die. The inspiration, teachings, and wisdom you share each week keep me sane and calm (relatively) during a very chaotic and scary time in the U.S." Kaye


HIGHLY INSPIRATIONAL MUSIC Peter Hollens and 200 Kids Sing A Cappella Style 'You Raise Me Up' fIlmed at the 2019 Bend A Cappella Festival in Bend, Oregon. A most powerful song which speaks to the importance of human connection - just taking the time to "sit a'while" with someone having a hard time.





Whilst we encourage and we publish many papers and reports by afterlife researchers, we are not in a position to guarantee the accuracy of all claims. We accept the imputed claim that the afterlife and paranormal research done by the researchers is done in good faith. ALL WORK IS COPYRIGHT BY THE CONDITIONS SET AT THE GENEVA CONFERENCE