COMMENTARY: THE SPIRIT WORLD IS ALL AROUND US
Sadly our Western culture is so caught up in rushing back and forth and so divorced from the cycles of nature, that most people are not attuned to the subtle experiences of spirit presence that surround us all.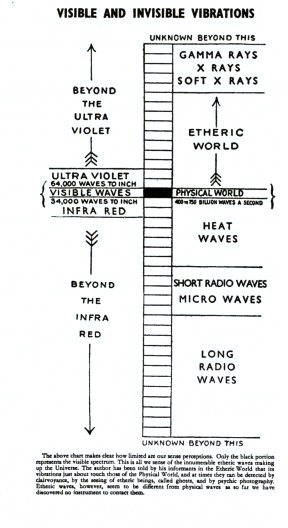 Our senses and our instruments are only able to perceive a small range of the vibrations that surround us, namely those between 34,000 and 64,000 waves to the inch, or from 400 to 750 billion waves to the second. That is the section which makes up what we call 'the physical world'.
However, the physical world is only a very limited section of vibrations compared with all the other vibrations in the universe. Humans have only recently learned to produce machines which can tune into radio waves, television waves and x rays. These all existed before we were able to detect them.
Scientists working in the Spirit world (which some call the Etheric world) tell us that their world is just as solid as our world but on a different frequency - just above what most people's senses can perceive.



SO WHERE IS THE AFTERLIFE? Some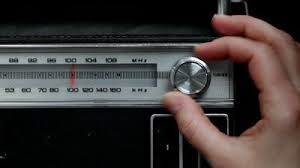 religious people think that the afterlife is up in the sky, perhaps influenced by the Bible which describes Jesus "ascending into heaven".

Silver Birch, a highly credible afterlife teacher says:
"The afterlife is the invisible and the inaudible side of the world in which you live. You are as much now in the world of spirit as you ever will be ... You cannot register it unless you have developed the gifts of the spirit so that you can tune in to all its vibrations and frequencies, or whatever word you care to use." It seems like it is right where we are, but just on a different frequency - to access it you need to switch frequency - like turning the dial on a radio.



DR. DEAN RADIN ON FREQUENCY ONE
Dr. Dean Radin discusses the history, perception, and evidence of psychic phenomena as part of our human experience. His latest book is "Real Magic" published by Penguin Random House (2018). For more information go to http://www.deanradin.org






WINDBRIDGE RESEARCH VALIDATES MEDIUMSHIP Julie Beischel and Mark Boccuzzi are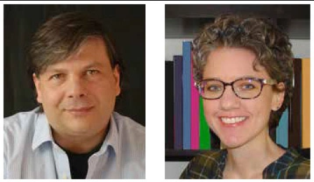 the face of modern research into mediumship. We rely on them to produce rigorous scientific research which can then be shared with practitioners, clinicians, scientists, and the general public. Here is a summary of their recent findings on mediumship based on peer-reviewed research with tested mediums. But to keep doing what they do so well they need support from people like us who value their work. Please consider a monthly donation to provide ongoing support for new afterlife research studies, free educational materials, and their free, open-access, peer-reviewed journal, Threshold.



OUT-OF-BODY EXPERIENCES AND LIVING IN VIRTUAL REALITY NÚlson Abreu is a power systems engineer based in Los Angeles (USA). He is a managing partner at Institute of Applied Consciousness Technologies, an instructor at International Academy of Consciousness (IAC) which provides a number of face to face and online courses on out-of-body and other consciousness-raising experiences.





MARK MACY'S 'THINGS TO DO IN THE AFTERLIFE' Mark Macy has been in a privileged

position to learn about the afterlife from working with ITC communications. He writes: "After we die, we awaken in the spirit worlds with emotional baggage. Whether we travel light or lug a lot of stuff determines what kinds of experiences and opportunities will open up for us. Here's a list of the main afterlife destinations, starting with the most visited and working down to the least visited by people fresh off the Earth." Read more...
JOAN GRANT: FAR MEMORY Joan Grant wrote seven historical novels based entirely on her memories of past lives. They were best sellers and history experts praised her work for its research-based authenticity. So she created quite a stir when she confessed to remembering these stories as past lives, and stating she had done no historical research at all. Keith Parsons' collection of other Afterlife documentaries featuring Afterlife evidence can be found here.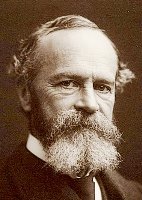 PROFESSOR WILLIAM JAMES, the famous American psychologist: "The world we see that seems so insane is the result of a belief system that is not working. To perceive the world differently, we must be willing to change our belief system, let the past slip away, expand our sense of now, and dissolve the fear in our minds."



VOICES ACROSS THE VEIL
Two weeks ago we had a stunning Afterlife Zoom presentation by Michelle Szabo and Dr. Dennis Grega about their 'Voices Across the Veil' and 'Afterlife Data' research programs. These world- class initiatives deserve to be understood by everyone interested in afterlife research.





NEXT WEEK'S FREE AFTERLIFE ZOOM GROUPS With Daylight Saving, some times will change over the next month. Full details are at www.victorzammit.com/zoom
Saturday, 16th March 2019
Dr. Sheri Perl Self Healing Workshop
4 p.m. New York Time; 1 p.m. Pacific time 8 p.m. London time; 7 a.m. Sunday Sydney time.

Love After Life - email co-ordinators for details.

Sunday, 10th March 2019
Australia/Uk/Europe Group
10 a.m. London; 11 a.m. Vienna; 9 p.m. Sydney; 6 a.m. New York; 3 a.m. Pacific.

Global Gathering - panel of mediums sharing experiences and answering questions.
4 p.m. New York Time;
8 p.m. London time; 7 a.m. Monday, Sydney time.

Monday, 11th March 2019
Meditation and Intuition Development with Dr. Norma Turner 5 p.m. - 6.30 pm Phoenix U.S. time

Wednesday 20th March 2019
Automatic Writing and Mediumship Discussion
5:30 p.m. Pacific Time

Physical mediumship for new sitters and developing mediums
7 p.m. Central time 8 p.m. New York 5 p.m. Pacific Time

Saturday, 16th March 2019
Love After Life - email co-ordinators for details.
Full details are at www.victorzammit.com/zoom


WHAT HAPPENS WHEN YOU DIE?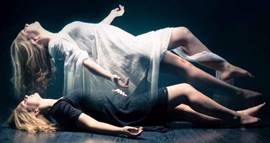 "Death is as easy and as simple as going to sleep and then awakening. Our etheric-spirit body slips out of the physical body, carrying the mind with it, and we awake - in solid form - to our new surroundings to find our friends and relations ready to help and instruct us in our new life. Death is simply the severance of this etheric-spirit body from the physical body. The physical (dead) body returns to earth, and the etheric-spirit body, controlled by the mind, continues to function in the afterlife ... We therefore continue to exist as separate thinking units in the afterlife etheric world, much as we do to-day here on earth, but with new surroundings ..." (from Arthur Findlay's classic On The Edge Of The Etheric)
DEEPAK CHOPRA ON THE METAPHYSICS OF MONEY: THE 7 LAWS OF ABUNDANCE
Deepak reminds us that 1. Source of abundance is infinite 2. Whatever you want to receive more of, start by giving it. 3. Money is the exchange of values 4. Wealth is a state of consciousness 5. Intention and attention are all that matter in the field of possibilities 6. The key to abundance is letting go 7. The purpose of wealth is to experience joy and expand happiness.






FORGIVENESS- AN IMPORTANT SPIRITUAL CHALLENGE On many occasions I have have heard mediums say that once people cross over their perspectives change. Often people who were separated by small grudges while alive seem to be reconciled. The more advanced spirits ask their relatives to forgive the person who was responsible for their death and not to seek revenge. Forgiveness seems to be an important lesson for us to learn, both here and when we cross over.


IS THE WORLD BEING MISLED BY ORTHODOXY? Directly from the afterlife by that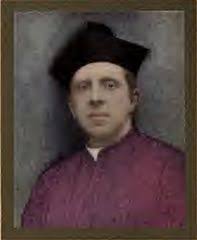 brilliant, highly credible former Catholic Monsignor, Hugh Benson: "What has been set down on the four gospels is but a tiny fraction of the great body of teachings that were originally given forth. They have been inaccurately set down; they were not - and are not - the inspired word of God. They have been mistranslated, misinterpreted, suffered interpolations, and they have been tampered with until it seems more than remarkable if a vestige of the truth can remain. From this chaos, there have arisen an immense variety of dogmas and ritualistic practices that have no bearing whatever upon the spiritual progression of a single soul." (from 'Facts', transmitted to Anthony Borgia, 1995)