December 13th, 2019

Last week's report
and
all previous reports
COMMENTARY: BEYOND A MATERIALIST WORLDVIEW
Congratulations to David Lorimer, Professor

Harald Walach, and Richard Irwin from the Scientific and Medical Network for the superb work they have done in creating the Galileo Commission.
Their website
shows that they have brought together a brilliant group of open-minded scientists (download full list) as well as partnering with 16 other organisations which support open-minded science.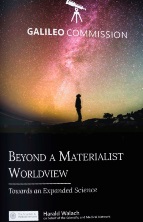 Professor Walach has put together a beautifully written and presented 132 page Galileo Commission Report
Beyond A Materialist Worldview: Towards an Expanded Science
which should be read by anyone working in science, or interested in its impact on society. In the tradition of Rupert Sheldrake's
The Science Delusion,
Walach outlines the problems that have been created by the assumptions of materialist science and goes on to point out its limitations. He gives particular attention to two areas of empirical data that materialist science cannot explain: non-local perception during near-death experiences and children with memories of previous lives and corresponding birthmarks.
Download a free digital copy of the Report.

It is well worthwhile to read
the endorsements
of the Report by a Who's Who of open-minded scientists and consciousness researchers who talk about its importance for society.
Steve Taylor Ph.D., says: "We are living in a time of crisis, largely as a result of the materialist worldview which underpins our culture, which sees living beings as chemical machines, and the mind as nothing more than a product of the brain. This worldview has created a background atmosphere of nihilism, a sense that life is purposeless and meaningless, and also fuels our reckless abuse of the environment. As the report of the Galileo Commission clearly shows, a great deal of contemporary scientific research shows that the assumptions of this worldview are false, and points towards a more holistic and spiritual perspective."
AFTERLIFE ANSWERS WITH OUT-OF-BODY EXPLORER JURGEN ZIEWE - PART 1
This is the first in a series of videos dealing with questions about Life after Death by the Out-of-Body explorer Jurgen Ziewe. The questions in this video cover what initially happens when a person dies.

AFTERLIFE EVIDENCE: AUTOMATIC WRITING:
Scripts produced without the control of the conscious

self. A very common form of psychic activity, but not always true mediumship. In its highest form, it is an excellent channel for teachings from the spirit world. Usually, the hand of the medium is controlled and writes at a furious pace without pause for thought, often in unfamiliar handwriting and sometimes back to front (mirror writing). The medium can be conscious and otherwise engaged mentally in reading or conversation while the writing progresses. The scripts sometimes exhibit a knowledge far exceeding that of the medium.
Read more about some of the most evidential writing mediums.
MUSIC FROM THE BEYOND: THE MUSIC OF ROSEMARY BROWN
Rosemary Brown was a British medium who channeled the music of musicians and composers from the Spirit World - including Debussy, Grieg, Liszt, Schubert, Chopin, Brahms, Beethoven...this video was recorded in London on January 11th 1976.
WISDOM FROM NORTH: AN INTERVIEW WITH DR. NORMA MILANOVICH
In 1984,
Dr. Norma Milanovich
, who resides in Albuquerque, New Mexico, was living a quiet, quite normal existence when she began experiencing a series of extraordinary events. These events began with strange paranormal and psychic experiences and have escalated to her receiving transmissions initially via automatic writing and then via her microcomputer from other life forms. She comes across as extremely grounded, courageous, and credible.
DO POLICE USE PSYCHICS AND IF SO WHY DO THEY KEEP IT QUIET?

The television program "Sensing Murder" (
broadcast in Australia and New Zealand
) tested 100 psychics who applied to be on the program. They were given a photo of a crime victim in a solved murder case and had to give details of the crime - who the victim was, what happened and who the killer was. Only 5 out of 100 tested psychics in Australia and 3 out of 75 in New Zealand were able to do this.
Some psychic mediums do work with police informally to provide information that helps police to find missing persons, bodies, and physical evidence to convict criminals. It involves a high degree of trust on both sides, and almost always the psychics work without payment. There are very good reasons why police cannot make their use of psychics and mediums public.
Read more.
SUE NICHOLSON TALKS ABOUT 'SENSING MURDER NEW ZEALAND'
New Zealand psychic medium Sue Nicholson speaks with Gemma Carroll about her involvement with the television show "Sensing Murder" and the challenges she faced "tuning in" to violent deaths.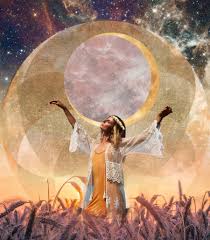 HAVE YOU HAD AN EXPERIENCE OF EXPANDED AWARENESS?
Every spiritual practice in the world has developed methods for helping people to have these kinds of experiences. The most common are chanting, repetition of prayers or mantras, controlling the breath, rhythmic dancing, drumming, fasting, long periods of isolation, and the ritual use of psychedelic plants and substances. Kevin Williams has collected cases where various triggers have unexpectedly generated NDE-like experiences.
Read more.
Many studies now suggest that these experiences are so common as to be considered normal - and up to 40% of people have them at some time in their life. (Back and Bourque, 1970; Greeley, 1974, 1987; Hay and Morisy, 1978; Hood, 1974, 1975, 1977; Thomas and Cooper, 1980 -
see bibliography
) Dr. Robert Crookall collected hundreds of accounts in his book
The Interpretation of Cosmic and Mystical Experiences
(1969).
AN ANTHROPOLOGIST WHO IS STUDYING MEDIUMSHIP
Tamar Gordon Ph.D. is an Associate Professor of Anthropology in the Department of Communication and Media at Rensselaer Polytechnic Institute. Her research and writing focus on religious globalization through media. She is currently working on a study of the international community of spiritualist mediums. She is looking at the ways that both physical and mental mediums are achieving visibility, creating community, and collaboratively producing evidence of consciousness after death, both in-person and online.
ARE THERE REALLY 'LOWER SPHERES' IN THE AFTERLIFE?
While we now know that 'hell for eternity' is a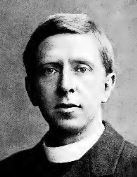 myth, we are reliably informed that, since the astral realms automatically reflect our spiritual level, some people really do find themselves in horrific conditions like those Jurgen Ziewe depicts in his virtual reality video
'After the Plague'
. Mons. Hugh Benson - a former senior Catholic priest - describes a visit he made to 'The Dark Realms' in his book
Life in the World Unseen
. However, he makes it clear that "God condemns no one. Man condemns himself, but he does not condemn himself eternally; it rests with himself as to when he shall move forward spiritually."
CAN WE BE INFLUENCED NEGATIVELY BY SPIRITS?
Many cultures claim that this is not only possible but happens regularly. Alan Kardec, the founder of Spiritism, called this 'obsession'. Our guest on the Global Gathering this week, Luis Sergio Marotta has had personal experience in this area in Spiritist centres in Brazil.
NEXT WEEK'S AFTERLIFE ZOOM GROUPS
To check the time for your city, enter into your search engine:
"When it's 9 p.m. in ______ what time is it in ____".
Saturday 14th December 2019
'Love After Life' - must be a member of the Facebook group 'Love After Life.'
Coordinators:
Mary Beth Spann Mank mbspann@aol.com & William J. William Murray
wjmurray@design249.com
Sunday 15th December 2019
Global Gathering:
Guest: Luis Sergio Marotta
Los Angeles 12 noon Sunday
Phoenix 1 p.m. Sunday
Chicago 2 p.m. Sunday
New York 3 p.m. Sunday
London 8 p.m. Sunday
Rome 9 p.m. Sunday
Capetown 10 p.m. Sunday
Sydney 7 a.m. Monday
https://zoom.us/j/7595442928
Wednesday 18th December 2019

Automatic Writing and Mediumship Discussion
Share resources and discuss what participants are experiencing
1st and 3rd Wednesdays, 5:30 p.m. Pacific Time
https://zoom.us/j/7595442928
Coordinator: Sheila Lowe sheila@sheilalowe.com

More details of meetings
Videos of past Global Gatherings



SURVIVAL RESEARCH INSTITUTE OF CANADA
A big shout out to all our wonderful friends in Canada, especially to Al and Jeanne Fike from the Divine Love Sanctuary in Gibsons, B.C. who recently visited Australia, and to our long-time colleague Walter Meyer Zu Erpen from the Survival Research Institute of Canada. Among other things the SRIC publishes and maintains a comprehensive Directory of Spiritualist Organizations in Canada, available to search on its website.



THE KEY TO HAPPINESS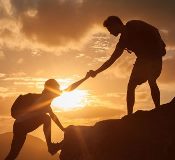 "But the most efficient pathway to lasting happiness and fulfillment is not to look only at your own interests, but also to the interests of others. When we shift our focus off ourselves, we live lives of greater meaning and greater contribution. When we serve others without concern over what we might receive in return, we experience the beauty of selfless love. The size of our universe (and happiness) begins to expand exponentially." See "8 Ways to Be Happier Today."




See Victor on Video

* Subscribe to Victor's Youtube Channel:
* What Happens When You Die
* Afterlife and Science
* Near Death Experiences- Evidence of the Afterlife?
* What You Must Know Before You Die
* David Thompson's Materialization
* Million Dollar Challenge
* The Afterlife on Trial
* A Lawyer on the Afterlife
* Suicide is not the answer* Religion and the Afterlife
* Ghosts- Randi and closed-minded skeptics when they die
* Zwinge Randi's Challenge Exposed ... Lawyer Explains
* Why Professor Richard Dawkins is Wrong
* God--the Evidence (Without Religion)
* Afterlife Without Religion
* Skeptics Demolished
* Afterlife Objections Demolished
* Ghosts- Randi and closed-minded skeptics when they die
* Victor Zammit speaking at Speakers Corner* Materialized Houdini speaks to Victor





FEEDBACK: (Three only).

1) Thank you dear friends. We are all working for the same cause.....truth.
I love how you quote Silver Birch all the time. The world does not realize how fortunate we are to have his teachings. Peace & Blessings, Riley

2 ) Thank you Wendy and Victor. The Conscious TV video was amazing. Terry, Christchurch.

3 ) I am so grateful for the Global Gathering and for the knowledge and wisdom that the speakers and the community of attendees share. Thank you Victor and Wendy and Karyn. Barbara.
HIGHLY INSPIRATIONAL MUSIC "My Cup Runneth Over" is a quotation from the Hebrew Bible (Psalm 23:5) and means "I have more than enough for my needs". This lovely song which dates from the 1960s, written by Harvey Schmidt with lyrics by Tom Jones, captures so many positive emotions - contentment, serenity, acceptance of the transience of life and above all gratitude for the gift of a loving relationship.


Lyrics
Sometimes in the morning
When shadows are deep
I lie here beside you
Just watching you sleep
And sometimes I whisper
What I'm thinking of
My cup runneth over
With love
Sometimes in the evening
When you do not see
I study the small things
You do constantly
I memorize moments
That I'm fondest of
My cup runneth over
With love
In only a moment
We both will be old
We won't even notice
The world turning cold
And so, in these moments
With sunlight above
My cup runneth over
With love
Whilst we encourage and we publish many papers and reports by afterlife researchers, we are not in a position to guarantee the accuracy of all claims. We accept the imputed claim that the afterlife and paranormal research done by the researchers is done in good faith. ALL WORK IS COPYRIGHT BY THE CONDITIONS SET AT THE GENEVA CONFERENCE ON COPYRIGHT.