November 9th, 2018


Last week's report and all previous reports

COMMENTARY: THE BIGGEST SURPRISE Over the years we have heard so many messages from people who crossed over expressing extreme surprise, firstly that they are still conscious, and secondly that the afterlife is so real. They are surprised that they have a solid body and that everything is so earth-like.

Last week we featured Claude's Book, the descriptions of the afterlife by a WWI airman through the mediumship of Mrs Osborne Leonard, who was the most tested medium of the twentieth century.
Claude wrote: "People with narrow, set, and orthodox beliefs are puzzled by the reality, the 'ordinaryliness' (if I may coin a word), of the spirit world... I often laugh when I hear them complain they can't believe in 'solid' things like houses and gardens in the spirit-world."

This solidity and normality of life is emphasised in all the tapes of spirit communication through the direct voice medium Leslie Flint (see next item).



GEORGE OLSEN DESCRIBES HIS ARRIVAL IN THE SPIRIT WORLD A direct voice medium has the rare gift of being able to produce the voices of people who have died. They come from the air, just above the medium, through an artificial voicebox made from a substance taken from the medium's body. In this case, the medium was Leslie Flint and the communicator was George Olsen, someone who had previously sat in Flint's home circle.





LESLIE KEAN ON IRRATIONAL DISMISSALS OF AFTERLIFE EVIDENCE
"It is generally not known that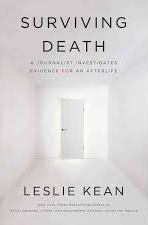 there are qualified scientists who have documented phenomena that are not supposed to be 'real', phenomena that some of their contemporary colleagues claim are literally impossible. That was one of my motivations for writing the book [Surviving Death: A Journalist Investigates Evidence for an Afterlife]. It goes without saying that genuine, open-minded skepticism is certainly positive, and all research must be scrutinized and debated. But I'm talking about closed-minded, irrational dismissals that create a strange sort of cognitive dissonance... When you have witnessed such 'impossible' events yourself, as I have, these denials from skeptics are especially difficult to ignore." Read more...



AN INTERESTING NEAR-DEATH EXPERIENCE Cherie Aimee underwent a life-changing event during cardiac arrest when she died for 90 minutes — and miraculously came back to life. She joins Megyn Kelly to describe her profound experience, the phenomenon of crossing over to another realm and what happened when she experienced a life review.





WHAT IS INTUITION?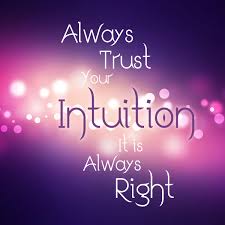 "Intuition is the means by which the spirit becomes aware of itself; it outpaces the processes of normal earthly reasoning. Intuition accomplishes at lightening speed what normally you would reach after much deliberation. Intuition is that process of attunement during which you receive that prompting which you would reach after much time and thought on the same subject." (Silver Birch Book of Questions and Answers p.162, 2001 Ed.)




HOW CAN YOU CLEAR A HAUNTED HOUSE? Physical medium and author Marion Dampier Jeans gave a wonderful talk in our online global gathering last Sunday. Marion was trained in the 1970s by Rose Gladden, a scientifically tested UK medium and healer. Marion also accesses the traditional wisdom of the Scandinavian peoples. Recently she was called upon to travel to Greenland to clear a scientific establishment.






SPECIAL GUEST ON THIS WEEK'S ZOOM GLOBAL GATHERING Sunday 3 pm New York Time; 12 noon Pacific time; 8 pm London time;
7 am Monday Sydney time.
Tom T. Moore is an award-winning author and speaker. For over 25 years he has been president and CEO of his own international motion picture and TV program distribution business, based in Dallas, Texas. He is the author of The Gentle Way: A Self-Help Guide For Those Who Believe in Angels.
To join the meeting click the link
https://zoom.us/j/7595332928


OTHER ONLINE MEETINGS THIS WEEK
For times and more details see www.victorzammit.com/zoom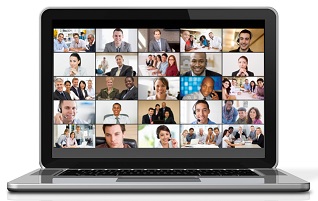 Sunday:
*UK/ Europe/Australia group - friendship and sharing.
10 am London; 9 pm Sydney
* Mediumship Development with Dr. Susan Barnes 2 pm New York
Monday
*Meditation and Intuition Development 9 pm New York
* EVP and ITC Practice 8 pm Central time
Tuesday
* Spirit Art 9 pm New York
Saturday: *Love After Life




PRESENT - An Interview with Rev. Bill McDonald: A Mystic Life Explored Bill explains how he has learned to use his empathic and psychic/mediumistic abilities in service to others. He tells many fascinating stories including ones about intuition, pain, healing and about his Nadi reading in India. Inspirational.





DEATH-BED VISIONS Dr. Marilyn Mendoza writes: "In my own study of these experiences, I found that 57 percent of the visions were of deceased relatives. Sometimes family members will come to help the dying transition and are accompanied by a deceased pet. A 67-year-old woman saw her husband who had died four years previously with her 22-year-old deceased dog. She stated that her husband had taken her hand and along with the old dog told her he would show her the path to follow to be able to die peacefully." Read more...



LIFE BETWEEN LIFE REGRESSION: PLANNING A LIFE Andy Tomlinson is a psychologist, psychotherapist and the director of training for the "Past Life Regression Academy" which includes life between lives training. He is the author of "Healing the Eternal Soul", and "Exploring the Eternal Soul". His video includes a clip of a woman allegedly choosing her future parents.





HOW TO HAVE AN OUT-OF-BODY EXPERIENCE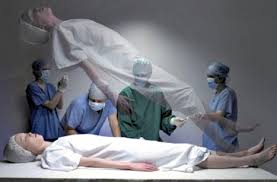 William Buhlman is a residential trainer of the OBE Intensive at a The Monroe Institute. From his website AstralInfo.org, here are 9 steps to initiating an OBE using his "Early Morning Method."
1.
Select a time in advance that you will experience an OBE. (This evening I will have a conscious OBE.)
2.
Several hours before your chosen time keep reminding yourself of your focused goal to have an immediate and conscious OBE.
3
. At bedtime set your alarm for about 4 hours after you expect to fall asleep.
4
. When you are relaxing and drifting off to sleep, repeat your intention to have a fully conscious OBE. (Hold your intention as your last conscious thought)
5.
After being awakened by your alarm, get up for about 15 minutes and move to your sofa (or designated OBE practice area, however, not your normal bed!) and lie on your back in a comfortable position.
6
. Saturate your mind with your intention to have an immediate OBE. "Now I have an OBE" or whatever words focus your intention for you.
7
. Close your eyes and imagine you are walking around your house, and away from your body, as you examine objects within your home. Clearly imagine yourself walking to another room of your home.
8.
While holding this vision, silently repeat your focused intention, "Now I have an Out of Body experience". IMPORTANT - Hold this focused intention as your last conscious thought as you drift off.
WHITE CROW BOOKS If you are interested in books of a spiritual nature, including books on

Christianity, Life after death, Non-violence, Paranormal, Philosophy, Poetry, Spiritualism, Spirituality and Vegetarianism then have a look at the books on offer at White Crow Books. They specialize in non-fiction or classic fiction of a spiritual nature encompassing world spirituality. You can buy e-books (digital editions), audio books or hardback and paperback versions printed on demand. Wherever you are in the world, you can purchase Whitecrow books from good online bookstores like Amazon and also the occasional bricks and mortar outlet. Our readers may be particularly interested in their books on Life After Death.



MOVIE ON FORGIVENESS: THE SHACK Available on Netflix,The Shack is a 2017 American Christian drama film starring Sam Worthington as a father whose young daughter has been brutally murdered. Based on a best selling book by Wm. Paul Young, the film raises questions about why God allows bad things to happen to good people. The book has been embraced by liberal Christians but criticised by evangelicals. See Preview...



LOVE STORY - BEYOND CHANCE
A wonderful story of a prophetic dream and soulmates separated by war - and brought together many years later by an incredible coincidence.




SANDY INGHAM IS DEMONSTRATING IN SYDNEY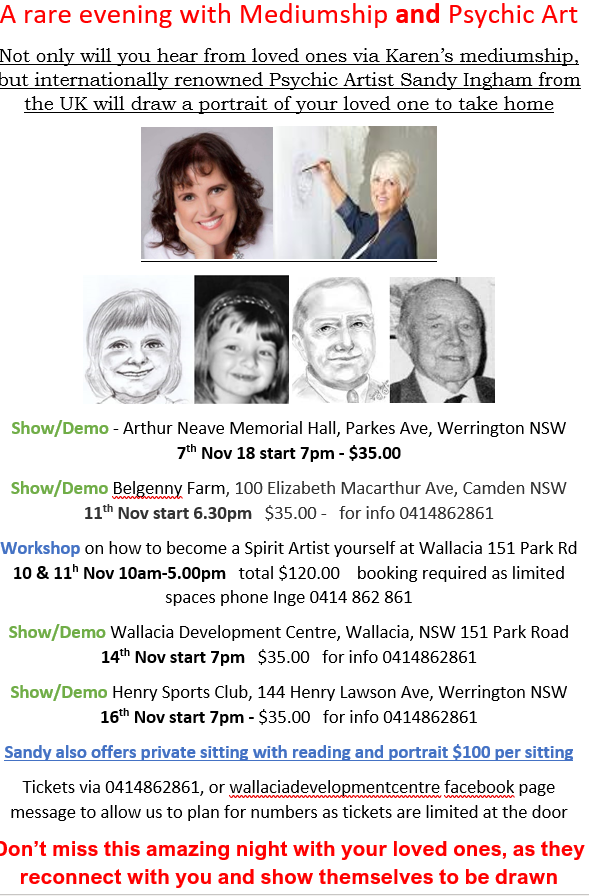 See Victor on Video
* Subscribe to Victor's Youtube Channel:
* What Happens When you Die
* Afterlife and Science
* Near Death Experiences- Evidence of the Afterlife?
* What You Must Know Before You Die
* David Thompson's Materialization
* Million Dollar Challenge
* The Afterlife on Trial
* A Lawyer on the Afterlife
* Suicide is not the answer
* Religion and the Afterlife
* Ghosts- Randi and closed minded skeptics when they die
* Zwinge Randi's Challenge Exposed ... Lawyer Explains
* Why Professor Richard Dawkins is Wrong
* God--the Evidence (Without Religion)
* Afterlife Without Religion
* Skeptics Demolished
* Afterlife Objections Demolished
* Ghosts- Randi and closed minded skeptics when they die
* Victor Zammit speaking at Speakers Corner
* Materialized Houdini speaks to Victor





FEEDBACK: (Three only).

1) "Thank you Victor and Wendy. I always look forward to getting your Friday Afterlife Report. I read with interest the article about the Catholic Church's opening towards women and I must say, as a woman, I am not impressed! Women remain second class citizens; the rest is a token gesture." Anna.

2) "What a fantastic global gathering with Nicole de Haas. Love listening to her." Lisa
3) "This book is interesting: … You do not delay my progress, as was suggested to you, by keeping in touch with me. People on earth will not realize that you cannot 'summon' spirits any more than you can compel men on earth to come and see you if they do not wish to do so." Kim.



HIGHLY INSPIRATIONAL MUSIC
Kathy Cochrane says her husband Mark's twin brother, Craig, came to her in a dream. "He told me it was his birthday. I argued with him and said, "It's not your birthday! Your birthday is on Mark's birthday - in August!" But he insisted that it indeed was his birthday - his "birth into a happy, new life" - and that I should buy him a birthday cake. The next day I told Mark of my dream. He looked at me in shock and said, "I dreamed about Craig last night too!" Soon after that Kathy found herself being woken at night by the melodies of this song. Read more...



Until We're Together Again ©
Katherine J. Cochran (BMI) Vocal by Tiffany Coburn
Some believe
A star shining brightly in the heavens
Represents the love of someone they can't see
Others feel
The butterfly dancing in their garden
Is a symbol of a spirit flying free
But when a gentle breeze caresses your hair
Or you see an eagle soar in the air
Should you smile and remember me in prayer
Oh, I will be there
(chorus)
There's no need to say good-bye
One day we'll be together
Remember me and smile
I'm in your heart forever
I'll feel the love you send
Until we're together again
Close your eyes
You'll find me sailing in the sunset
Riding waves of bluest oceans ever seen
Holding hands
Of all the others here before me
My head upheld to hear the angels sing
I can do all the things I've always dreamed of
I'll be watching over you from above
Don't worry about me because
I brought along all your love
(chorus)
There's no need to say good-bye
One day we'll be together
Remember me and smile
I'm in your heart forever
I'll feel the love you send
Until we're together again
It doesn't matter where you are
My love will shine upon you from that star
Like the butterfly, now I'm free
Ascending through the sky peacefully
(final chorus)
There's no need to say good-bye
One day we'll be together
Remember me and smile
I'm in your heart forever
I'll feel the love you send
All the love you send
And you hold on to the love I send
Until we're together again
We'll be together again


Whilst we encourage and we publish many papers and reports by afterlife researchers, we are not in a position to guarantee the accuracy of all claims. We accept the imputed claim that the afterlife and paranormal research done by the researchers is done in good faith. ALL WORK IS COPYRIGHT BY THE CONDITIONS SET AT THE GENEVA CONFERENCE