May 18th 2018


Last week's report and all previous reports

COMMENTARY: BEYOND REASONABLE DOUBT?
For years I have been saying that the proper way of assessing the strength of the evidence for the afterlife is to apply the tests that would be used in a court-of-law.

London barrister, Maria Ahern, the writer of a foreword to a new book by Scottish medium Gordon Smith, has recently written: "I have assessed the evidence in this book, just as I would in a trial. There is credible evidence from various unconnected sources all giving evidence that points the same way." She concludes that the evidence is "Beyond Reasonable Doubt", the title of the book.

While I wholeheartedly agree with her challenge to 'Look at the evidence, assess it fairly, allow for any sensible and appropriate doubt and reach your verdict,' I disagree with her assessment. Based on my 30 years of research I conclude that the evidence for the afterlife meets an even higher standard of proof. It passes the Cartesian test of "Beyond any doubt whatsoever".



WHAT IS A NEAR-DEATH EXPERIENCE?
This short video graphically demonstrates some of the key features of a Near-death experience.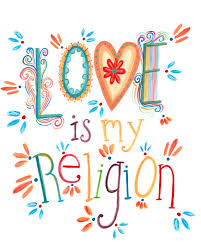 NDES AS A PATH OF SPIRITUAL AWAKENING David Sunfellow writes:
"In short, near-death experiences present us with a universal, all-inclusive, perfectly integrated spiritual path that revolves around three core truths:
1. We are all one;
2. Love is the essence of life;
3. We are here, in this world, to become perfect embodiments of the Divine." Read more...



RESEARCHER OUTLINES THE AFTERLIFE EVIDENCE HE FINDS COMPELLING
Bob Olson began his investigation as a skeptic. He was convinced by past-life regressions, near-death experiences, spirit artistry and mediumship.






LAWYERS WHO INVESTIGATED THE EVIDENCE FOR THE AFTERLIFE


I am very aware how careful a trial lawyer has to be in assessing the credibility of witnesses and examining both sides of an issue. So I am always impressed by the testimony of lawyers and judges who have been involved in afterlife research for many years. One of the most impressive was the courageous Judge John Edmonds. Read the incredible story of the judge and his daughter Laura.



DR. CRAIG HOGAN INTERVIEWED ON AWAKE TO ONENESS RADIO Craig is the
President of the Afterlife Research and Education Institute and the author of Your Eternal Self. The book has been called "an eye-opening look at the pseudo natural and everything related to the human mind—highly recommended for anyone into the science beyond the mundane world". Listen..



JURGEN ZIEWE ON LIFE AFTER DEATH - WHAT TO EXPECT AND HOW TO PREPARE






THE 2018 AREI SYMPOSIUM - SIGN UP AT THE DISCOUNT RATE We have extended the super-early bird rate ($175 for 4 days of events in a top resort) until May 31st. Book now.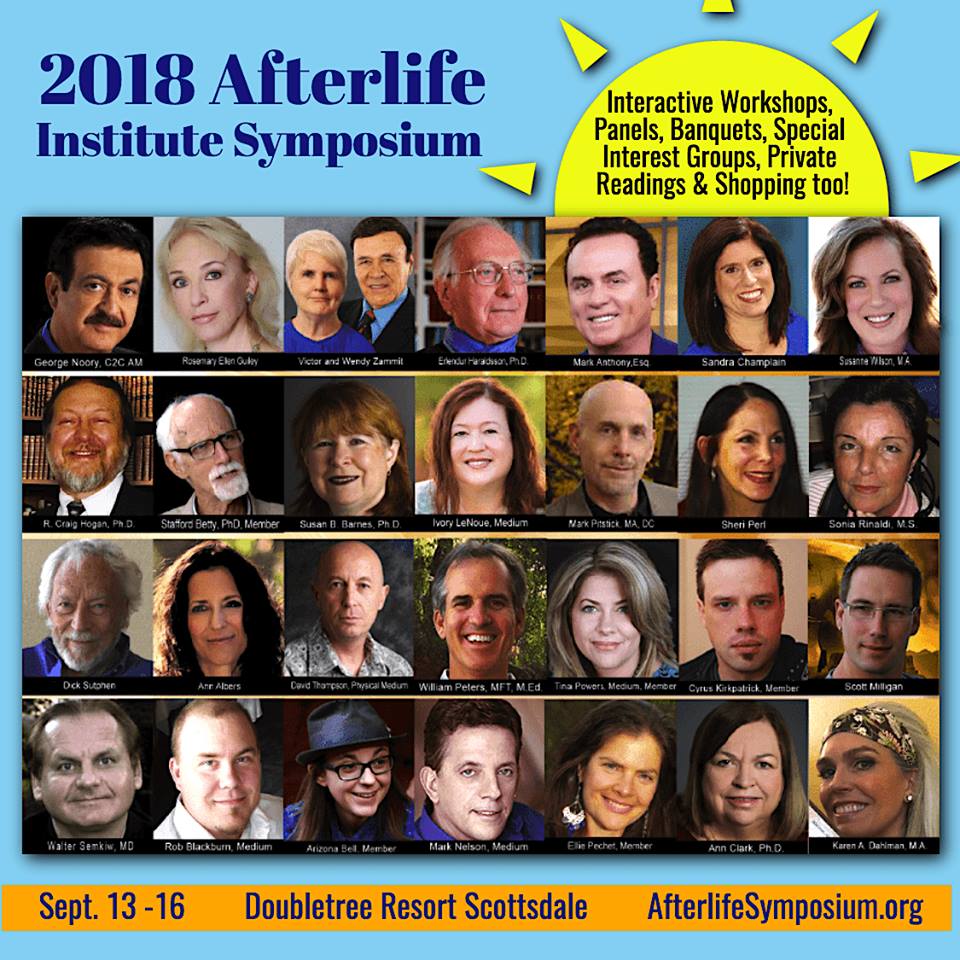 THIS WEEK'S AREI ZOOM GROUPS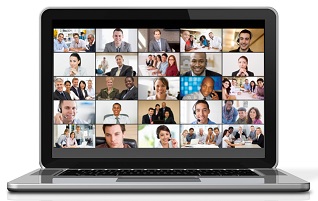 As usual we have a great line-up of online meetings for you this week. On Sunday, in our Australia/ Europe gathering (at 10am London time, 7pm Sydney time) medium Mani Asvadi will take us through some exercises to explore altered states. 12 hours later, still on Sunday this time in our Global Gathering, our guest will be Sandra Champlain from We Don't Die Radio. See details and times of all groups.



INTERVIEW WITH BRILLIANT FORENSIC MEDIUM DEB WEBBER Those in the spirit world repeatedly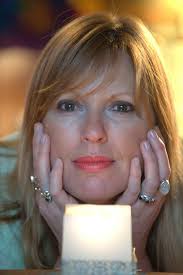 tell us that they are operating at a higher vibrational frequency than we are and that for contact to be made they have to lower their frequency while we have to raise ours. In this interview, medium Deb Webber talks about being a psychic detective on 'Sensing Murder' and explains how the wall of disbelief that skeptics erect makes it really difficult to read for them. Interview with Deb Webber.



THE THOMPSON-GIFFORD CASE
When a renowned American artist died in 1905 did he then 'overshadow' a professional goldsmith, to make him complete some of his unfinished art projects? And if he did, what does this say about the spirit hypotheses - that the spirit lives on after death? Watch this video to find out! To view all Keith Parsons' spiritual evidence documentaries click here...


QUESTION:
What will happen to a young child moments after death?
VICTOR:
Immediately on crossing over, infants from even minutes old to older children are met by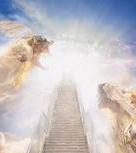 specially trained carers from the other side. They are taken to a very special place – perhaps the best description would be a kind of a children's 'hospital' where they are looked after with much love by those connected with the child – and by the specially trained personnel. They grow in the normal way - being given much love - and are also given education until adulthood. The child will have carers to bring him/her to visit the parents and family still living on earth. Read more on
afterdata.com.
QUESTION: DO I BECOME A GHOST WHEN I DIE?
If you inform yourself about the afterlife you will

have no problem moving away from the earth environment when you die. This means you will NOT become a ghost. You will meet loved ones on crossing over who will help you to proceed to the realm of the Light where you will continue to live in wonderful environment. But it is possible that some who do not accept the afterlife, or have an intense attachment to their homes or to 'unfinished business', may be pulled back and stay here as a ghost for a period of time.
Read WHAT HAPPENS WHEN YOU DIE
– chapter 29 and watch my video
What Happens When you Die
QUESTION: I have been attending Spiritualist services for six years and I come across a number of mediums who have a Native American guide. What's so special about Native Americans?
Victor: Information transmitted from the other side tells us that indigenous peoples, including the Native Americans, are highly

advanced psychically and spiritually. Perhaps this is because for centuries they stayed very close to nature and lived communally. You have cynics and skeptics and racists who heap a lot of denigration onto these highly psychic people. But it seems that because of their abilities, they are able to do the work of connecting the two worlds. Certainly many of them volunteer to be guides and protectors to working mediums.
QUESTION: How do we become spiritually evolved?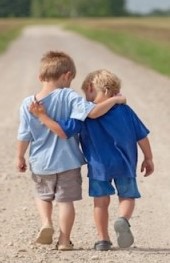 "The spirit grows and develops through kindness, tolerance, sympathy, love, service and the doing of good works. Character evolves only when you allow the divine spirit to be made manifest in your daily lives. If you harbor unkind thoughts, thoughts of hatred or malice, of vengeance, of selfishness, you yourself will be the victim and you yourself must pay the price in a warped distorted and thwarted character."
(Silver Birch)
SERVICE DOGS: ANGELS AMONG US SPREADING UNCONDITIONAL LOVE

At the AREI Symposium in September,
at our first banquet,
the theme will be "angels among us" including animals. Blessings to all who are involved with programs for prisoners to train service dogs. What an incredible way to open the hearts of all concerned.


SUSANNE AND SUZANNE: UP CLOSE AND PERSONAL IN MINNEAPOLIS THIS WEEKEND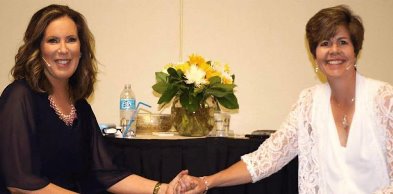 Enjoy two high-energy days of learning
and sharing with two of our favourite mediums. Susanne Wilson and Suzanne Giesemann are the real deal in every way. They are both brilliant, tested and accredited evidential mediums and are known for their integrity and compassion. Ask questions and hear the answers first-hand. Read more...



See Victor on Video
* Subscribe to Victor's Youtube Channel:
* What Happens When you Die
* Afterlife and Science
* Near Death Experiences- Evidence of the Afterlife?
* What You Must Know Before You Die
* David Thompson's Materialization
* Million Dollar Challenge
* The Afterlife on Trial
* A Lawyer on the Afterlife
* Suicide is not the answer
* Religion and the Afterlife
* Ghosts- Randi and closed minded skeptics when they die
* Zwinge Randi's Challenge Exposed ... Lawyer Explains
* Why Professor Richard Dawkins is Wrong
* God--the Evidence (Without Religion)
* Afterlife Without Religion
* Skeptics Demolished
* Afterlife Objections Demolished
* Ghosts- Randi and closed minded skeptics when they die
* Victor Zammit speaking at Speakers Corner
* Materialized Houdini speaks to Victor





FEEDBACK: (Three only).
1) Hours of information sharing again thanks so much Victor, exciting listening and reading! Glennis
2) A BILLION thanks for these reports! xoxox Mary Beth

3) A big thank you to you both for your work you do to bring us, the highlight of my week, the afterlife report. Unfortunately once again a couple of the videos are missing for iPad users, Suzanne Giesemann's story & Gordon Smith's. Amanda

Victor: The iPad does not support "Flash" video formats because of security issues and because "Flash" is processor-hungry and eats up battery power. Simplest answer is to use a computer to view any "missing" videos.



HIGHLY INSPIRATIONAL MUSIC
Beloved Israel "Iz" Ka'ano'i Kamakawiwo'Ole sings his renowned medley of "Somewhere Over the Rainbow" and "What a Wonderful World." Israel was among the most celebrated of Hawaiian performers with a kind and gentle spirit that is evident in his touching voice. He tragically died in 1997 of an heart attack at an early age (38) and has been sorely missed by his many adoring fans.



Whilst we encourage and we publish many papers and reports by afterlife researchers, we are not in a position to guarantee the accuracy of all claims. We accept the imputed claim that the afterlife and paranormal research done by the researchers is done in good faith. ALL WORK IS COPYRIGHT BY THE CONDITIONS SET AT THE GENEVA CONFERENCE ON COPYRIGHT.