Last week's report and all previous reports

January 6th 2017


COMMENTARY: VERY POPULAR TOPIC HOW TO OVERCOME THE FEAR OF DYING We often hear from people who

admit that they are enormously frightened of dying. This is a widely held fear in our death-denying society which even has a name - thanatophobia. While mainstream culture has little to offer people who suffer from this fear, there are many resources available for those who seek them out.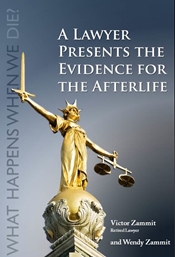 Our book A Lawyer Presents the Evidence for the Afterlife and the free Friday Afterlife Report (now in its eighteenth year) that you are reading, are designed to introduce people to some of those resources. Watch the videos, read the books, listen to the podcasts, talk with an experiencer, have a reading with a good medium, open yourself to a guided or self-guided afterlife connection.

Guaranteed, if you put the effort in, you will come to realise that as Silver Birch says "There is nothing to fear in death. Death is a great liberator; death brings freedom. You rejoice when babies come into your world. There are many who cry in our world when babies are about to be born into your world. Similarly, there is weeping when people die in your world, but there is rejoicing in ours. Death usually means that the life has served its purpose .... and the individual is ready to enjoy all the tremendous richness and beauty that the spirit life has to offer."




DURING HER NEAR-DEATH EXPERIENCE NANCY RYNES LEARNED THE ART OF SPIRITUAL COMMUNICATION
In this interview Nancy Rynes talks about how she discovered pre-birth planning and how she teaches others to quiet their minds and use contemplative prayer to communicate with higher spiritual beings.


WHY NEAR-DEATH EXPERIENCES ARE REAL

Every few months some 'scientist' comes up with a new theory claiming that NDEs are hallucinations which have a purely physical cause. Here's what NDE researcher Dr. Peter Fenwick says about these theories. "So much rubbish is talked about Near Death Experiences by people who don't have to deal with these things on a daily basis. So I'm absolutely sure that such experiences are not caused by oxygen shortages, endorphins or anything of that kind. And certainly none of these things would account for the transcendental quality of many of these experiences, the fact that people feel an infinite sense of loss when they leave them behind." Read 15 reasons why NDEs are not hallucinations or the effects of the dying brain.

NEUROSCIENTIST SAYS CONSCIOUSNESS IS NOT A PRODUCT OF THE BRAIN University of Oregon Neuroscience Professor, Marjorie Woollacott, claims that terminal lucidity and evidential dream communications are evidence that consciousness is not a product of the brain, and can survive death. She cites work by Dr. Peter Fenwick and recent work on terminal lucidity by Dr. Alexander Batthyany.



SELF-GUIDED AFTERLIFE CONNECTIONS

This is a FREE training program developed by Dr. Craig Hogan (see next item). It is not a one-time meditation you go through. It will teach you how to enter a state of mind in which afterlife connections can and do occur. They happen in 86% of the people who go through the training. The goal

of the training is for you to learn how to enter the state of mind to connect with your loved one at any time, in any place. You won't need the meditation music or guidance provided during the training. When you sense your loved one's presence, you can quiet yourself and have a dialogue with them. You will listen to meditation music and a narration guiding you at first but, by Stage 7 in the training program, you will be able to enter the state of mind by yourself, with no help.
Read more...

NTERVIEW WITH DR. CRAIG HOGAN




KEEP UP TO DATE WITH INSTRUMENTAL TRANSCOMMUNICATION
Dr. Anbela Cardoso founded the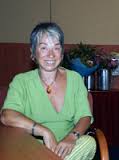 ITC Journal of which she remains Editor-in-Chief (see details of
the December 2016 edition
). It is published in English, Portuguese and Spanish, and has an Editorial Board of internationally recognised scientists and researchers of the paranormal. Dr. Cardoso is surprised and disappointed at the lack of knowledge shown by the majority of European and American researchers about good research findings published in other languages. The ITC journal website has recently been updated and modernised:
www.itcjournal.org
BRILLIANT PSYCHIC DETECTIVES episode: 'The

Man Behind the Mask'.
Place: Stauntaon County, Virginia Police Department.
Case: Serial rapist.
Psychic: Noreen Renier
Police Officer in charge: Detective Ronnie Whisman. (working with Detective Lacy King)
EVIDENCE by the gifted psychic, Noreen Renier (below), "I feel a delivery truck … something that goes round and

round on it …something to do with his job …I feel like he was waiting for her inside her home … (psychic walking with Detective Ronnie Whisman outside the victim's home … pointing at one window) … this is where he got in … I see an African American man … he's medium height … holding a knife in my neck (victim's neck) … he is very polite … he's apologizing to me (to the victim) … I (now the suspect's body) feel a scar on my left leg … he could be in uniform … The attacker lives in an old brick building … I see an old theatre across the street (from where he lives) … (later police followed all leads, caught and convicted the suspect)

Police Comments: Detective Ronnie Whisman: "I had never worked with a psychic prior to this … but we accepted all help. She (the psychic) was convincing about the things she was telling us …no one knew these things …Everything that Noreen had told us turned out to be pretty well dead-right. I will absolutely work with Noreen (the psychic) again … I don't think any department would turn down help of any type …"
Detective Lacy King: When she was describing the actions of the suspect … it was just phenomenal to me. Psychics have their place in criminal investigations … and if you reached that frustrated level you take any help you can get (i.e., help from psychics) …"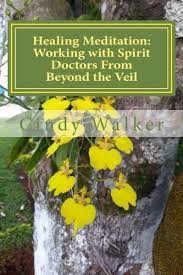 SPIRIT DOCTORS
Medical doctors, who were skilled on this earth, sometimes continue to administer to the sick from the spirit spheres by working through a dedicated medium known as a healer. It is worth noting that not all healers know that they are mediums, or even subscribe to Spiritualist ideas. But the work is affected by intentions, not ideologies, and so far as it is directed to the unselfish alleviation of suffering humanity, it is spiritual work and commands the sympathetic attentions of skilled spirit operators.
THE AMAZING PARTNERSHIP OF GEORGE CHAPMAN (1921-2006) AND DOCTOR WILLIAM LANG (1852-1937)
Dr. Lang had been an eye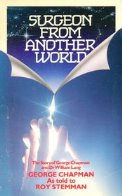 specialist at London's Middlesex Hospital from 1880-1914. George Chapman was a fireman who had no medical training. However, when George Chapman developed as a deep trance medium he would bring through Dr. Lang who then conducted complex eye surgery on patients referred to him by Dr. Lang's former colleagues. For 60 years they performed these operations with either no physical contact or a very light touch. The success rate of these operations was very high.
William Lang's daughter, Lyndon, and his grand-daughter, Susan Fairtlough, confirmed not only that his speech and mannerisms were as they remembered them, but also that they discussed events and people who would have been unknown to George Chapman, who was not even in his teens when Lang retired from private medical practice.
Chapman himself maintained that the purpose of his healing mission was to prove that there was life after death; the healings, he said, were secondary.
Read more...
A NEW BOOK BY OUT-OF-BODY INSTRUCTOR INES BEYER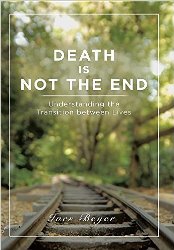 Luis Minero from the
International Academy of Consciousness
writes: "Dear Friends, I am excited to announce that IAC instructor Ines Beyer's book
Death is Not the End: Understanding the Transition between Lives
has been published and is available now on Amazon, Barnes & Noble or Apple iBooks (as a hardcover, paperback, Kindle or Nook eBook). You can find more information and purchase options on
her website
.
THE 'CONSCIOUSNESS' CONTROVERSY: EXPERIEMENTAL EVIDENCE THAT PLANTS HAVE 'CONSCIOUSNESS
' Cleveland "Cleve" Backster, Jr. (February 27, 1924 – June 24, 2013) was an interrogation specialist for the Central Intelligence Agency and an expert on using a polygraph instrument. During the 1960's he was an atheistic materialist. He had never thought about greater consciousness. And then one night he attached a polygraph to one of his plants and sent it negative thoughts. His book
Primary Perception: Biocommunication with Plants, Living Foods, and Human Cells
opened up a new paradigm in science, ecology and healing.



DEATHBED REPENTANCE AND The 'Law of Cause and Effect' No priest has powers to irretrievably forgive 'sins' just because at the end of your life you say you are sorry. This is because of the universal Law of Cause and Effect which no one on earth has the power to change. This information has been transmitted repeatedly from very high sources in the afterlife dimension.


It was stated it would make a mockery of spiritual justice if, just by uttering a few words, horrific evil deeds can be irreversibly forgiven. We have to experience the pain we caused others for our own spiritual understanding and spiritual growth. We have to learn that we are all inter-connected and when we hurt others we are hurting ourselves. This is the message that comes to us from the life reviews that people have during near-death experiences. Also, see what Catholic Monsignor said, soon after he crossed, over about 'forgiveness' and the Law of Cause and Effect. Read more...
IS THE BIBLE 100% TRUE?


Mons. Hugh Benson, a Cambridge Scholar, worked for the Catholic Church. On crossing over, he said that much of what he taught while alive was wrong and he was very sorry that he had misled many people. He sought permission to transmit what really happens when we cross over through writing medium Anthony Borgia, (below left).

"What has been set down in the four gospels is but a tiny fraction of the great body of teachings that were originally given forth. They have been inaccurately set

down; they were not- and are not- the inspired word of God. They have been mistranslated, misinterpreted, suffered interpolations and distortions, and they have been tampered with until it seems more than remarkable if a vestige of the truth can remain." Mons H Benson's FACTS, p 25, 95' ed. (Download free). Feel free to contact me for any clarification. vz@victorzammit.com




ABSOLUTELY NOTHING COMES BY CHANCE
Materialists try to explain the magnificent order in the universe as the product of chance. I say again to those atheistic flamboyant scientists, who keep on harping that 'everything came by chance', we have highly credible afterlife teachers who know more than these scientists.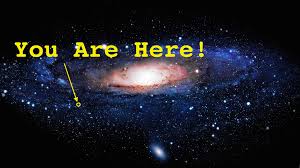 "The world is not ruled by chance; it is ruled by law and order. No matter where you turn, whether it be to attempt to comprehend the vastness of the interstellar spaces, whether you range with a telescope far over the horizons of the sky, or whether you take a microscope and begin to examine the small creations of life, ALL is subject to natural, unchangeable, immutable law. You are not a product of chance. Chance holds no place in an ordered universe where cause and effect follow one another with unalterable sequence ... there are no chances, no accidents, no coincidences, no miracles ... All is due to the variation of natural law; the law of cause and effect. The universe is not discordant. It is one harmony on a grand scale." (from The Universe of Silver Birch).



AND NOW FOR THE GOOD NEWS Our spiritual teachers emphasise the importance of staying positive. But if you watched/read the

end of year summaries by the mainstream media you may have gained the impression that the news in 2016 was all bad. Here are some of the positive developments that are rarely reported. Read 99 Reasons why 2016 was a good year for humanity. For fortnightly stories about people from around the planet who are using science and technology to make the world a better place subscribe to Futurecrunch.



See Victor on Video
* Subscribe to Victor's Youtube Channel:
* What Happens When you Die
* Afterlife and Science
* Near Death Experiences- Evidence of the Afterlife?
* What You Must Know Before You Die
* David Thompson's Materialization
* Million Dollar Challenge
* The Afterlife on Trial
* A Lawyer on the Afterlife
* Suicide is not the answer
* Religion and the Afterlife
* Ghosts- Randi and closed minded skeptics when they die
* Zwinge Randi's Challenge Exposed ... Lawyer Explains
* Why Professor Richard Dawkins is Wrong
* God--the Evidence (Without Religion)
* Afterlife Without Religion
* Skeptics Demolished
* Afterlife Objections Demolished
* Ghosts- Randi and closed minded skeptics when they die
* Victor Zammit speaking at Speakers Corner
* Materialized Houdini speaks to Victor




FEEDBACK: (Three only).
1. Thank you for a wonderful report as always. Oh, I can't wait to try out the virtual reality video you shared, when the app is ready. I just recently bought VR glasses for my iPhone, so this is perfect - I just hope they make the app for IOS too :) And the message about unconditional forgiveness feels so very true. I have always felt that if someone truly regrets something, then I can forgive them instantly...Maria
2. Thank you Victor and Wendy for all you do. You'll never know how much you've helped me during the darkest hours of my grief. Many Blessings! Nancy
3. Once more just wanted to convey my heartfelt thanks and appreciation for all the wonderful work you do,and of course for your weekly mailouts! I feel particularly touched when you mention the plight of animals and include vegan information. Helga.



MUSIC - FOOD FOR THE SOUL
with all the world's problems of violence, terrorism, murders assassinations, wars and other violence, inevitably all agree, WHAT THE WORLD NEEDS NOW IS LOVE! Sung exquisitely by Dionne Warwick

Whilst we encourage and we publish many papers and reports by afterlife researchers, we are not in a position to guarantee the accuracy of all claims. We accept the imputed claim that the afterlife and paranormal research done by the researchers is done in good faith. ALL WORK IS COPYRIGHT BY THE CONDITIONS SET AT THE GENEVA CONFERENCE ON COPYRIGHT.