February 12th 2016


Last week's report and all previous reports
COMMENTARY: WARNING! KEEP AWAY FROM RELIGIOUS CULTS The good, average

person seeking the meaning of life and the afterlife does not need to join a 'cult'. Some of the characteristics of a cult are: authoritarian leadership, a belief that the cult leader alone has the truth, opposition to independent thinking, sanctions against leaving and great use of fear (more on how to recognise a cult).

My response to people enquiring about cults has always been that highly spiritual teachers are humble, will serve rather than expect to be worshiped, will never use fear and will never violate your free will.

If you are a good average decent person and unselfishly help those who need help, that will be sufficient for you to make it to the Light when you die.



WISE WORDS DIRECTLY FROM THE AFTERLIFE: "REJECT ANYTHING THAT INSULTS REASON AND INTELLIGENCE"


"There is nothing that appeals more to an old soul like myself than to see you testing everything at the bar of reason. We enthrone reason as the great guide. Always reject what your reason rejects, no matter through whom it comes or the source. These are the truths that should appeal to reason and intelligence. If reason revolts and intelligence is insulted, then DISCARD them." (S. Birch)


CAN YOU BE HARMED BY A CURSE?
We often hear from people who believe they have been brought bad luck through someone putting a 'curse' on them. In psychology and medicine this is called The Nocebo Effect. The curse can only affect you if you believe it can.







CELEBRATING THE LIFE OF EDGAR MITCHELL When he returned from space forty-five years ago, Apollo 14 Astronaut Dr. Edgar Mitchell committed his life to supporting a sustainable future. He worked tirelessly to understand and promote what he viewed as an absolutely necessary collective shift in consciousness. Read more...




CELEBRITY'S AFTER DEATH CONTACTS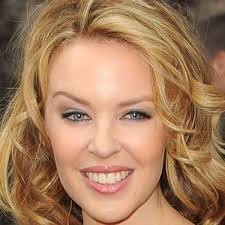 Australian KYLIE MINOGUE, admits to having strong spiritual beliefs. During an appearance on The Jonathan Ross TV show some time ago, she was asked whether she still missed her one-time boyfriend Michael Hutchence. Kylie announced that during her concerts at Wembley stadium, she could feel the spirit of Michael Hutchence with her throughout each performance. Previously she has revealed that she has seen Michael since he has passed over. He apparently occasionally visits her, to let her know that he is okay. In fact, she has told how he even came to see her on the morning of his funeral, following his controversial death in 1997.


AN ATHEIST GOES THROUGH 'HEAVEN' Nancy Rynes was an atheist when she was hit by a truck while riding her bike. She died. Where do atheists go when they die? Nancy tells what happened to her during her minutes of clinical death. She was given profound information to take back to Earth and was told to tell everyone. The result is her book Awakenings from the Light.




WHAT HAPPENS WHEN YOU DIE?
When a person dies as an old man, would he be able to recognise his wife who died twenty or thirty years before him?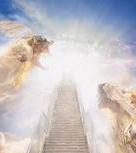 'You do not change your identity. You do not change your individuality; you do not change your consciousness. You grow in spiritual grace and stature, but you are the same individual that you were before - with your
perceptions heightened, your faculties deepened. But, except for the disappearance of blemishes, defects and injuries, you are recognizable as you were on earth - even after 40 years! You do not change your form, for all that is spiritual still requires a mode of manifestation.' (S. Birch)

OUT-OF-BODY EXPERIENCER ANSWERS QUESTIONS ABOUT HEAVEN
Exploring our afterlife state whilst fully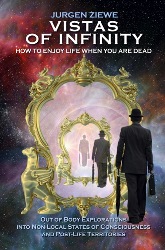 present in waking consciousness is a privilege that can be enjoyed during out-of-body states and Astral Travel. Jurgen Ziewe documented this in his latest book "
Vistas of Infinity - How to Enjoy Life When You Are Dead
". The title prompted a barrage of questions by the radio host David Schrader of Darkness Radio in this excellent interview (begins at 2min 33secs).
Listen.

CONSCIOUSNESS BEYOND THE BODY: EVIDENCE and REFLECTIONS
— 2016, Centre for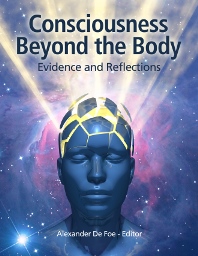 Exceptional Human Potential, Australia.
This brand new book presents the latest theories, research, and applications of out-of-body experiences (OBEs) and other consciousness states. It features original chapters from leading international researchers, educators, and practitioners who specialise in OBEs. As a modern compilation on the topic, the book aims to meld contemporary scientific evidence with the latest and most compelling practical applications of OBEs
DOWNLOAD YOUR FREE COPY

HIGHLY RECOMMENDED 'GROUND OF FAITH JOURNAL' IS NOW AVAILABLE


Editor: The Rev. Michael Cocks. MA Hons Philosophy (NZ); MA Hons Theology (Oxon)
I would consider the leadership of Rev Michael Cocks to be highly exemplary and light years ahead of conventional Christian theology.
Read February 2016 journal.


LISA WILLIAMS: PAIGE'S READING

Our loved ones on the other side often see things differently and no longer care about jealousy and past hurts. Above all they want us to be happy and make the most of our lives.






BRILLLIANT PSYCHIC DETECTIVES:
Place: Sharon Police Department
Case: Darrell Cozart missing, found murdered


Forensic psychic: Mary Ellen Rodrigues
Some of the psychic's evidence: something happened to Darrell, keeps telling me the same word over and over 'Fickel'; he's been shot a few times, there's a rope around his head; lying in swamp; face up; you will find him before Tuesday.
POLICE COMMENTS: Capt. Jerry Smith
"I don't know how to explain it. I don't know if I believe in it. I just know that it happened ... there's no explanation for it! Darrell (the victim) kept telling the psychic (from the afterlife) 'Fickel', 'Fickel' ... It was only after we arrested the suspect that it dawned on me it was his (the suspect's) surname ... that was exact ..."
Source: PSYCHIC DETECTIVES television series Court TV.
QUESTION: WHAT IS WRITING MEDIUMSHIP?

A writing medium is able to go into a trance and allow his/her hand to be taken over by a spirit person, sometimes writing at a supernormal speed, in languages unknown to the medium about subjects totally outside their knowledge. This is called "automatic writing" or "psychography". Sometimes the writing is exceptionally small and sometimes it can only be read in a mirror but usually it comes through complete without the need for editing.
While much so-called automatic writing comes from the unconscious mind of the writer and provides no evidence of being "supernormal," there are some cases which are taken seriously by investigators. These involve people who are already genuine mediums who can produce evidence that they are communicating with a known spirit.
Read examples
.


CAN SUGAR INTERFERE WITH YOUR ABILITY TO MEDITATE?
Thomas Campbell is an ex NASA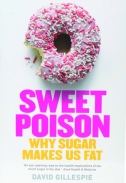 physicist who worked with Bob Monroe on out-of-body experiences. He has been looking at how sugar can affect the brain. Campbell did an experiment where he meditated and got himself into a relaxed state, then consumed various different foods and drinks to observe their effects. He says that sugar had by far the worst effect, and his brain and body took eight days to get back to normal. (Other benefits:
removing sugar from your diet will maintain good health. I, (Victor), lost 4 kilograms after removing all sugar from my diet.)
Part 2
HIGHLY RECOMMENDED MEDIUMSHIP WORKSHOPS
We have heard many great

reports about the mediumship workshops of Christine Morgan CSNU. Some upcoming workshops include:
* 'The Spirit & Me' workshop -

Gold Coast
, Australia Fri 19 Feb 2016 - Sun 21 Feb 2016
* 'The Spirit & Me' workshop -
Sydney
, Australia Sat 05 Mar 2016
* The Spirit & Me' workshop -
Auckland
, New Zealand Thu 10 Mar 2016 - Mon 14 Mar 2016

* Whispers from the Soul 2016
,
Ashford, Kent
, UK Thu 24 Mar 2016 - Mon 28 Mar 2016
Read more...
See Victor on Video
* Subscribe to Victor's Youtube Channel:
* What Happens When you Die
* Afterlife and Science
* Near Death Experiences- Evidence of the Afterlife?
* What You Must Know Before You Die
* David Thompson's Materialization
* Million Dollar Challenge
* The Afterlife on Trial
* A Lawyer on the Afterlife
* Suicide is not the answer
* Religion and the Afterlife
* Ghosts- Randi and closed minded skeptics when they die
* Zwinge Randi's Challenge Exposed ... Lawyer Explains
* Why Professor Richard Dawkins is Wrong
* God--the Evidence (Without Religion)
* Afterlife Without Religion
* Skeptics Demolished
* Afterlife Objections Demolished
* Ghosts- Randi and closed minded skeptics when they die
* Victor Zammit speaking at Speakers Corner
* Materialized Houdini speaks to Victor





FEEDBACK: (Three only).
1.Hi Victor, You are doing such important work with the sources you uncover in your Afterlife Reports.
I have been reading the
transmissions coming through David Ingman
, and am amazed at the degree of detail describing consciousness at levels that usually cannot be described; i.e., the Astral and Causal level (everything needs a name). They do it through analogy, since direct physical words are not available.
It is like this info comes from the penthouse, whereas the valiant scientists are working hard in the basement trying to crack the egg of past scientific assumptions which are suddenly seen as archaic. Trying to "prove", whereas from the penthouse the view is fantastic and beautiful. Both are necessary, but I prefer the view!
Gratefully, Karl R.
2. About the primitive man and the afterlife: Just like the animals the primitive man passes over easily and without problems because he will have no complicated thoughts to purge. He will be attracted to a wavelength in the spiritual realms that corresponds to the most developed part of his psyche (as we all are) and he will continue his spiritual existence in an environment that resembles where he lived in the physical. Else Byskov
3. Many thanks for the excellent work you are doing in bringing so much important information to the forefront of scientific thought. Sincerely,
William J.

INSPIRATIONAL MUSIC Andre Rieu and Mirusia Louwerse performing Concerto Pour Une Voix by Saint-Preux at a Romantic Viennese Night in Telstra Dome Melbourne. Hear some heavenly music, and vocalization by an angel. Absolutely stunning, magical and a musical classic. Visually it is a must-see. Beautiful backing, most impressive trumpet introduction and irresistible harp accompaniment.

Whilst we encourage and we publish many papers and reports by afterlife researchers, we are not in a position to guarantee the accuracy of all claims. We accept the imputed claim that the afterlife and paranormal research done by the researchers is done in good faith. ALL WORK IS COPYRIGHT BY THE CONDITIONS SET AT THE GENEVA CONFERENCE ON COPYRIGHT.