Listen to some of these remarkable tapes.


OVERCOMING FEAR OF DEATH
We frequently hear from people who are really terrified of dying. They feel a great deal of almost uncontrolled anxiety when the thought of death enters their mind. I met some whose parents were killed in the death camps at Auschwitz. I met those who where told in their younger sensitive, vulnerable years that if they die in 'mortal sin' they will burn in

hell for eternity. I met others who accept mainstream materialist beliefs and experience great fear of dying - even panic attacks - thinking that when they die it's lights out and the end of their consciousness.
The simple antidote to fear is KNOWLEDGE and EXPERIENCE. What is urgently needed to remove fear is to read - read good books about the afterlife especially WHAT IS GOING TO HAPPEN WHEN YOU DIE? (see chapter 29 Lawyer Presents the Case for the Afterlife). Watch video interviews with

people who have had a near-death experience. Learn to meditate. Do a course with the Monroe Institute. Learn to have an out of body experience. Have a reading with a medium and talk with a relative who has died. You can also work your way through many of the activities which we recommend for people who are experiencing prolonged grief. See our
grief resources.

DEATH OF A SIBLING
What I learned from the death of a sibling.


" Now that this has all happened and my brother is gone, I feel like I have to be "superkid." Like now I have to be the best and do everything to make up for what he could have done. I feel like I'm my parent's last hope, and I'm just the leftover kid. Do you know what I mean? I feel like I have to take care of them. Did you ever go through that? I have so much to live up to, and I don't think I can do it. " Read more...



ON CROSSING OVER: When we cross over to

the afterlife dimension, do we as souls change the way we think? I was reading that when we cross- over we will have the same ideas and the same thinking as when we were on earth.

Victor: Yes, at first we will have exactly the same ideas as when we had on earth. On crossing over nothing really changes about our ideas and our character. But after a time in the afterlife dimension we undergo very great modifications. There will be those who have higher motivation to learn and become more spiritually advanced. This means these souls get to know more about the afterlife and change their views accordingly. But others, who may not be motivated to learn, may stay with similar ideas they had when on earth. But over time, all spirits change their views about spirituality.




RELIGION: TIME FOR JUSTICE! Is it not time for the Church to apologize for killing Giordano Bruno?
"Giordano Bruno is on record for being the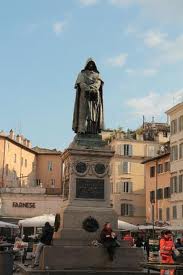 first martyr for science. He suffered death at the stake in Rome after seven years imprisonment. His only crime being that he helped to lay the foundations of our modern science of Astronomy - which were not consistent with the Bible." Some Catholics say that the Church forgave Giordano Bruno when Pope John Paul II made a general apology for the deaths of prominent philosophers and scientists due to the Inquisition - which ought to have included Giordano Bruno in expressly stated terms. There is a very large statute of Giordano Bruno in the square where he was burnt at the stake at Campo de' Fiori in Rome - see picture above.




5 MEDITATION TIPS FOR PEOPLE WHO DON'T (YET) LIKE TO MEDITATE



I don't have time! " Yes, we are busy with careers, children, homes, and social obligations, but we all have five minutes to stop during our day and breathe. If you wanted to train to run a 5K, you probably wouldn't start your first workout with a 30-minute hard run. To begin a meditation practice, start slowly. Start with five minutes a day, then work up to eight, then to ten, and so on." Read more...


PHYSICAL MEDIUMSHIP AND HEALING
IN SYDNEY AUSTRALIA Gary Mannion will be

giving a seance open to interested afterlife seekers at 151 Park Road, Wallacia (Sydney) on Thursday 2nd July at 7.30pm email garymannion@123mail.org.




See Victor on Video
* Subscribe to Victor's Youtube Channel:
* What Happens When you Die
* Afterlife and Science
* Near Death Experiences- Evidence of the Afterlife?
* What You Must Know Before You Die
* David Thompson's Materialization
* Million Dollar Challenge
* The Afterlife on Trial
* A Lawyer on the Afterlife
* Suicide is not the answer
* Religion and the Afterlife
* Ghosts- Randi and closed minded skeptics when they die
* Zwinge Randi's Challenge Exposed ... Lawyer Explains
* Why Professor Richard Dawkins is Wrong
* God--the Evidence (Without Religion)
* Afterlife Without Religion
* Skeptics Demolished
* Afterlife Objections Demolished
* Ghosts- Randi and closed minded skeptics when they die
* Victor Zammit speaking at Speakers Corner
* Materialized Houdini speaks to Victor

FEEDBACK: (Three only). Received always with thanks!
1. Thanks for that short clip about the woman who had and NDE, and saw her beloved dog (deceased three weeks before). Just want to point out that there are subtitles in Dutch, my native tongue. Have no idea where this series is aired on Dutch TV. Thanks anyway - Rudolf Smit
2. I highly recommend everyone interested in (or just curious about) the Afterlife, to subscribe to and read these reports. They are treasures! Maria.

3. I've been receiving Victor Zammit's Friday email for many years..This is an extraordinarily informative and educational site..I hope y'all enjoy it as much as i do.. Mark.


INSPIRATIONAL MUSIC: MY FAVORITE MUSIC - BEST SONG I EVER HEARD FROM THE U.S.: The very best inspirational singers in the U.S. some years ago gave us something most spectacular, most memorable and most inspirational song: 'WE ARE THE WORLD'! Hear and watch the greats: Michael Jackson, Bob Dylan, Ray Charles, Billy Joel, Stevie Wonder, Paul Simon, Diana Ross, Willie Nelson - and many others. Allow this beautiful music to penetrate deep into your heart - guaranteed, it will raise your vibrations - and you feel 'high' all day:




Whilst we encourage and we publish many papers and reports by afterlife researchers, we are not in a position to guarantee the accuracy of all claims. We accept the imputed claim that the afterlife and paranormal research done by the researchers is done in good faith. ALL WORK IS COPYRIGHT BY THE CONDITIONS SET AT THE GENEVA CONFERENCE ON COPYRIGHT.