October 3rd, 2014

Last week's report and read all previous reports

** Please note for future reference: If you do not receive your weekly email please check here for possible solutions.


COMMENTARY: BRILLIANT SCIENTIST SAYS PROF STEPHEN HAWKING IS WRONG! Just a

few days ago, Spain's 'Il-Mundo' had an interview with Prof S Hawking. Again this stubborn Professor Hawking shows he is NOT as intelligent as he thinks he is. He keeps on saying he is an 'atheist' WITHOUT explaining the consciousness and intelligence all around us - in the universe and here on earth. But many other scientists, including Professor John Lennox stated "Stephen Hawking is wrong trying to explain the universe without 'God'." (Daily Mail Sept.30 2014)
LAW AND SCIENCE: Here is why lawyers (and scientists) disagree with Prof. Hawking. Summarizing the thesis of his new book, The Grand Design (co-authored with Leonard Mlodinow), Hawking announced: "Because there is a law such as gravity,

the universe can and will create itself from nothing. Spontaneous creation is the reason there is something rather than nothing, why the universe exists, why we exist." Then where did this DESIGNED INTELLIGENCE of GRAVITY come from?- scientists would ask Hawking in a cross examination situation. All scientists and other informed observers agree there is intelligent design in the atom, in biological and other growth, in the magic of the DNA, in consciousness, in gravity and the universal laws which keep the billions and trillions of planets and stars and galaxies in the universe operating in perfect order - AND there are thousands of phenomena that show intelligent design. Statisticians tell us these phenomena could NOT have come by 'chance.'

'BETTER SCIENTISTS THAN HAWKING' WHO ACCEPT 'GOD'
Afterlife researcher Jim Smith has an excellent page on scientists who accept God. He writes: "There are much better scientists than Hawking who

believed the scientific evidence that the universe was designed. These scientists include Nobel prize winners such as Albert Einstein, Werner Heisenberg, Guglielmo Marconi, Brian Josephson, William Phillips, Richard Smalley, Arno Penzias, Charles Townes Arthur Compton, Antony Hewish, Christian Anfinsen, Walter Kohn, Arthur Schawlow, and other scientists, Charles Darwin, Sir Fred Hoyle, John von Neumann, Wernher von Braun, and Louis Pasteur."
Read more.



DR PIM VAN LOMMEL EXPLAINS what he learned from studying near-death experiences.

PMH ATWATER'S NEW BOOK
- Dying To Know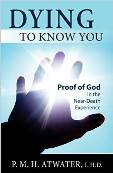 You: Proof of God in the Near-Death Experience: "What lies at the heart of near-death experiences? A God that in ways beyond description, smiles at you. Not the God of holy writ, but a Sourceplace—an all-encompassing Oneness, Allness, that, as It breathes, moves skin and bark and wings and stars and babes and rivers and comets and dreams and faces . . It is nothing less than the proof that everyone on planet Earth, in their own heart, seeks to have: that God exists."
Read more...


DR. EBEN ALEXANDER'S IMPRESSIVE NEW BOOK
:
so many people are so glad Dr Eben Alexander saw the 'light', converted to our side:

" We are right now in the process of entering a new age of exploration: one in which we will suffer shocks of disorientation every bit as great as those we suffered when the earth turned out not to be flat, when the sun turned out not to revolve around the earth, and when the mists of the Milky Way revealed themselves to be composed of billions of stars...These new discoveries will be shocking, but they will also be profoundly comforting and healing. I know, because I have been to the edge of these new worlds, and returned. As a result, I know that love, beauty, and goodness are real, and that the soul is real as well. "
Read more...

AN 'INTELLIGENCE' DIRECTLY FROM THE AFTERLIFE DIMENSION SPEAKS:
- scientists in the afterlife: "...

"... there are many scientists in our (afterlife) midst who also study, research, form theories and experiment to discover truths about the universe. As you might imagine, their options are somewhat broader than those of Earth scientists. We have several branches of scientific research over here. Some are studying our world, the entire universe as we perceive it, and others are more specialised. Many scientists narrow their studies to the Earth and technological advances which could help the Earth populations. When they have perfected their findings and they deem it appropriate to share these with Earth scientists, then a certain procedure is begun ..." (from Judy Laddon BEYOND THE VEIL, The Role of Science essay 7) (Part 2 next week)

THE WORK OF GEORGE MEEK
When we started researching the afterlife 25 years ago one of the most useful and impressive resources we came across was the work of George Meek.
You can now access online a rare lecture by George Meek recorded in Colorado in 1991.



PARANOMAL PHONE CALLS

There have been many reports of people answering the telephone and hearing the voice of someone they know has died. Others have received calls from a dead person and found out later the caller had died before the call was made. Parapsychologist Scott Rogo and Raymond Bayliss spent two years investigating and wrote a book "Phone Calls from the Dead" about them in 1979. During a period of several weeks in 1994 five American ITC researchers received phone calls from fellow researcher Konstantin Raudive who died in 1974. These were George Meek, Mark Macy, Sarah Estep, Dr Walter Uphoff and Hans Heckmann (a close friend and colleague of George Meek). In each case the phone call mentioned the previous phone calls.
Listen to the recording
of the call to ITC experimenter George Meek.


WHAT HAPPENS WHEN YOU DIE: When a person dies, what likeness do they retain? Could a husband be unrecognizable to a wife who passed on twenty or thirty years after? Could he progress so much that he was out of the orbit of his wife?

Ans: " You do not change your identity. You do not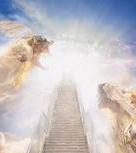 change your individuality; you do not change your consciousness. You grow in spiritual grace and stature, but you are the same individual that you were before - with your perceptions heightened, your faculties deepened. But, except for the disappearance of blemishes, defects and injuries, you are recognizable as you were on earth. You do not change your form, for all that is spiritual still requires a mode of manifestation, a body, a vehicle, and instrument through which the spirit must register itself. And that has always existed, that finer, more rarefied, more delicate body, while you were on earth". (Bilver Birch, directly from the afterlife).



SILENT NO MORE- THREE EXPERIENCERS SHARE THEIR EXPERIENCES OF AFTER DEATH COMMUNICATION
Wonderful new video produced by the Forever Family Foundation
.





THE 8th FOREVER FAMILY FOUNDATION ANNUAL CONFERENCE is a two day conference to be held on November 8-9, 2014. You'll hear featured speakers representing research from Rhine Research Center, Division of Perceptual Studies/University of Virginia, Windbridge Institute for Applied Research in Human Potential, British Society for Psychical Research, Parapsychological Association, & Parapsychology Foundation Read more...



OUT OF BODY EXPERIENCER WAGNER ALEGRETI
is the former the president of the
IAC
, and is a fascinating speaker and researcher on out of body experiences and other dimensions. Wagner lives in Portugal but is giving
a 3 hour talk on other dimensions
on Saturday, October 11, from 1:30PM to 4:30PM at Courtyard by Marriott - San Francisco Airport.



FAMILY SOUL GROUP
: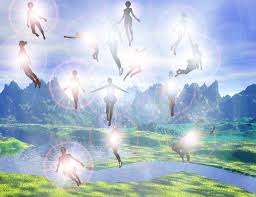 Do you feel sometimes you are spiritually attracted to one or more persons here on earth? Highly reliable information transmitted from the other side tells us that there is such thing as a 'group soul' - where there are a number of spirits joining together as a group to help each other."Group souls, when referring to their humans aspects are composed of individuals who have spiritual kinship. Automatically, they are drawn to one another because they are facets of the same diamond. It can be, and it does happen, that for purposes of work to be done fragments of the diamond incarnate into your world to have the kind of experience which will help the larger self." (S. Birch)


DO OUR PETS GO TO THE AFTERLIFE? Bob Olson interviews Danielle MacKinnon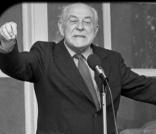 HOW MEDIUM ALBERT BEST CONVINCED REVEREND DAVID KENNEDY ABOUT THE AFTERLIFE
David Kennedy was a successful consulting engineer before he gave up his career and went back to university to study to become a minister in the Church of Scotland. Once he was ordained, his scientific background and logical mind, his deep sincerity and outstanding gift of oratory ensured that he became one of Scotland's most widely known ministers. However he did not believe in communication through mediums.
Read what happened after his wife Ann died
.

HELP! ITALIAN EVP EXPERIMETER NEEDS HELP.
Anyone who can assist this person from Italy experimenting with EVP please contact Gemini : (he does not speak English)
geminisound@alice.it


AFTERLIFE EXPLORERS CONFERENCE
THE VERY FIRST IN SYDNEY AUSTRALIA


-

.... Fri. 24th -25th & 26th JANUARY 2015. Afterlife evidence and What Happens When You Die? Victor and others will be speaking.

That highly popular pair - mediums Ezio and Michele Di Angeles will be speaking about "Postcards from the Other Side". Communications expert, afterlife author and host of Radio Out There - Barry Eaton, will be the MC and speaking - and almost certain he will be interviewing by Skype the great

James Van Praagh. Put it in your diary as it will be the most important afterlife conference you will ever attend. The organiser is doing all he can to keep the price reasonable- more next week. Venue: Parramatta RSL Club. Read all about the conference and register your interest.
SPIRIT FESTIVAL WESTERN SYDNEY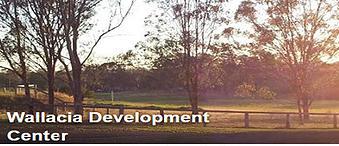 7 - 16th of November 2014- Wallacia Charity Event
Several international physical, trance and mental mediums will demonstrate daily and hold many workshops for all aspiring mediums to meet, learn and connect to like-minded people in an encouraging environment.
Read more...

FEEDBACK

1) "I've been a fan for a long time and so are my friends..I get your Friday Afterlife Reports.Thank you . I have learned so much"..Mark.
2) " I would like to thank you immensely for writing the book 'A Lawyer Presents the Case for the Afterlife', your book really helped me during a difficult period of my life and is one of the first book I recommend it to my peers who go through the same phase or just look for answers." Allen.
3) "This is the best book I have ever read about the afterlife. It is hard not to believe after reading it. It has a great bibliography and appendix." Jan Harvey
See Victor on Video
* Subscribe to Victor's Youtube Channel:
* What Happens When you Die
* Afterlife and Science
* Near Death Experiences- Evidence of the Afterlife?
* What You Must Know Before You Die
* David Thompson's Materialization
* Million Dollar Challenge
* The Afterlife on Trial
* A Lawyer on the Afterlife
* Suicide is not the answer
* Religion and the Afterlife
* Ghosts- Randi and closed minded skeptics when they die
* Zwinge Randi's Challenge Exposed ... Lawyer Explains
* Why Professor Richard Dawkins is Wrong
* God--the Evidence (Without Religion)
* Afterlife Without Religion
* Skeptics Demolished
* Afterlife Objections Demolished
* Ghosts- Randi and closed minded skeptics when they die
* Victor Zammit speaking at Speakers Corner



MUSIC: HAPPY BIRTHDAY JOHN LENNON! WE REMEMBER!

We will not forget the legend of great musician-singer-composer John Lennon whose birthday falls this coming week- he was born on Thursday October 9th, 1940. Died too young in December 1980. The most highly inspirational song he ever wrote still gives us goose bumps. IMAGINE - over 64 million hits.
"Imagine"
Imagine there's no heaven
It's easy if you try
No hell below us
Above us only sky
Imagine all the people
Living for today...
Imagine there's no countries
It isn't hard to do
Nothing to kill or die for
And no religion too
Imagine all the people
Living life in peace...
You may say I'm a dreamer
But I'm not the only one
I hope someday you'll join us
And the world will be as one
Imagine no possessions
I wonder if you can
No need for greed or hunger
A brotherhood of man
Imagine all the people
Sharing all the world...
You may say I'm a dreamer
But I'm not the only one
I hope someday you'll join us
And the world will live as one
Whilst we encourage and we publish many papers and reports by afterlife researchers, we are not in a position to guarantee the accuracy of all claims. We accept the imputed claim that the afterlife and paranormal research done by the researchers is done in good faith. ALL WORK IS COPYRIGHT BY THE CONDITIONS SET AT THE GENEVA CONFERENCE ON COPYRIGHT.