November 14th 2014

Last week's report and read all previous reports


COMMENTARY: NEW YOUTUBE VIDEO: 'HOUDINI CAME BACK

FROM THE DEAD':
this very highly controversial magician of early last century did not believe in the afterlife and caused havoc to physical mediums of his time. But he made a promise that if there is an afterlife he would come back to tell us. In the youtube below, which I made a last weekend, Houdini himself is telling us what he is going to do from the afterlife. Note very carefully, Houdini actually materialized and talked to the members of David Thompson's Circle of the Silver Cord. He materiarlized some four times. On Houdini's 'voice' next week.


PROFESSOR GARY SCHWARTZ' SOUL PHONE
In this talk Professor Schwartz claims that Harry Houdini is now working with him on experiments to prove the afterlife. He uses a sealed black box and invites spirits to bring minute amounts of light into it at designated times. (Start at 12.00). See also his book
The Sacred Promise
.


MAURICE BARBANELL AND SILVER BIRCH
Maurice Barbanell (1902-1981)
was a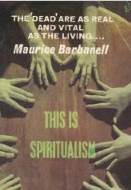 veteran British lecturer, journalist, and author in the field of Spiritualism. He served as editor of the Psychic News and The Two Worlds for over three decades. Many in North America first heard of him through his highly recommended book
This is Spiritualism
(1959), a survey of the phenomena and personalities associated with Spiritualism. Barbanell was noted for his vigorous journalism in support of Spiritualism, and he frequently lectured across both Europe and North America. Born in London, May 3, 1902, he was the son of a barber who also practiced dentistry. Young Barbanell's first job involved sweeping up hair and acting as lather boy.
Read more on Rev. Michael Cock's blog...


NEAR-DEATH EXPERIENCE
Dr. Jeff and Jody Long present six near-death experiences. Dr. Jeffrey Long, author of Evidence of the Afterlife: The Science of Near-Death Experiences, provides context and describes some of the key features associated with near-death experiences.
DAVID SUNFLOWER'S NEW HEAVEN NEW EARTH
Near-Death Experience Network Exploring all

aspects of near-death experiences (and related phenomena). An excellent new page containing Chat, forum. blogs, and links to 1369 Near-death videos and resources.
Read more...

THE RUSSELL CONNECTION: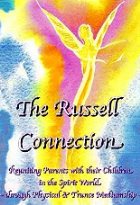 In 1994, Gwen Byrne published her very personal book called 'Russell' - which describes her Spiritual search for her young son, after his tragic death through stomach cancer at the age of nine.
Now after 20 years, Gwen's revealing sequel is finally available...It is called 'The Russell Connection: Reuniting Parents with their Children in the Spirit World through Physical Trance Mediumship'. It includes some never before published transcripts - from the Physical Phenomena seances of Rita Goold, five very touching stories of other parents - as they search for their own 'dead' children, records of Trance Mediumship sessions - where Russell himself describes his life and work in the Spirit World - and many of Gwen's own musings on the mysteries of life, death and loss, after more than 50 years of exploration.
Read more on Amazon..
ARE THERE SERIOUS PROBLEMS IN THE AFTERLIFE?
Silver Birch, a highly evolved intelligence tells:
" Our world is composed of people who come from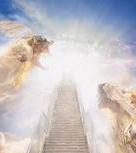 your world. If you did not send us unevolved souls, we would have no trouble from them. You send millions who are unprepared, unfitted and ignorant. It is much more difficult to teach an adult the lessons he should have learnt in school. You are subject to the whole range of spirit influence from the lowest to the highest. But you attract only those at the spiritual stage you have reached. Evil can be attracted only by evil. Saintliness will always attract saintliness. That is how the natural law works. Do not blame us for the existence of millions of souls many of whom are unaware of the fact that they are dead physically and almost dead spiritually. That is the work YOU have to do in your world, to prepare people for the life that inevitably awaits them when death comes to their physical bodies."




JOHN EDWARD SHINES BRILLIANTLY AT THE SYDNEY'S STATE

THEATRE. Last night Wendy and I went to see an un-edited demonstration of John Edward's mental mediumship skills. He was absolutely brilliant - his accuracy was stunning and better than we have ever seen him. John Edward was getting results one after another which would be one million to one to have come by chance (remember he was tested in the Afterlife Experiments). Over and over again for two hours he got multiple direct positive hits. Names, medical conditions, obscure happenings. The audience, some 2,000, were stunned by John's performance. How can uninformed skeptics think you can do this night after night in different cities with 'cold reading' or 'chance' or 'fraud'? Perhaps we could get a confident closed-minded skeptic to join John Edward on stage and do alternate readings as a comparison.
MEDIA CONTACTS NEEDED
Noreen Renier, one of the best psychics in the world, needs help.

: This is what she wrote, "Hi Everyone, Do you know of anyone that can help me? The last 40 + years of my life have been devoted to helping others. I've worked on over 600 cases involving missing persons and homicides. The Private Readings I've given are too numerous to count. Before I die I would like to see my book, A Mind for Murder made into a TV movie and then a weekly series. I still have the majority of my 600 police case files, most of them have the tape recorded sessions and the typed transcripts. I own the movie rights to my book. See What Detectives are saying about Noreen:


QUESTION: My partner crossed over recently. I feel I will be joining him soon. Now what happens if he is not on the same level as I would be when I cross over - am I ever going to see him?

Directly from the afterlife: (from Arthur Findlay's book THE WAY OF LIFE) :"We

go to the place for which we are mentally and spiritually fitted ... There are many from the spheres beyond who come to a lower plane, but I cannot go to theirs, and you will find there are many of your loved ones, who love you well, who will be on a different sphere from you, and until you rise to a condition of spirit equal (by doing good works there) to theirs you cannot be in constant contact with them though you may have them often in your company ..." Download copy of The Way of Life.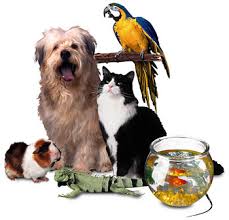 DO PETS SURVIVE? Victor: My dear little dog died recently first week in November. Please tell me I will see my sweetheart again when I cross over.

Directly from the afterlife: "There is individual survival for domestic animals that have had association with humans. Thus they have been helped to achieve an individual evolution that is not possible with animals who are still in a group soul, or soul group, even on earth. It is part of the wonderful relationship that can exist between humans and animals, each helping the other to develop spiritually. You help the animal that comes into your surroundings to achieve a consciousness that is more personal and individual that it otherwise would have been. It is that which survives death. But where there is not this more evolved 'human' expression it joins the soul group or group soul." (S. Birch)



MEDIUM GIVES EVIDENCE OF PET SURVIVAL Australian medium Debbie Bozicevic-Mewes thought she was going crazy when she connected with a horse that told her he loved his cup of tea.





MICHELLE WHITEDOVE'S STUNNING PERFORMANCE ON AMERICA'S PSYCHIC CHALLENGE
I promised the closed minded skeptics $500,000 to duplicate what Michelle Whitedove does under similar conditions. The only condition is that the applicant will pay us $500,000 if he fails to perform the tests.


NEW EPISODES COMING SOON FROM AFTERLIFE TV Bob Olson writes: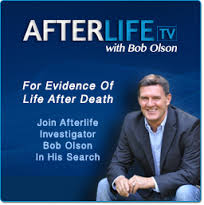 " We're getting closer to new Afterlife TV episodes, so I thought I'd share with you the new intro that will introduce the show before each episode. We wanted something that was fun & upbeat and I think we succeeded. ~ Warm wishes to you, Bob" Watch intro.

HOW TO WATCH THE SHOW: If you've never seen Afterlife TV, you can watch it at http://www.AfterlifeTV.com/



SIMON TURNBULL'S FUNERAL SYDNEY


Simon Turnbull, president of the International Psychics Association and for 40 years a high profile psychic based in Sydney, has been communicating non-stop since he crossed over a week ago. He says that his passing was without pain and he literally opened a door and stepped into the arms of his mother before his body fell to the ground. He is thoroughly enjoying his new slim body and being able to communicate mind-to-mind with fellow psychics rather than leaving messages on their answerphones and waiting for them to call him back.

His funeral will be a "special ceremony of happy departure" next Monday 17th November at 1pm in the Magnolia Room, Macquarie Park Crematorium North Ryde followed by a wake to celebrate his life at The Ranch Hotel in Marsfield from 3:00 - 8:00pm.

A trust fund has been set up for his daughters 11 year old Katrina and 14 year old Marika and donations via paypal can be sent to HiromiMatsuya@outlook.com in lieu of flowers.
Read more...
God Bless you Simon.




AFTERLIFE EXPLORERS CONFERENCE - in PARRAMATTA, SYDNEY JANUARY 2015


Tickets are now available-


Great Christmas gift...
Make January memorable with 18 inspirational speakers, workshops and your favourite mediums. Australia's first AFTERLIFE EXPLORERS CONFERENCE at Parramatta RSL Club 24th-26th January 2015.
Check out the list of topics to be covered.
TICKETS ON SALE NOW
Conference Day Pass $ 95.00
3 Day Combo Conference Pass $ 260
Messages from the Other side $ 45 per night.


FEEDBACK: THREE ONLY:

1) I can't tell you how much I look forward to these reports. I learn so much each week and I also get affirmations of the beliefs I've had since I was a child. Thanks so much. Mary

2. Dear Victor and Wendy Zammit,
First of all, I want to thank you from the bottom of my heart for your inspiring work. It has helped me through years of problems. B.

3. Thank you for all the wonderful information that you supply and how helpful it is to prove that our life continues. Bless you. Trinity.



INSPIRATIONAL MUSIC: Absolutely brilliant duet, Hayley Westenra and Andrea Boccelli sing the beautiful Vivo Per Lei- and a huge bonus see World class Ice Skating. It's irresistibly alluring to listen to and visually magnificent.
Whilst we encourage and we publish many papers and reports by afterlife researchers, we are not in a position to guarantee the accuracy of all claims. We accept the imputed claim that the afterlife and paranormal research done by the researchers is done in good faith. ALL WORK IS COPYRIGHT BY THE CONDITIONS SET AT THE GENEVA CONFERENCE ON COPYRIGHT.