May 9th, 2014
Last week's report and read all previous reports


COMMENTARY:

WATCH OUT FOR FAKE PSYCHICS The cover of the May issue of the Australian Readers' Digest read: "The $17 million Psychic Claim - How a group of ordinary people found themselves handing over their life savings". The writer, whose name is not important, launched a vicious attack on all psychics because Rose Marks from Florida, who claimed to be psychic, extracted millions of dollars using the oldest scam in the book. She told her vulnerable clients that they were "cursed" and that she could "clean" their money and jewelry if they gave it to her so that she could pray over it. And of course when they tried to get it back they were told that the curse was much worse than first thought and that they would have to sell everything and have that money cleansed as well. The judge in the case said she was surprised that anyone would believe such rubbish.


VERY IMPORTANT: But the journal's editor and the writer of the article should have had more intelligence, more insights and more information about what is a fake psychic and what is a highly gifted psychic. Instead the writer makes the claim "anyone who goes to see a psychic deserves to be fleeced [stolen from]." Sad, very sad to attack ALL psychics because a couple of fraudsters ripped off a couple of people in Florida.
I have come across a few fraudulent psychics in my 25 years of investigating the afterlife so people do need to use basic common sense. Tell people to avoid any "psychic" who tells you that you are cursed or that you can put a curse on others. And to go to a psychic who is recommended by someone you trust or is a member of a reputable Psychics Association with a strong code of ethics.


WISE WORDS FROM THE AFTERLIFE


"Millions do not accept the fact of an inevitable afterlife which is really tangible, where there is compensation and retribution. They believe that earth is the only life they will ever have. So logically they argue that if the physical is all there is let us have the best it has to offer. This is the cause of war, This leads people to hate, to subjugate, to imprison and even to kill one another."
Light from Silver Birch p. 171.


BARBARA WHITFIELD'S NDE TOOK HER FROM ATHEIST TO SPIRITUAL COUNSELOR Spiritual counselor and near-death researcher, Barbara Whitfield, talks about her own near-death experience and her work with Dr. Kenneth Ring. Like many near-death experiencers her marriage broke up because she could no longer go back to being the person she was before.


THE MONTAGUE KEEN TAPES- SOME OF THE BEST EVIDENCE FOR THE AFTERLIFE Montague Keen

was a well known English investigator of the afterlife. He was the principal author of the Society for Psychical Research Report on The Scole Experiment. On November 8th, 2003 he attended a seance with physical medium David Thompson and wrote a very favourable report on it. Sadly 3 months later on the 15th Jan 2004 Montague died suddenly. On 9th February 2004, three weeks after his "death" he materialised during a seance with physical medium David Thompson. In this audio tape he says that he has met his mother and that "the afterlife is everything I thought it would be and so much more." Listen. Read transcript Montague became an excellent communicator and returned through David several times (to be continued).



PREBIRTH EXPERIENCES Sarah Hinze writes:
" I've compiled dozens of uplifting and remarkable accounts of parents and families who have had the opportunity to meet the souls of their sons and daughters before they were born. These souls share that we are all eternal spirits who lived in a realm of light and beauty before coming to earth. This site also shares stories of the vivid memories of that realm as recounted by young children and the fact that earth life is not the beginning of our existence." See Website.

REVIEWERS WANTED FOR NEW BOOK ON NDES
The Near Death Experience Research Foundation has been sharing NDE experiences for 15 years, and it provides a forum the people that have them. God's Fingerprints: Impressions of Near Death Experiences edited by Jody Long is an anthology of NDEs that will leave the reader, enlightened, uplifted, challenged, and importantly it may provide us information on what happens when we die, and how if affects us while we live.
The publisher has a limited number of pdf copies available for reviewers who undertake to write a review (even a short one) on amazon.com or amazon.co.uk. Email info@whitecrowbooks.com

OUT OF BODY EXPERIENCES

In this short audio interview William Buhlman talks about the reasons people choose to learn about OBEs and what they gain from having them.

HOW TO COMMUNICATE WITH YOUR DEPARTED LOVED ONES Some very sensible tips on after death communication.

'INTELLECTUAL' TERRORISM: in the paranormal context, any one who

lies, cheats, provokes, willfully misleads, negatively concocts to try to invalidate the paranormal or the afterlife evidence. Noun: 'intellectual-terrorist': Anyone who cunningly and unconscionably uses Scientific Methodology and Statistics to willfully negatively mislead the public – e.g. changes agreed protocol without notice and/or introduces negative variables to ensure negative results of an experiment. Anyone who organizes paranormal hoaxes to willfully mislead and cause public havoc and mischief.



SIR WILLIAM CROOKES: THE TRUTH ABOUT ONE OF THE GREATEST AFTERLIFE INVESTIGATORS OF ALL TIME:

- the Wikipedia terrorists have attempted to destroy the credibility of Sir William Crookes, one of greatest scientists in the world in the latte 19th century. Why? Because he investigated materialization mediums between 1870 to 1874. They ignore all the evidence and quote as truth discredited claims that he was half blind, having an affair with his medium Florence Cook and fooled by simple conjuring tricks.

Sir Arthur Conan Doyle wrote back in 1926 : " It has been a favorite device of the opponents of the movement to attribute some physical weakness or growing senility to each fresh witness to psychic truth, but none can deny that these researches were carried out by a man at the very zenith of his mental development, and that the famous career which followed was a sufficient proof of his intellectual stability. It is to be remarked that the result was to prove the integrity not only of the medium Florence Cook with whom the more sensational results were obtained, but also that of D. D. Home and of Miss Kate Fox, who were also severely tested. " Read more



LARRY DOSSEY "ONE MIND : How Our

Individual Mind Is Part of a Greater Consciousness and Why It Matters" With "One Mind", Dossey shows that we are not alone, that we are all one. Larry Dossey shares compelling research including cases of:
Shared thoughts, emotions, and physical sensations with a distant individual; Communication between humans and sentient nonhumans, such as pets; Large groups of animals—flocks, schools, herds—behaving in highly coordinated ways; Acquisition of previously unknown knowledge from a person who has died; Hidden or lost objects found through mental means alone; Direct contact with a transcendent domain through near-death experiences. Read more...



ABRAHAM MASLOW ON PEAK EXPERIENCES





TUITION IN AFTERLIFE COMMUNICATION FROM THE EXPERTS IN ARIZONA



The Academy for Spiritual and Consciousness Studies 38th Annual Conference - organized by Dr Craig Hogan (left), July 10-13, 2014, Scottsdale, Arizona. Read more...
Some of the people you will meet: Gary E. Schwartz, Sonia Rinaldi, Suzanne Giesemann, Rosemary Ellen Guiley, Karen Herrick, Joe Higgins, R. Craig Hogan, Mark Ireland, Lee Lawrence, Bruce Moen, Carol Morgan, Maria Pe, Herb Puryear and Anne Puryear, Irma Slage, Rochelle Wright, Jonathan Yorks, Jamie Clark, Susanne Wilson of course Victor Zammit who will be talking about the amazing evidence for the afterlife he has received through materializations.

The discounted Early-bird conference fee is available only until May 15 so if you are a researcher, writer, or someone with a passionate interest in afterlife communication Register now.



LOUISE HAY- I CAN DO IT- YOU CAN HEAL YOUR LIFE DAILY AFFIRMATIONS. A great reminder that we have the power to choose to think happy thoughts. What you choose to think is what you will get in life.


TEACHER OF MEDIUMSHIP CHRISTINE MORGAN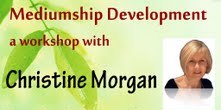 Christine Morgan, CSNU, who is the only Australian teacher of mediumship to be accredited as a tutor at the Arthur Findlay College, is back in Sydney. Christine will be conducting a progressive series of workshops for the development of Spiritual Mediumship: Saturday 10th May 2014- 7th June – 6th July – 9th August – 6th September – 4th October. She will also be starting a new closed development circle on Wednesday nights. Those wanting a reading from Christine, someone we can highly recommend as a medium, can contact her for a face to face reading in Sydney or via Skype or phone. Read more...


MEDIUMSHIP DEMONSTRATION BY LOUISE HERMANN IN BRISBANE


Date:Friday 23rd May 2014
Time:Seating from 6:30pm for a 7pm sharp start (please arrive on time as the front doors will be closed). The evening will finish at 9pm.
Location:Brisbane City Hall, Kedron Room, King Georges Square, Brisbane
Cost: $20 cash door entry fee payable on the evening after registration below. Read more...



DEVELOP MEDIUMSHIP WITH DAVID THOMPSON IN SYDNEY Come and join David on this one day workshop on

the development of Altered States & Mental Mediumship.
Sunday 1st June 2014
Learn how to incorporate the use of altered states into your mediumistic and psychic faculties, understand the spiritual self and the important role it has to play in the development of all types of mediumship. Learn how to be inspired by the spirit world to share the wonderful philosophies from the world unseen.
This workshop in open to ALL LEVELS of ability.
For info & Bookings: silvercordcircle@gmail.com



FEEDBACK: (3 only selected)

1) Hello Victor and Wendy,
This morning my friend rang me and told me to hear the meditation which you've put on your site by Deepak Chopra on Healing and Higher Consciousness. It is Just Beautiful and Perfect! I have posted it on my F.B. page and hope that many others will experience it.Thank you with all our hearts for sharing this. Much love Geraldine and Janet

2) Lance, writes: " I just had to send you this link to a man I know who lives here in Austin, Texas. His name is Gary L. Wimmer and is a **multi-talented** person who had a NDE in 1977 and his story is a fabulous one that can now be read about in his book "A Second In Eternity." A Second in Eternity
P.S. You really must check out each of the links provided at the bottom of his page!

3) Yours was one of the first online books I read about the afterlife. Very impressive. Made me realize just how seriously some academics and certain corners of the scientific community take the subject matter. Inspired me to go further with my own study. Thanks, Victor. David S.
See Victor on Video



Subscribe to Victor's Youtube Channel:
* What Happens When you Die
* Afterlife and Science
* Near Death Experiences- Evidence of the Afterlife?
* What You Must Know Before You Die
* David Thompson's Materialization
* Million Dollar Challenge
* The Afterlife on Trial
* A Lawyer on the Afterlife
* Suicide is not the answer
* Religion and the Afterlife
* Ghosts- Randi and closed minded skeptics when they die
* Zwinge Randi's Challenge Exposed ... Lawyer Explains
* Why Professor Richard Dawkins is Wrong
* God--the Evidence (Without Religion)
* Afterlife Without Religion
* Skeptics Demolished
* Afterlife Objections Demolished
* Ghosts- Randi and closed minded skeptics when they die * Victor Zammit speaking at Speakers Corner


MUSIC: LET IT GO- Brilliant Lyrics
The song "Let It Go" won Best Original song at the 2014 Oscars and has been at the top of the charts for months. Written by husband-and-wife songwriting duo Robert Lopez and Kristen Anderson-Lopez they co-wrote every hit off the Frozen soundtrack, and Robert's work in both Avenue Q and The Book Of Mormon. A wonderful metaphor for those who have had to keep silent about their spiritual truth.



Lyrics
The snow glows white on the mountain tonight,
not a footprint to be seen.
A kingdom of isolation and it looks like I'm the queen.
The wind is howling like this swirling storm inside.
Couldn't keep it in, Heaven knows I tried.
Don't let them in, don't let them see.
Be the good girl you always have to be.
Conceal, don't feel, don't let them know.
Well, now they know!
Let it go, let it go!
Can't hold it back any more.
Let it go, let it go!
Turn away and slam the door.
I don't care what they're going to say.
Let the storm rage on.
The cold never bothered me anyway.
It's funny how some distance,
makes everything seem small.
And the fears that once controlled me, can't get to me at all
It's time to see what I can do,
to test the limits and break through.
No right, no wrong, no rules for me.
I'm free!
Let it go, let it go.
I am one with the wind and sky.
Let it go, let it go.
You'll never see me cry.
Here I'll stand, and here I'll stay.
Let the storm rage on.
My power flurries through the air into the ground.
My soul is spiraling in frozen fractals all around
And one thought crystallizes like an icy blast
I'm never going back; the past is in the past!
Let it go, let it go.
And I'll rise like the break of dawn.
Let it go, let it go
That perfect girl is gone
Here I stand, in the light of day.
Let the storm rage on!
The cold never bothered me anyway...
Whilst we encourage and we publish many papers and reports by afterlife researchers, we are not in a position to guarantee the accuracy of all claims. We accept the imputed claim that the afterlife and paranormal research done by the researchers is done in good faith. ALL WORK IS COPYRIGHT BY THE CONDITIONS SET AT THE GENEVA CONFERENCE ON COPYRIGHT.