Last week's report and read previous reports


COMMENTARY: ULTIMATE PROOF: COMMUNICATING WITH

AFTERLIFE INTELLIGENCES ... should be investigated by 'non-aligned' scientists. I have been communicating with afterlife intelligences (spirits) for the last 24 years. Wendy and I (and others in our Circle) have been regularly verbally communicating with materialized intelligences for the last seven years! No doubt, this is the ULTIMATE PROOF for the existence of the afterlife. Why is it then that orthodox scientists seem to show fear in dealing with afterlife intelligences? I can state with absolute certainty that the evidence is legitimate, absolute and repeatable - all is admissible evidence in the highest courts in the civilized world.

When non-aligned scientists investigate this repeatable phenomenon, science will take a huge quantum leap. Because then we get 'consciousness' examined. We get materializations and dematerializations taking place. We actually see in red light the medium's ectoplasm flowing from his mouth like thick smoke. We repeatedly experience communicating with materialized loved ones.

When orthodox science investigates communication with afterlife intelligences, guaranteed, there will be a revolution in the understanding and acceptance of the afterlife on a global level.



GREATEST EVER VIDEO ON EVP- CALLING EARTH Congratulations to Tim Coleman and Dan Drasin for this wonderful video on EVP and ITC- perhaps the best yet available. It's still not finished- this is part 1-9 of 11. Dan hopes to have Part 10 on visual ITC finished in a few months. Lovely to see German physicist and ITC pioneer Dr. Ernst Senkowski at 11min 30 sec, Tom and LIsa Butler at 12min 55 and Alexander MacRae at 20min 51. Please note that it is produced for free, educational viewing only. Read more about ITC.
QUESTION: ORTHODOX SCIENCE: What aspect of science do orthodox scientists have to accept to accept the paranormal?
Victor: ' 'Transubstantiation' (the increasing and decreasing of the 'speed' of vibrating-energy) is vital to understanding the

paranormal. It is the bridge between the natural and the supernatural, between the physical and the super-physical. (Orthodox) science is concerned mainly with the changing forms of energy. We are concerned more with the substance of energy. It becomes possible to dismantle the barrier between the natural and the supernatural, the normal and the paranormal. Through substantiation, an object could materialize or dematerialize. Dematerialization is NOT dissolution. A dematerialized object would be invisible and intangible. But it would be no less real than it was. The object would simply have changed in substance to become super-physical." (from SCIENCE OF THE GODS, David Ash and Peter Hewitt)
SERIOUS PROBLEMS SOME PEOPLE LIKELY TO EXPERIENCE ON CROSSING OVER: Number 2 - continued from last week. The most important questions anyone can ask.There are at least nine serious problems people could come across on crossing over:
1. CRUELTY: (see last week's Afterlife Report).
2. DENYING THE EXISTENCE OF THE AFTERLIFE:

Those people on earth who vehemently denied there is an afterlife could have serious problems. This is because seconds after crossing over, the spirit-etheric body (the duplicate of the physical body) emerges from the dead physical body in such a way that sometimes it is not noticeable that a change in the body vibrations has taken place. The person is physically dead but alive in a different dimension. This same person will tell you that he is not dead! "How could I be dead if I am talking to you?" he would say. He would know that a change has taken place but cannot work out what the change is. This person who denies the afterlife - in the afterlife itself - may have this kind of mental confusion for centuries - until one day awakening comes to him or her that he-she is in a different dimension from hearth.
(Number 3 next week)





DR MARY NEALE TALKS TO SCIENTISTS ABOUT HER NDE One of the most common themes in NDE's is that the experiencers say that they feel they have come HOME. Dr. Mary Neale did not talk about her NDE for years because she did not want her family to feel hurt that she had not wanted to come back to them.


NEAR DEATH EXPERIENCES GETTING GREAT EXPOSURE IN THE UK. Dr Penny Sartori has a new book on NDEs She writes: " I have had an overwhelming response since my book has been serialized in The Daily Mail on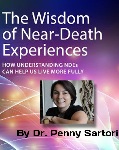 Saturday 25th January, Monday 27th January and another two articles planned for Tuesday (28th) and Wednesday (29th). There have been many comments on the Daily Mail website and it is very encouraging to see so many people speaking so openly about their experiences. It's really great to see this really important subject being taken so seriously." Read more...

HIGH RANKING POLICE OFFICERS POUR PRAISE ON A BRILLIANT PSYCHIC: 'PSYCHIC DETECTIVES':


Place: Cheming County Sheriff's department, Elmira, New York
Case: 'House of Peril' : Rose Swartwood, an elderly person was murdered in her home. Case had gone cold.
Psychic: Phil Jordan
Evidence produced: He told them there were two suspects – he could see them: one Afro-American, one Caucasian. One had tattoo on his arm, the tattoo had a female name on it. He eventually was able to accurately identify the two suspects from a number of photographs.
Police Comments:

1) Lt Mike Mucci stated that the psychic was "one hundred per cent correct with the information given"

2) Detective David Olszowy, Sergeant Charles Patterson also sated that the psychic was brilliant: "I don't care how it (psychic phenomena) works - and I don't care how it works – the main thing is that the bad guy gets caught." See full article of PSYCHIC DETECTIVES read now



PHIL JORDAN TALKS ABOUT MEDIUMSHIP



ATTORNEYS ARE WAITING FOR SKEPTICAL SCIENTISTS TO ACCEPT THE CHALLENGE: as our subscribers know, for far

too long attorneys from the U.S.A. and Australia have been waiting for some skeptical scientist with enough courage to defend his beliefs that there is no evidence for the afterlife. The skeptical scientists I approached fear an 'international kiss of death' to their reputation when their ignorance is revealed. Why don't we hear from those flamboyant skeptics - from Randi, from Wiseman, from Blackmore and others like them? Since they do not have the courage to accept our challenge - they must know somehow that WE do have the substantive unrebuttable afterlife evidence. But we still invite these skeptical scientists and professors to our challenge - to be cross examined on their erroneous beliefs.See hypothetical typical cross-examination of a skeptical scientist: The cross-examination of Prof. Stephen Hawking

SKEPTICAL PHILOSOPHER HANGS UP WHEN QUESTIONED POLITELY (NOT CROSS EXAMINED) BY ALEX TSAKIRIS
Alex Tsakiris: Well specifically, Dr. Churchland, you cite in your book that Dr. Pim Van Lommel holds that opinion. That's clearly not the case. I mean, he's written…
Dr. Patricia Churchland: Has he? Uh-huh (Yes).

Alex Tsakiris: Right. Do you want me to read to you what he's written? He's written that "The study of patients with near-death experience (and this is from The Lancet paper that you're citing) clearly shows us that…"
[Churchland hangs up] See full transcript and audio.


TV PRODUCERS CHEAT PSYCHIC Scottish medium June Field accepted an invitation to take part in a STB Channel

TV show called "International Battle of the Psychics" – 11th Season in Kiev, Ukraine by STB Channel. The invitation to all participants stated that there would be a £19,000 (approximately $40,000) cash prize to the winner as the previous seasons had received. 70,000 applicants were whittled down first to 250, then 150 and eventually to the dozen taking part in the show. June spent 6 months in the Ukraine completing test after test for 13 episodes. The work for extremely draining. Eventually in a final watched by 34 million people she won. (Read report).

However after won she was informed that there was no cash prize and that she should check her contract. There was a clause in it which stated that the powers of STB channel had the right to pay or not, and they decided not to pay. apparently under Ukrainian Law they have the power as she had signed the contract. None of the competitors was told or informed there would be no prize until after the final and the show. Read more.



WHAT HAPPENS WHEN WE DIE? DIRECTLY FROM

THE AFTERLIFE by a highly credible source: "It is strange to us that people should look upon us as a different race of beings merely because we have gone through the process known as dying. We have simply discarded our physical body forever, left it upon the earth, and taken up our life in another and vastly superior world. The whole process of transition which is so much feared by the folk on earth, is a natural, normal, and painless process. It is as natural and painless as removing your outer garment when you have no further use for it. The world into which we have made our entrance is a real world, solid and perpetually enduring. The people who inhabit this spirit world are real people of flesh and blood, people who once walked upon earth as you do now." (from HERE AND HEREAFTER, Mons Hugh Benson - former Catholic Church Monsignor - who saw the 'light' when he crossed over - transmitted information through medium Anthony Borgia).





GARY MANNION AT WALLACIA, near Sydney


Inge Crossman, a lovely lady with great initiative, invites physical mediums and healers from Europe, U.K. and America to demonstrate in Australia. Wendy and I attended a session with Gary Mannion (from U.K.) on Saturday the 18th January 14 2014. Very briefly: Gary 26 years old, is a talented physical medium and healer. All physical séances require darkness because the ectoplasm which is exuded by the medium Gary (and other 'physical' mediums) cannot tolerate light. As seasoned observers of physical mediumship we were impressed by the abundance of activity during the séance. Read more...



PARANORMAL RAPS ARE....PARANORMAL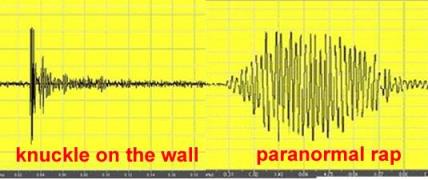 Nice item from Dr. Piero Parisetti..
" Whilst paranormal rappings associated with poltergeist activity have been described for many hundreds of years, it is only recently that an interesting pattern has been discovered within the fine detail of the paranormal rapping sounds. Whereas raps and knocking sounds produced by ordinary means exhibit a normal acoustic pattern, those recorded in alleged poltergeist cases show quite a different sound signature. No explanation can be found for this pattern at present." Read more...




THREE NEW WHITE CROW BLOGPOSTS

What qualifies as evidence from a deceased person? By Tricia Robertson. Read more..

Not to be explainers and conquerors, but conscious participants in the universe. By Michael Cocks. Read more..

What the Bible Really Says About Mediumship. By Michael Tymn
Read more..



CONTACTING LOVED ONES IN THE AFTERLIFE
Medium Phil G has some excellent resources to help people recognise that their loved ones are often trying to make contact with them in very subtle ways that they don't recognise.



INTERNATIONAL PSYCHICS DIRECTORY 2014 – IS NOW IN NEWSPAPER SHOPS! The MOST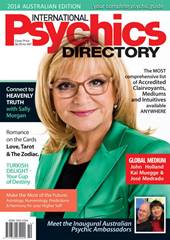 comprehensive list of Accredited Clairvoyants, Psychics, Mediums and Intuitives available anywhere. This journal is hugely important as it contains much important information about who and what psychics are doing – in Australia. But noted international psychics are also included – such as the flamboyant Sally Morgan (U.K.), Kai Muegge (Germany), John Holland (U.S), Jayce Rider (Ukarain), Jose Medrado (Brazil) – all visited Australia. Journal also includes reports on the 30 years of the APA function; Simon Turnbull message; Mitchell Coombes, Debbie Malone, Hiromi Mitsuya, and many, many other top professionals. (82 pages – and highly professionally prepared. $6.95 from all Australian newspapers shops and some bookshops) or order a copy online.


FEEDBACK: (3 only selected)
1) Victor & Wendy your hard work and dedication to spirit is second to none, ye have changed my life forever, I'll always be eternally grateful and do my best to pay it forward, love ye loads xxx Alison.
2) Good on you both, Victor and Wendy for all the effort you have made,are making and I hope will continue to make to open people's eyes to this great truth: nobody dies! Terry

3) Your book arrived on Friday and I wrote your message inside. I gave it to Viv who is the president of Loughborough Spiritualist Church and she was absolutely thrilled and is looking forward to reading it! Viv says thank you so much for the lovely book. Thank you once again for your kindness. Claire
See Victor on Video



Subscribe to Victor's Youtube Channel:



* What Happens When you Die
* Afterlife and Science
* Near Death Experiences- Evidence of the Afterlife?
* What You Must Know Before You Die
* David Thompson's Materialization
* Million Dollar Challenge
* The Afterlife on Trial
* A Lawyer on the Afterlife
* Suicide is not the answer
* Religion and the Afterlife
* Ghosts- Randi and closed minded skeptics when they die
* Zwinge Randi's Challenge Exposed ... Lawyer Explains
* Why Professor Richard Dawkins is Wrong
* God--the Evidence (Without Religion)
* Afterlife Without Religion
* Skeptics Demolished
* Afterlife Objections Demolished
* Ghosts- Randi and closed minded skeptics when they die
* Victor Zammit speaking at Speakers Corner
INSPIRATIONAL MUSIC: 'I WILL ALWAYS LOVE YOU' - perhaps the most powerful love song ever written. Millions think so with over 73 million hits. This is really a beautiful song sung with an intensity that anyone who has lost a loved one can relate to. Whitney Houston brilliantly elicits much love, feeling and depth to this song. Let her beautiful voice and the harmony and ecstasy penetrate your heart and feelings. Really memorable! Enjoy! http://www.youtube.com/watch?v=3JWTaaS7LdU


Whilst we encourage and we publish many papers and reports by afterlife researchers, we are not in a position to guarantee the accuracy of all claims. We accept the imputed claim that the afterlife and paranormal research done by the researchers is done in good faith. ALL WORK IS COPYRIGHT BY THE CONDITIONS SET AT THE GENEVA CONFERENCE ON COPYRIGHT.