AFTERLIFE COMMUNICATION- 16 PROVEN METHODS- 85 true accounts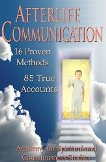 A new book now available on Amazon.com contains descriptions of methods people are using today to communicate with loved ones who have passed away.
Buy from Amazon in paperback
Buy from Amazon in kindle edition

The authors are the presenters at the upcoming New Developments in Afterlife Communication conference presented by the Academy for Spiritual and Consciousness Studies in Scottsdale, Arizona, July 11-13, 2014. It is the first conference ever to present all of the cutting-edge methods. Read more about the conference and 'like' its page on Facebook.


AFTERLIFE ENCOUNTERS WITH DIANNE ARCHANGEL Dianne Arcangel, a former hospice chaplain

and author of Afterlife Encounters, has assembled the world's largest database of over 10,000 case studies involving contact with "the other side." In this teleseminar with scientist Dean Radin, they explore the implications of this data, the relationship between seeing apparitions and personality types, and alternative explanations such as super-psi.
Listen...
Read transcript



THE 'SCOLE EXPERIMENT '
If you haven't seen this video already (or even if you have) take the time to watch it over Easter. For five years a group of mediums and scientists witnessed more phenomena than in any other experiment in the history of the paranormal, including: recorded conversations with the dead, written messages on sealed film, video of spirit faces and even spirit forms materializing.


INTERVIEW WITH AUTHORS GRANT AND JANE SOLOMON who wrote a popular book about the Scole Experiment.





SOUTHERN BAPTIST BECOMES CONVINCED OF THE PARANOMAL BY THE EVIDENCE.
Wonderful interview by reincarnation researcher StephenSakellarios with William Pillow who was reared as a Southern Baptist Christian. He was educated and practiced as a Virginia pharmacist and then worked for Eli Lilly and Company for thirty-four years. His urgent concerns about aging and his wife's lingering illnesses provoked questions about life and death seemingly not answered by his Christian upbringing. As a skeptic about the paranormal and metaphysical by training, he happened upon research by eminent professionals that suggested soul survival of bodily death. Listen..


WHEN SCIENTISTS MISLEAD Warning: We come across a great deal of misrepresentation on the internet about the validity of the paranormal. There are very mischievous trouble makers who are stating that 'science does not accept the paranormal - or the afterlife evidence'. That is WRONG! Science does NOT say anything. It is the individual scientists who do accept or do not accept the paranormal. In our recent book in chapter two we have over a page and a half of names of scientists and professional paranormal investigators who stated that AFTER they investigated they accepted the paranormal and the afterlife evidence. Besides, it is on record that there were a number of scientists bribed by big companies to lie to the public - something

which caused millions of people to die - for example: scientific medical doctors claiming that smoking is not bad for you!! So let me know if you come across some negative scientist who says, without evidence, that his science does not accept the paranormal. No genius scientist has been able to rebut the evidence for the afterlife.




BRILLIANT PSYCHIC DETECTIVES:


Place: Lompoc Police (near Santa Barbara U.S.).
Case: 'Call It Intuition'. Murder of 'Owen E'
Psychic: Dixie Yeterian
Evidence Produced: Dixie Yeterian stated that, " … the body would be found some 15 miles away from the murdered home; there are farms in the are; a steep hill; cattle; gravel road." She saw " …a rifle being taken away from the wall". She heard a gunshot; felt pressure on left side of the brain. He "… was buried in a shallow grave." She gave them more information but the final piece of critical information the psychic told the police was that the murdered own son killed his father. Police picked up the son and after telling him what the psychic told them, he confessed. He was convicted of murder. Detective Ramos stated that the psychic accurately described what happened to the murdered father – as told to them by the son.
Police comments: Detective Mel Ramos (Ret.) of Lompoc Police Department:"The information Dixie gave us was like a giant key...we solved it through her. We would never have found the body if it wasn't for her."
Source: Court TV Psychic Detectives
And Strange But True Documentary.
Watch video
RESOURCES FOR THOSE WHO HAVE LOST THEIR LIFE PARTNER Holidays are some of the hardest times for

those who have lost a loved one, whether it me a parent, a partner or a child. When author Lori Godsey Anzini is asked to describe the beginning of widowhood, the spirited survivor answers with one word – grief. But Anzini doesn't stop there. She joyfully adds that sunshine does indeed come after the rain. In her new book Escaping the Jaws of Life: A Widow's Journey to Happiness (published by AuthorHouse), she chronicles how she found joy after her husband succumbed to Parkinson's disease, and then brain cancer.
Lori has listed some excellent online resources on her webpage for those who would like to chat, blog, and correspond with other widows and widowers:
Widowed Village - http://www.widowedvillage.org
The Widda Hood - http://www.thewiddahood.com/
Soaring Spirits Foundation - http://sslf.org/index.html
Camp Widow - http://www.campwidow.org/
Widows Wear Stilettos - http://www.widowswearstilettos.com/


WHAT IS IT LIKE TO DIE?


' What is it like to die? The actual transition from physical life to purely spiritual life is quite painless and is, frequently, a moment of great happiness. The encumbering weight of the physical body falls away. One feels light and often experiences a floating sensation as one moves upward. All pain, if there had been any, ceases. This departure from the earthly shell may be compared with passing through a doorway or, more accurately, a veil. This veil, at the moment of death, is a thin one and many people are hardly aware of it. So tenuous is it that some who have passed through it cannot believe or accept that they have died and try to carry on as they did on earth. The latter are usually materialistic in outlook and have no understanding of their spiritual reality. Finally, to quote the great Carl Jung, "One should look forward to one's death with the same joyful anticipation as one looks forward to next week." From Alan Valiant's Why Believe When you can Know.

WE REMEMBER JOHN SLOAN: WE SALUTE ONE OF THE

GREATEST MEDIUMS WHO EVER LIVED: John Sloan, from Scotland, was the regular medium for Arthur Findlay in the nineteen thirties until his death. He was a particularly gifted materialization medium. Arthur Findlay wrote of him: "John Campbell Sloan passed on peacefully on Thursday, 24th May 1951 at the age of 82. For nearly fifty years he put his mediumship at the disposal of humanity without asking for reward or praise. Many have obtained an enlarged outlook, and received renewed hope and comfort, because he lived. In all humbleness and modesty he gave freely and expected nothing." Download a pdf copy of Findlay's great classic work describing the mediumship of this remarkable man. On the Edge of the Etheric.



THE POWER OF FORGIVENESS There are so many incredible stories of forgiveness coming up in the 20th anniversary of the Rwandan genocide. Here is one of them.