July 22nd 2011
Apologies if I have not replied to your email.


REPORT in 50 languages including - French, German, Spanish, Italian, Swedish, Dutch, Portuguese and Hungarian - and many others. Be very patient with the grammar of these automatic translations.
COMMENTARY: THE NEED FOR PSYCHIC

EDUCATION AND DISCRIMINATION
Over the years I received complaints that particular psychics were completely wrong in what they had said in "readings". Whilst there are some brilliant mediums and psychics, not all mediums and psychics have sufficient knowledge, training and experience to be working publicly. Some who may be very sincere don't know how to tell the difference between working as a psychic (picking things up from your aura) and as a medium when they are getting information from a spirit person and holding the link. This is different from those who are trying to 'make a buck' by pretenting to be psychics using cold reading.

But there is a responsibility on the client as well to use discrimination and to realise that any reading of the future is just a potential- nothing is set in stone. There are some clients who do not look for evidence and are only too willing to surrender their power and unquestioningly accept anything they are told without the slightest bit of discrimination. Clearly there is a need for solid education in the workings of mediumship and the lessons from its history and philosophy amongst psychics mediums and members of the public who consult them.



PART 5 : LAWYER'S CROSS-EXAMINATION OF INSTIGATOR OF THE GREATEST $1m HOAX IN PARANORMAL HISTORY: Subscribers are enjoying these highly entertaining cross examinations. One huge problem for ANY closed-minded skeptic highlighted this week is the testimony of senior police officers who confirm gifted psychics help them with physical evidence to convict criminals and to find missing persons.
Click here for this week's PART 5



Part 1
Part 2
Part 3
Part 4

Next week Part 6:
Comments on cross-examinations welcome vz@victorzammit.com


DR BRUCE GREYSON- EVIDENCE OF LIFE AFTER DEATH





SEANCE WITH DAVID THOMPSON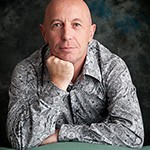 Last Saturday night we had another sitting in Sydney with materialization medium David Thompson- just like a gathering with old friends.
Once again we experienced the most marvelous proof of the afterlife - personal reunions with loved ones who have died. Two fathers materialized and talked with their daughters - one had been crossed over for only a couple of weeks. A spirit claiming to be Leslie Flint came through to talk to a friend- someone who knew him well for many years. Just a regular Saturday night with a group of spirit friends who are as natural and real as you and me. You can learn more about David's work from a recent recorded interview on his website http://circleofthesilvercord.net/



THE BOOK OF MEDIUMS
By Alan Kardek published in 1861 is the second of the five

Fundamental Works of Spiritism and essential reading for anyone wanting to develop mediumship, especially those sitting for phsycial mediumship. It is intended to be actual handbook for would-be mediums, containing doctrine and practices that one must master in order to become a medium, an elementary course on theories and basic methods to assess the new light that had never been tried by rational inquiry before: the interaction of the physical and spiritual worlds. Read online...


ANTHROPOLOGISTS INVESTIGATE LIFE AFTER DEATH The Afterlife Research Centre (ARC), founded by

Fiona Bowie (pictured) is a group of academics based at the University of Bristol. They aim to promote "ethnographic and anthropological" approaches to the study of the afterlife and related beliefs and phenomena. A recent post on their interesting website echoed something that we discovered in our research:
" We are struck by the consistency of many views of the afterlife,whether from ancient or more recent religious teachings, from mediums and clairvoyants, from physical sciences and reports of near death experiences and from data acquired by means of hypnotic regression. Using these disparate sources we can begin to map the territory of the life after death, to explore similarities and differences, and to ask questions about their meaning and relevance." Audios of the presentations given at their recent 2011 conference are available online



MARIE CURIE PSYCHIC INVESTIGATOR


Marie Curie participated in experiments with the medium Eusapia Palladino. According to the Occultism & Parapsychology Encyclopedia, "The Institut Général Psychologique of Paris carried on extensive experiments in 43 sittings from 1905 t...o 1907. Pierre and Marie Curie were among the investigators. ... The Curies regarded mediumistic séances as "scientific experiments" and took detailed notes. According to historian Anna Hurwic, they thought it possible to discover in Spiritualism the source of an unknown energy that would reveal the secret of radioactivity. "




A LAWYER'S NEAR DEATH EXPERIENCE
Nanci Danison led a fast paced life, filled with pressure as a "top firm" attorney in a prosperous Columbus, Ohio law firm. That all changed following a near death experience in 1994. Thanks to Christopher's Cosmic Egg blog for this.




CROP CIRCLES Like many people we have always been impressed by the

paranormal phenomenon of crop circles which have been found in some 70 countries. I do not accept that they are man made. This video shows the intricacies and meticulous design of the crop circle- no human would have the skills and the technical competence to do such an alluring complex design in the dead of night. How they are made – no-one knows the full story. All I know it will take super-intelligence and super high-tech skills to do these brilliantly designed crop circles. There are those who claim that Extra Terrestrials are responsible for these crop circles. Yes, maybe. All I know is that it is vastly beyond human competence. We must keep our minds open - it seems that someone or something is trying to send us a message of some sort.





PSYCHIC DETECTIVES - SENIOR POLICE OFFICERS CONCEDE PSYCHICS ARE REAL: After working with gifted psychic Frank St James, Police Captain William Gawron of SAYREVILLE Police

Department confirmed about this psychic, "I was skeptical at first … I still don't how they do what they do … but I certainly would work with a psychic again in the future." Detective Novak of Sayreville Police says, "St. James does indeed have special (psychic) powers … I certainly would like to have that power in my job!" The case involved the killing of a young woman, Nicole Arochas. The psychic was deadly accurate with a number of things: there were red and black cars involved (later it was confirmed that the black car belonged to the victim Nicole Arochas) and the red car belonged to the male – Michael Reid - who injected Nicole Arochas with excessive drugs. The body was not far from a railway track and water. Psychic Frank St James also drew a picture of the location for the police where the body of Nicole and her black car were to be found. Police organized the search and found the body and the car. The two investigating the case, Captain William Gawron and Detective Novak both acknowledged the psychic was critical to the solving of the case. ( Psychic Detectives Court TV "Pushed Too Far" Originally aired 8/15/07)




PSYCHIC WIFE SAVES GENERAL GRANT


A few days after General Ulysses S. Grant accepted the surrender of Confederate General Robert E. Lee, Washington was celebrating. Attending the festivities were Grant and his wife, Julia. The morning after a reception to honor Grant, Julia woke with an uneasy feeling and a strong desire to return to their home. Grant, who was

committed to attend various functions, gave into his wife's urgings and left Washington that evening. The Grants were to sit next to the Lincolns at the Ford Theatre that night. When they reached Philadelphia they got word of the President's assassination. They also learned that Grant was listed as one of John Wilkes Booth's victims.Read more about famous psychic premonitions


A FAVOURITE COMEDIAN- DAVE ALLEN- ON RELIGION ( Catholics found him funny too!!)

HUMOR IN THE AFTERLIFE:


" There are scientific gentlemen and great philosophers on earth whose knowledge and talents have gained them almost world-wide renown....Consequently, their views are asked upon every subject under the earthly sun; however far beyond the orbit of their knowledge and experience, it matters not.
Not infrequently, some of these gentlemen will dignify the columns of some journal with the fruits of their wisdom...'No, I do not believe a next world exists for the simple reason that no one has ever come back from it to tell us so'. Such an answer as that, my dear friends, can shake the spirit world, and cause whole realms to roar. For we can see the truly funny side of such a portentous declaration."
(See HEAVEN AND EARTH by Catholic Mons. Hugh Benson directly from the afterlife as recorded by medium Anthony Borgia).
DR BETTY KOVACS- THE MIRACLE OF DEATH
Dr. Betty J. Kovacs, author of The Miracle of Death, is a credible woman and scholar. She has written about life after physical death based on her family's personal experiences, including precognitive dreams, visions, after-death communications. She will be a guest on the Family Forever radio Special 5th Anniversary Program Signs of Life next Thursday 28th July 7pm Eastern USA time.


IANDS CONFERENCE SEPTEMBER 2011- EARLY BIRD REGISTRATION CLOSES JULY 1
The conference will focus on the aftereffects of near-death experiences. For many people, the aftereffects of their NDE, including psychological, physiological, social and spiritual, are wide-ranging and profound: their lives are changed forever. The conference will include presentations from the perspectives of NDErs, scientific research and spirituality. This year is our 30th birthday, so we will also celebrate a Happy 30th Birthday to IANDS! Read more...

IMPORTANT AFTERLIFE 2012 CONFERENCE IN

VIRGINIA BEACH VA. Terri Daniels (pictured) writes: The Second Annual Afterlife Awareness Conference! Registration is now open. We are delighted to announce that the 2012 conference will be held in Virginia Beach, VA., home of Edgar Cayce's Association for Research and Enlightenment (A.R.E). In addition to a great lineup of top-tier presenters, workshops and activities, our agenda will include tours and presentations at A.R.E. We are honored to have some of top afterlife researchers in the world on our roster of presenters, including Dr. Raymond Moody, Dr. Melvin Morse and Dr. Stuart Hameroff. We'll also have a special presentation by noted psychic medium Suzane Northrop, as well as numerous other impressive speakers and inspiring activities, with more being added every day. FULL DETAILS AND REGISTRATION.


NEXUS CONFERENCE 2011 Nexus magazine is for those

who are interested in information about the afterlife, health breakthroughs, future science and technology, suppressed news, free energy, religious revisionism, conspiracy, the environment, history and ancient mysteries, the mind, UFOs, paranormal and the unexplained.

The 2011 NEXUS Conference will take place at Novotel Twin Waters Resort on Queensland Sunshine Coast, Australia. The conference will run from Saturday 23rd July until Monday evening 25th July. A number of international speakers will be addressing the conference - Linda Moulton Howe, an Emmy award-winning investigative American journalist will also be addressing the conference. Barry Eaton host of Radio Out There will be talking about his book THE AFTERLIFE.



FEEDBACK: 1) Thank you to Medium Susan Wilson for adding the following to her website
" Victor Zammit is an Australian attorney who carefully documents the findings of scientists & other professionals who systematically investigate the afterlife & psychic phenomena. Victor is doing humanity a great service. Reading his weekly newsletter is your master class on the afterlife."

2) Thank you for another very interesting report. I am also happy to see that you mention Martinus in this report. I don´t know if you have got time to read more, but if I remember right I sent you some links in English. I send them again here:
Martinus 1 Martinus 2 Martinus 3 Martinus 4 Martinus 5
This autumn it will be published an interesting book in English by Leif Pettersson where he tries to create The Theory of Everything with the help of Martinus Cosmology. If he manage to do that he has succeeded to do what even Dr Hawkings has failed J. Martinus 6
One of his books in English is about reincarnation and the eternal life http://www.martinus.dk/en/martinus-writings/shorter-books/
With warm summer greetings from Sweden!
Pia Hellertz Fil.dr. PhD, socionom

3) A comment about our Facebook discussion group which now has 2149 members...If you're on Facebook please drop by.
" What an awesome place to visit. It's so great to read all of these comments from like minded people. What an open and friendly atmosphere. So inspiring!! " Luke.


See Victor on Video



Subscribe to Victor's Youtube Channel:



* Ghosts- Randi and closed minded skeptics when they die
* James Randi's Challenge Exposed ... Lawyer Explains
* God--the Evidence (Without Religion)
* Afterlife Without Religion
* What Happens When you Die
* Afterlife and Science
* Near Death Experiences- Evidence of the Afterlife?
* Victor Zammit speaking at Speakers Corner
* Skeptics Demolished
* Afterlife Objections Demolished
* Why Professor Richard Dawkins is Wrong
* What You Must Know Before You Die
* David Thompson's Materialization
* Million Dollar Challenge
* The Afterlife on Trial
* A Lawyer on the Afterlife
* Suicide is not the answer
* Religion and the Afterlife