August 12th 2011
Sincere apologies if I have not replied to your email. I have been inundated with very urgent work these last two weeks.


REPORT in 50 languages including - French, German, Spanish, Italian, Swedish, Dutch, Portuguese and Hungarian - and many others. Be very patient with the grammar of these automatic translations.

COMMENTARY: SENIOR POLICE OFFICERS WHO WORKED WITH PSYCHICS CONFIRM THERE ARE SOME PSYCHICS AND MEDIUMS WHO HAVE GREAT PSYCHIC GIFTS.


Not too many people fully understand the great impact senior police officers, including police captains, detectives, senior detectives and other police officers make when they validate the work of psychics and mediums. We are very impressed when these senior police officers from around the United States say words to the effect, "I was skeptical ... but after working with the psychic I now accept the great contribution a psychic makes in helping to close our cases." I have on record some THIRTY SIX SENIOR POLICE OFFICERS from different States reflecting that sentiment. This is a huge boost for the psychics and mediums who help the police. Sad that some uninformed police elsewhere do not take advantage of the work of the gifted psychics - and

are left with many unsolved crimes. I would like you to have a close look at this list taken from the television series
PSYCHIC DETECTIVES. I quote the police IN THEIR OWN WORDS praising psychics for their great contribution to providing relevant physical evidence.


RETIRED POLICE OFFICER SUPPORTS USE OF PSYCHICS as Annette Martin explains how she used psychomtery to solve a 35 year old case.

LAWYER'S CROSS-EXAMINATION OF INSTIGATOR OF THE GREATEST $1m HOAX IN PARANORMAL HISTORY: Subscribers are enjoying these highly entertaining cross examinations. This week - when Randi was caught cheating on television and why he cannot duplicate the brilliant psychic work of America's voted number one psychic Michelle Whitedove ...and other ...
Read this week's PART 8
Part 1
Part 2


Part 3
Part 4
Part 5 (Revised - Police v skeptic J.R.
- 8 more police cases)
Part 6
Part 7

Next week Part 9:



THE INSTITUTE OF NOETIC SCIENCES- What is Consciousness? For almost 40 years, the Institute of Noetic Sciences has explored the fundamental powers and potentials of consciousness using the tools of basic science. This video produced for the recent IONS 2011 Conference explains how. Read more..



WHAT HAPPENS WHEN WE DIE?
Afterlife Data http://www.afterlifedata.com/ claims to be the largest database of afterlife Description and Analysis on the Internet. It sets out its mission as follows:



"This web site is a compilation of information on the afterlife and other related critical concepts, such as the purpose of life and reincarnation, as they relate to souls here on earth. We have not created this site to convince anyone of the validity of this information, we simply invite you to read through the data, explore the sources we have used and visit other sources to learn more. Using spirit sources from Afterlife101.com and respected authors like Michael Newton, Allan Kardec, Jane Roberts and others, the results of our first investigations reveal 94.8% agreement on a variety of very specific topics. We believe this web site contains the largest correlation of spirit communications about the afterlife, all from respected sources, available anywhere. We will continue to expand this data as information is made available to us and our research expands."



DR BRIAN WEISS SAME SOUL MANY BODIES
Art Bell conducts an interview with Dr Weiss who in part 3 discusses two fascinating case of Xenoglossy as well as the Jenny Cockell case. In Part 7 he discusses animal survival.


Part 2 Part 3 Part 4 Part 5 Part 6 Part 7 Part 8 Part 9 Part 10
Part 11 Part 12




WE SALUTE PIONEER MEDIUM REVEREND STAINTON MOSES


William Stainton Moses (1839–92) was an Anglican clergyman. On March 30, 1873, spirit messages started coming through Moses' hand by means of "automatic writing." This method was adopted, Moses was informed, for convenience purposes and so that he could preserve a connected body of teaching. Those teachings were compiled in two books, Spirit Teachings, published by Moses in 1883, and More Spirit Teachings, collected and published after his death in 1892. Both books are regarded as Spiritualism's greatest classic containing the religious, philosophical and ethical implications of Spiritualism, as viewed by the spirit world. The communicators, by their logic, compelled their medium to abandon, stage by stage, his orthodox religious beliefs. They gave clear evidence of their high purpose and furnished him with irrefutable proofs of Survival.


CONNECTED BY A SILVER SILVER CORD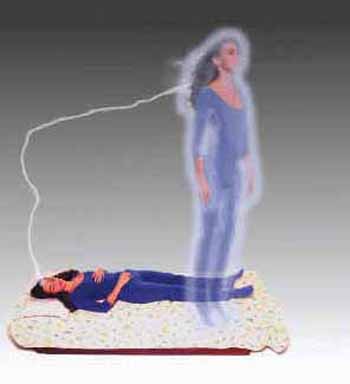 Stainton Moses wrote that sometimes when he was receiving "automatic writing" he would find himself outside his body " standing in spirit near to my body, which was seated holding the pen before the table on which this book was placed. I looked at it and the arrangements of the room with great interest. I saw that my body was there, and that I was joined to it by a thin line of light. Everything material in the room looked shadowy, and everything spiritual seemed solid and real." He claimed that in this state he could see the spirits who were influencing his writing and that the pen moved " by directing on to the pen a ray which looked like blue light." Read more in Michael Tymn's "interview" with Stainton Moses.



SKEPTICAL CNN PRODUCER STUNNED BY READING WITH MEDIUM LISA WILLIAMS

WHAT'S THE POINT OF PHYSICAL MEDIUMSHIP?


A subscriber wrote this week asking what is the point of sitting in the dark to see tables moving and trumpets and other objects moving around. We would completely agree if that was all that physical mediumship involved. But physical mediumship- the raps, taps and movement of objects by spirits, is a necessary preliminary to many kinds of objective spirit communication- direct voice mediumship, transfiguration and materialization- things that can be seen or heard by everyone present which provide both incredible evidence of the afterlife and great comfort to those who have lost a loved one. And of course there is the immense privilege of speaking with people who are already in the afterlife and can give you information about conditions there.

And hopefully once people really understand that there is an afterlife and they will be accountable for what they have done in their lives they will choose to live in a more spiritual way.

Listen as David Thompson's spirit team leader, William, explains his purpose in working with David to produce physical mediumship.
Listen... and read transcript


PHYSICAL MEDIUMSHIP GROUPS
We are pleased to report that there is a resurgence of interest in physical mediumship in England, Europe the United States and Australia. Far from being something that died out years ago physical mediumship is alive and well and there are a number of dedicated circles developing in private and several which are starting to demonstrate publicly. Some of the mediums are using ectoplasm and some are energy based.
Read a report on a physical mediumship seance with Bill Meadows by biologist and Author Dr M Mnahm In Basle, Sept 2010.


QUESTION: NATIONAL SECURITY: I'm into the afterlife – and I know I have to be careful what work I do. I read you have experience in these matters. I would like to join the national security service. Any views on it?

Victor: I'd recommend you to proceed only if you have certain

qualities. As a full-time field operative you would need to be highly intelligent and a whiz at computing, be super fit, have high creative intelligence and languages – at least one foreign (Asian) language would be desirable. You must also have some sharp, highly persuasive acting ability as you may have to become a convincing 'professional liar' at the highest level. Further, forget it if you do not have some psychic and high sharp intuitive skills. Some remote viewing skills would be of great assistance. Ideally, your intuitive abilities would have to be sufficiently advanced to be able to identify foreign operatives when you see them. You'd also have to know immediately if someone you meet is not who he/she claims to be - and be able to detect 'disinformation' received from foreign intelligence agencies. Top operatives in some intelligence agencices can do that. Another important issue - within every intelligent service there will be a great concern for infiltrators and traitors sometimes at the highest level. This means you would have to be careful what to say and be highly sensitive to what work you would be asked to do. These are just some of the attributes of professional national security operatives. And there is always the likelihood of being expected to engage in "dirty work" where you have to follow the adage, 'the end justifies the means'. We know, that nobody gets away with the Law of Cause and Effect – and if a 'wrong' thing is done, GUARANTEED, a price would have to be paid, sooner or later. Ultimately, it's your decision.



THE MOST EVIDENTIAL NEAR DEATH EXPERIENCE EVER? Pronounced dead immediately after he was hit by a car in an assassination attempt in 1976, George Rodonaia was left for three days in a freezer. He did not "return to life" until a doctor began to make an incision in his abdomen as part of an autopsy procedure. While "dead" he communicated with a newly born child and learned she had a dislocated hip, something that was later confirmed.
In this second video George talks more about his experiences out of his body. Prior to his NDE George worked as a neuropathologist. He was also an avowed atheist. Yet after the experience, he devoted himself exclusively to the study of spirituality, taking a second doctorate in the psychology of religion. He then became an ordained priest in the Eastern Orthodox Church. He served as a pastor at St. Paul United Methodist Church in Baytown, Texas before his death in 2004.



NO PROBLEM LASTS FOREVER


"No problem lasts forever. No matter how permanently fixed in the center of our lives it may seem, whatever we experience in this ever-changing life is sure to pass. Even pain. Difficult situations often bring out qualities in us that otherwise might not have risen to the surface, such as courage, faith, and our need for one another. All of our experiences can help us to grow. But we may need patience. Some wounds cannot be healed quickly. They must be given time. In the meantime, we can appreciate the new capabilities we are developing, such as the capacity to mourn and the willingness to accept. Let us share our losses and triumphs with each other, for that is how we gather courage." (From Courage to Change: One Day at A Time in Al-Anon II, page 77).



NARAYAN KRISHNAN- THE JOY OF GIVING
William Gladstone (1809-1898) said: "We look forward to the time when the Power of Love will replace the Love of Power. Then will our world know the blessings of peace."

FEEDBACK:

1) Dear Victor
Thank you for your weekly reports, and I am truly engrossed in them-been receiving your reports for a number of years now, have never missed anyone of them. You have changed my life-you have opened the path of truth and righteousness. I thank you for that. In time I shall spread your wonderful message to others, and to the skeptics as well. The truth will prevail no doubt about that! Thank you Victor and Wendy Zammit for your kind commitment towards mankind's development in spiritualism.
Regards
Mahen
2) I love your reports! I have weeks worth to catch up on and think they are simply amazing! Have a wonderful weekend Victor :) Suzie.

3) Dear Victor

I finished your book this morning and just wanted to let you know I loved it. I have read numerous books in the search for proof of life after physical death and although some were very convincing, this was the most reassuring text I have read to date. I love your website too and would just like to say thanks for the reassurance received from your book and your website.
Kind regards
Gillian


See Victor on Video
Subscribe to Victor's Youtube Channel:



* Ghosts- Randi and closed minded skeptics when they die
* James Randi's Challenge Exposed ... Lawyer Explains
* God--the Evidence (Without Religion)
* Afterlife Without Religion
* What Happens When you Die
* Afterlife and Science
* Near Death Experiences- Evidence of the Afterlife?
* Victor Zammit speaking at Speakers Corner
* Skeptics Demolished
* Afterlife Objections Demolished
* Why Professor Richard Dawkins is Wrong
* What You Must Know Before You Die
* David Thompson's Materialization
* Million Dollar Challenge
* The Afterlife on Trial
* A Lawyer on the Afterlife
* Suicide is not the answer
* Religion and the Afterlife




SOMETHING INSPIRATIONAL- LOVE CHANGES EVERYTHING from Phantom of the Opera sung by Michael Ball.