COMMENTARY: THE IMPORTANT MIND-BRAIN DEBATE CONTINUES: These days level headed scientists, experimenters and afterlife investigators who can perceive the paranormal in a balanced way have no problem at all accepting that the physical brain is totally different and separate from the MIND. The physical BRAIN dies when the physical body dies. But the MIND continues to live with consciousness – and the MIND retains all memories gained on earth. All evidence for the afterlife is also evidence for the continuation of the existence of the MIND. Not too many people know of the huge potential of the MIND. As 'vibrating energy', the MIND can never be destroyed. Transmitted information

tells us that in the afterlife dimensions there is no limit how far the MIND can develop. In the higher realms the MIND has the power to create matter on a huge scale – as THOUGHT in the afterlife, through the MIND, creates matter. More about the MIND-BRAIN debate –read more …



DR STANLEY KRIPNER ON DREAMS AND NON-ORDINARY STATES OF CONSCIOUNSESS
INTERNATIONAL REMOTE VIEWING ASSOCIATION:

IRVA is a non-profit organization dedicated to promoting the responsible use and development of remote viewing. We are an independently formed member organization of scientists, remote viewing professionals, students, and other interested persons. For more information, read the Letter of Invitation from Professor Russell Targ, President Emeritus of IRVA. Remote viewing is a novel perceptual discipline for gaining information not available to the ordinary physical senses. Used extensively by so-called "psychic spies" during the Cold War for classified military projects, it has a long history both as an intelligence gathering tool and as the subject of research and applications in the civilian world. Remote viewing has now taken a long step into the public domain with the formation of a professional association to educate, research, propose standards, test performance, and promote public awareness of this unique human mental capacity.
For those who missed the 2010 IRVA Remote Viewing Conference, DVD videos of the proceedings are now available in the IRVA Video Store. The complete set of 13 DVDs are available for $259 (a 20% discount), or individual presentations can be purchased for $24.95 each.
The 2010 offerings include presentations by Lyn Buchanan, Courtney Brown, Alexis Champion, Jim Channon, Pam Coronado, Brenda Dunne, Donald D. Hoffman, Paul O'Conner, Bill Ray, Noreen Renier, Marty Rosenblatt, Stephan Schwartz, Paul H. Smith, and Russell Targ.
Read more .. http://www.irva.org/


EVIDENCE THAT NEAR-DEATH EXPERIENCES ARE REAL
1) Seeing objects not observable- The tennis shoe



2) Observing people at a distance and meeting unknown relatives
AFTERLIFE HISTORY: Professor Henry Sidgwick (1838-1900)


Professor of Moral Philosophy at Cambridge. First President of Society for Psychical Research and active member for eighteen years in it interests. He took a leading part in testing many famous mediums, including Henry Slade, Euspia Paladino, Mrs Piper. After he died in 1900 he came through a medium, Mrs Thompson, in a very characteristic manner in the presence of Mr Piddington. Other messages were received through the hand of Mrs Verrall. His wife and co-researcher, Mrs Eleanor Sidgwick, also took an active part as president and Hon Secretary of the SPR until 1931 and became convinced of the reality of survival and communication.

WHAT HAPPENS WHEN YOU DIE?

"Everyone will live after what you call death, not because of believing in a creed, a doctrine or dogma, but because it is an unalterable natural law. It has nothing to do with religion. It is a law as equal to the law of cause and effect. The evidence that is available to you will, if you are reasonable, convince you that life, because it is spiritual in essence, cannot end when death comes to the physical body." (Silver Birch, LSB, 69.)
"You will all live after you have 'died,' and you will not realize until then what it is to live or to feel the real glory of life untrammeled, free to rejoice in liberty of spirit which your imprisoned souls cannot understand today. "(Silver Birch, SBT, n.p.)


QUESTION: CHILDREN WHO DIE AT WAR: on television we see from time to time so many children who have been brutally killed during some war – what happens when children die as a result of war?


(Directly from the afterlife): "We gather up these young souls which

have been shattered by explosions, for those suddenly thrust from the body also feel the effect of this in the etheric body. We bring them to great gardens and pools of peace, and special healers look after these child souls. After a long period of rest and correct teaching, in which they learn to absorb again the etheric atmosphere, the etheric body can be healed and restored, and the expansion of the love and mental bodies continued. We understand their needs, and if in some future time they desire to take again the earthly experience they will enter it without fear or shrinking, but with love and understanding".(From Wisdom of Ramadahn through the mediumship of Ursula Roberts),



WINDBRIDGE CERTIFIED PSYCHIC MEDIUM JOANNE GERBER and SPIRIT ARTIST RITA BERKOWITZ

QUESTION ON 'TIME' IN THE AFTERLIFE DIMENSION:
"Do I presume there is no 'time' in the afterlife dimension as we know it?"
Directly from the afterlife: "No, because your relationship to time is

governed by the rotation of the earth round the sun which gives you day and night and seasons. We are not subject to earth's rotations, therefore we do not have day and night and different seasons. Time, as you know it, does not exist for us. We live in what can be described as an eternal present....... As far as we are concerned the past and future are part of the eternal present. It is not so difficult if you realize what happens in sleep, when your mind is freed temporarily from physical limitations. In your dreams you defeat these limitations altogether, and travel vast distances. You annihilate time, as you understand it in your world. And all of this happens within seconds or minutes. (Light FROM S.BIRCH)


CARE NEEDED WITH 'ECTOPLASM'
It is an incredible privilege to sit with a physical medium. To be able to talk directly with someone in the afterlife is the most spectacular life changing experience. But many people don't realize that the 'ectoplasm' (special energy) being exuded from a physical medium is a living substance which if exposed to light or touched at the wrong time shoots back into the medium's body with tremendous force, causing massive internal injury. While 99% of people applying to sit with a physical medium are genuine and understand the need to observe safety precautions there is, sadly, a need to guard against skeptics going to a session with the deliberate intention

of "exposing" the medium by grabbing the materialization. As a lawyer, I advise anyone organizing materialization sessions to insist on absolute proof of identity, and have all visitors sign a document that states they will be legally (and criminally) liable if they do not follow the strict protocols. Physical mediums are so rare that they must be protected at all costs.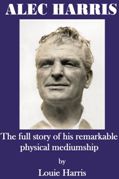 HISTORY: PHYSICAL MEDIUM SERIOUSLY INJURED BY SKEPTICS
This is what happened when two skeptical jounalists obtained tickets to a seance from someone else who had bought them.

" Eventually, it was the turn of one of the substitute sitters to be greeted. As Rohan (the materialized spirit) was about to take his hands in welcome, the man sprang forward and grabbed him! Throwing his arms around the spirit figure, he held on to him tightly, shouting, "I've got you!" The sitter was obviously convinced he had captured the draped medium in the act of duplicity, masquerading as a spirit form.

As Rohan's figure quickly dematerialized there was a loud groan from Alec in the cabinet. Then came a cry of pain as the ectoplasm swiftly returned to his body with the impact of a sledge-hammer. The treacherous sitter fell dazed to the floor as the "solid" body he had held so tightly minutes before disappeared. I threw myself on him, desperately flailing with my hands, sobbing: "Oh don't! You'll kill my husband! You fool, you'll kill him!"

The man looked up at me, his eyes wide, terrified. The realization dawned on him it had not been the medium he had grasped, but what it purported to be, a fully materialized spirit form. " Read the full story of what happened.


WISE OLD SAYING:
GROWING older is mandatory.
GROWING up is optional.

We make a Living by what we get.
We make a Life by what we give.



ESPIONAGE: THE LAW OF CAUSE AND EFFECT - this

law applies to EVERYONE - to professionals and non professionals. This universal law has been in existence from time immemorial and NO ONE has the authority to change it. When I was going interstate I came across this concept raised by someone I know who was in espionage in Europe - now retired. He says he was involved in some mean 'dirty work' - being wilfully cruel to other people who may or may not have been 'enemies'. He's feeling very guilty, and it is worrying him a lot these days. My answer was that the Law of Cause and Effect works with 'mathematical precision' - and one time in the future, he will be made to experience all the pain, suffering and inconveniences he wilfully caused others. No one gets away with it I told him, no one. As he was a Catholic he raised the question of going to confession and getting a priest to forgive his 'sins'. I told him 'confessions' can NEVER wipe out the Law of Cause and Effect. The priests have NO POWER to 'wipe the slate clean'. Otherwise there would be mockery of cosmic justice. To make it easier on himself I stated he's got to go back to those people he violated and ask for forgiveness otherwise in the afterlife, at best, he could get stuck for eons of time in most unpleasant conditions - in a dirty hovel type environment where the stench alone would be obscenely unbearable.
US CATHOLIC PRIESTS TO PAY $166 MILLION FOR SEXUAL ABUSE OF NATIVE AMERICANS. An order of US

Catholic priests has agreed to pay $166.1m (£103.3m) to hundreds of Native Americans sexually abused by priests at its schools. The former students at Jesuit schools in five states of the north-western US said they were abused from the 1940s through the 1990s. Under a settlement, the Society of Jesus, Oregon Province, will also apologize to the victims. The order had argued paying out abuse claims would cause it to go bankrupt. "It's a day of reckoning and justice," Clarita Vargas, who said she and two sisters were abused by a priest at a Jesuit-run school for Native American children in the state of Washington, told the Associated Press. "My spirit was wounded, and

this makes it feel better." The province ran schools in the states of Alaska, Idaho, Montana, Oregon and Washington. Most of the alleged victims were Native American. Much of the alleged abuse occurred on Native reservations and in remote villages, where the order was accused of dumping problem priests. Read more ...


THREE MEDIUMS IN SYDNEY


Friday 29th April 2011, 7.30pm
Comfort inn, Hunts Conference Centre Hume, Hwy Liverpool
Saturday 28th May 2011, 7.30pm
Country Comfort, 154 Terrigal Drive,Terrigal Beach
TICKETS: $35p.p
Read more and bookings....

OUR NEW WEBSITE SECTION- AFTERLIFE SCIENCES


On our website www.victorzammit.com we are building a new section www.victorzammit.com/evidence - a multi-media introduction to the evidence for the afterlife. Hopefully it will be one of the first sections that people go to when they come to the website.