SEPTEMBER 18TH 2015


Last week's report and all previous reports
COMMENTARY: AVOID THE TRAP - WE ARE NOT 'BELIEVERS', WE ACCEPT THE EVIDENCE I receive emails from

people asking for assistance to suggest ways to tell their skeptical loved ones about the afterlife. First I suggest that you agree with them that it's important to be an open-minded skeptic and to test any claim that comes to them.

While emphasising to them that the personal experience is what really counts, try to get them to agree to keep an open mind. It is important to remove stubborn, irrational skepticism which can prevent people from even seeing the evidence. One way is to point out that in the last hundred years there has been an accumulation of evidence for the afterlife which has never been disproved. You can also mention that whereas religion relied on 'faith' and 'belief' nowadays accepting the evidence for the afterlife has nothing to do with belief. That is hugely important because there are many skeptics who mistakenly think that those who accept the afterlife are 'believers'. Do not fall for that one.

Emphatically NO! Tell skeptical loved ones - and others like them - that we:
a) ACCEPT THE EVIDENCE of the afterlife, that
b) the afterlife evidence has never been disproved,
c) that the afterlife has huge consequences,
d) there would be some people, who, because of their stubbornness will become adversely affected for a very long time when they cross over,
e) that scientists of the highest caliber accepted the afterlife AFTER they investigated (chapter 2 of our book A LAWYER PRESENTS THE EVIDENCE - afterlife).
f) encourage skeptical loved ones to read good quality afterlife material - such as the our Friday Afterlife Report.


A REVIEW OF OUR BOOK BY AN AMERICAN ATTORNEY "Hello, Wendy and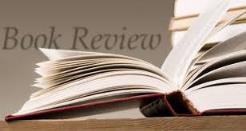 Victor, I have read the entire book. It is the most complete compendium of scientific work on aspects of human consciousness and its continuity which has yet appeared. You have done heroic work in assembling all this evidence. Your service to human knowledge is worthy of the highest commendation. You have brought manifold blessings to our beleaguered planet. Please accept my expressions of profound gratitude!" John F. Swensen J.D. Illinois USA.



REVIEWERS NEEDED We can't believe it has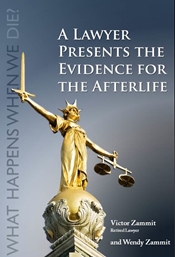 been over two years since we released our upgraded book. We get lots of feedback that people love the book (see previous item) and as a special offer this week our publisher is offering 20 subscribers a free electronic copy of the book in return for a short review on Amazon.com, Amazon.co.uk or another online bookshop. If you have an account on one of the online bookshops and are willing to write a review email info@whitecrowbooks.com
NEAR-DEATH EXPERIENCES OF AMERICAN VETERANS
Dr. Diane Corcoran
,
president of
IANDS
, talks about the needs of veterans who have NDEs. In the second half, experiencer Robert Caplan talks about his NDE experience while in the Navy.

AFTERLIFE CONSISTENT WITH QUANTUM PHYSICS "I believe that the findings of quantum

physics increasingly support Plato, who taught that there is a more perfect, non-material realm of existence. There is evidence that suggests the existence of a non-material, non-physical universe that has a reality even though it might not as yet be clearly perceptible to our senses and scientific instrumentation. When we consider out of body experiences, shamanic journeys and lucid dream states, though they cannot be replicated in the true scientific sense, they also point to the existence of non-material dimensions of reality." Prof. Fred Alan Wolf



DR. BRIAN WEISS LEARNS ABOUT PAST LIVES
In 1980, Dr. Brian Weiss was using hypnotherapy with a patient named Catherine to discover the roots of her paralyzing phobias. During one of their sessions, Dr. Weiss asked Catherine to go back to the time those phobias started. Instead of going back to childhood, she went back 4,000 years in time, to a past life. At first, Dr. Weiss, an Ivy League-trained psychiatrist, thought what she was saying was unbelievable. Then, Catherine said something that turned Dr. Weiss from skeptic to believer.



THE PROCESS OF DYING
Barbara Karnes, a hospice educator, claims that Western society no longer has models for the process of dying and grieving. She claims that fear and unfinished business make dying harder. Extremely valuable for anyone with loved ones approaching the end of life. If you are short of time start at 27 minutes where she begins to outline the signs and stages of approaching death from disease in the final 3 months.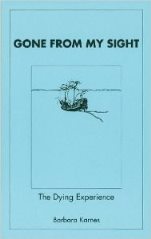 THE LITTLE BLUE BOOK
Barbara Karnes (see above) is the author of
Gone From My Sight: The Dying Experience
. It is well known in end of life education as "The Little Blue Book." This was the first, and remains the most widely used patient/ family booklet on the signs of approaching death. You can purchase this and
a kindle collection of her other useful booklets
from Amazon or
from her website
.

MORE INSIGHTS ABOUT THE DUPLICATE OF THE PHYSICAL BODY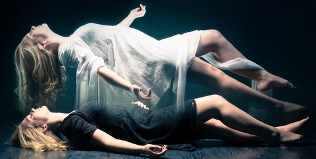 "...when the body sleeps, the spirit body (which resides inside the physical body) temporarily withdraws from it while still remaining connected to it by a magnetic cord [silver cord]. This cord is the veritable life-line between the spirit body and the earth body. The spirit thus situated will either remain in the vicinity of the earth body, or it will gravitate to [go to] that sphere which its earthly life, so far, has entitled it to enter. The spirit body with all consciousness and mind will thus spend part of the lifetime of the earthly body in spirit lands, visiting our loved ones and others we know." (Mons. Hugh Benson Life in the World Unseen).
RARE PHOTO OF A SILVER CORD
At the bottom of the photo you can see the silver cord coming out of scientist George Meek's physical body which now looks transparent (you can see the chair through his leg). His spirit body (out of sight behind the camera) is still attached to the physical body. The photo was taken in a room where there was no visible light.
Read technical details
.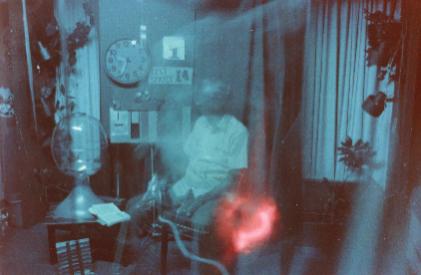 OUT OF BODY EXPERIENCES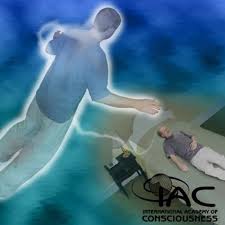 The International Academy of Consciousness is a non-profit research and education organization with a presence in 9 countries and 13 cities around the world. Courses on how to have an out of body experience and on the nature of consciousness are run in many countries. It has a research center located in southern Portugal for practice and research on out-of-body experience. Its founder, Dr. Waldo Vieira, began having out of body experiences at the age of nine and has been studying them for more than fifty years. Many resources are available on
the IAC website
.





MELODY KUZMAN FEELS HER FATHER IN SPIRIT SAVED HER LIFE





QUESTION: You mentioned recently what we must do to guarantee a safe place in the level of the Light when I cross over to the afterlife. But should we know what we must NOT DO to maximize our opportunity for going to the level of the Light?

Victor: Yes, I stated that selfless service, helping

those who really need help purely for the love of helping, and unconditional love and unconditional forgiveness will guarantee you a place in the Realm of the Light. But as what NOT to do, note carefully: keep away from cruelty - all kinds of cruelty to other people and preferably to every living thing. Also, abuse of power is very karmic and lowers our spiritual vibrations. And keep away from dishonesty and selfishness. One does not have to be absolutely perfect to gain the Light on crossing over - but practising the above mentioned will help all.

' UNDERSTANDING LIFE AFTER DEATH '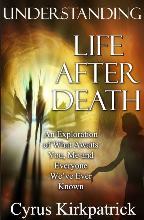 Wendy and I thoroughly recommend Understanding Life After Death. Cyrus Kirkpatrick writes in an easy to read, personal and conversational style which is very engaging. His grasp of the evidence for the afterlife is impressive as is his ability to penetrate the arguments of the pseudo-skeptics. His book contains excellent sections on the evidence for mediumship, near-death experiences, Leslie Flint, and his own experiences of out of body travel. As a young tech-savvy college-educated globe trotting writer, journalist and film maker, his is a wonderful fresh voice in the field of afterlife research. The book would be a wonderful gift for a college age friend or relative to counter the skepticism that pervades academia. Check out the contents.


WE ALL HAVE A SPIRITUAL GUARDIAN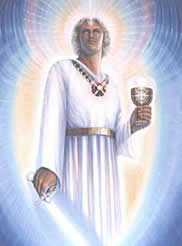 We have repeatedly been informed directly from the afterlife that we do have a protector or guardian while we live on planet earth. Whilst the role of the protector is to protect us, he/she is also responsible for helping us to fulfil our life plan. However the protector does not interfere when we exercise our free will. "Your spirit-protector is obliged to watch over you, because he has accepted that task; but a spirit is allowed to choose his ward among the beings who are sympathetic to him. In some cases this office is a pleasure; in others, it is a mission or a duty." (Allan Kardek, The Spirits' Book)
DIVALDO FRANCO - A MEDIUM IN THE BRAZILIAN SPIRITIST TRADITION is perhaps the most influential figure in Spiritism today. Like Chico Xavier, 87 year old Divaldo Franco is a brilliant psychic and medium (read more). To date he has writtten, in automatic writing, two hundred and fifty-five books, by two hundred and eleven authors now in spirit. Here are a few available in English.The proceeds from the sale of his books and lectures go to charitable work including his centre which has helped more than thirty-five thousand children. Spiritism claims to be philosophy rather than a religion and emphasises reincarnation, spiritual healing, mediumship and service to others. All practical Spiritism (mediumship, dissemination, fraternal assistance) is free of any charge (read more about Spiritism). This video is about Divaldo Franco's centre in Salvador da Bahia, a city on the northeast coast of Brazil.






INTERESTING, EDUCATIONAL AND HIGHLY ENTERTAINING! You are invited to hear Victor speak to Sydney skeptics.


Wednesday 23rd September 2015 at 8pm at the 'OPEN FORUM' IN SYDNEY, a venue where intelligent people meet to discuss controversial issues. There was a great deal of interest in the packed hall at my first meeting with the skeptics some time ago. I was invited to continue my presentation about the evidence for the afterlife. You are most welcome to join us and bring a friend with you. Let's have a really good night of fun full of exciting information. 100 meters off Broadway at 10 Shepherd St Chippendale. $4 includes supper.




See Victor on Video
* Subscribe to Victor's Youtube Channel:
* What Happens When you Die
* Afterlife and Science
* Near Death Experiences- Evidence of the Afterlife?
* What You Must Know Before You Die
* David Thompson's Materialization
* Million Dollar Challenge
* The Afterlife on Trial
* A Lawyer on the Afterlife
* Suicide is not the answer
* Religion and the Afterlife
* Ghosts- Randi and closed minded skeptics when they die
* Zwinge Randi's Challenge Exposed ... Lawyer Explains
* Why Professor Richard Dawkins is Wrong
* God--the Evidence (Without Religion)
* Afterlife Without Religion
* Skeptics Demolished
* Afterlife Objections Demolished
* Ghosts- Randi and closed minded skeptics when they die
* Victor Zammit speaking at Speakers Corner
* Materialized Houdini speaks to Victor





FEEDBACK: (Three only). Received always with thanks!

1) I love the wonderful Afterlife Report that you produce each week. It always sends me off in a new and interesting direction, and opens my mind and heart to so many fascinating new ideas. Thank you so much for your contributions to our understanding of the Afterlife--et al! Mary Catherine Massachusetts USA.

2. WOW! Child artist Akiane...amazing, fantastic!!
Tricia
3. Dear Victor and Wendy,
First of all i´d like to send you greetings from Austria. I´m happy to receive your newsletters - its a very good source for my work.
I´ve lost my beloved wife and mother of 3 small children, Manuela, 3 years ago in a car accident. Manuela has sent us many messages, especially through our smallest son (he was 2 at the time of her death).
Till now i found my way in the books of
Gurdijeff
, Bennet,
P.M.H. Atwater
and receive really good results with
hemisync
and
yoga nitra
. What was also very helpful was my education in
logotherapy by Victor Frankl
and last year i did an education in
IADC by Dr. Alan Botkin


I have found a really very outstanding book which i would like to recommend to you and your readers - it´s not yet another story, for me it´s has been the best description of what i and we´ve done as a family …. (of course not exactly the same). So here´s my book recommendation:
Love is Stronger than death: the mystical union of two souls
by Cynthia Bourgeault.
Thomas Oberlechner
INSPIRATIONAL MUSIC: LOVE IS MY RELIGION
We are told that in the higher realms of the afterlife there are no religions as we know them - only love.

Whilst we encourage and we publish many papers and reports by afterlife researchers, we are not in a position to guarantee the accuracy of all claims. We accept the imputed claim that the afterlife and paranormal research done by the researchers is done in good faith. ALL WORK IS COPYRIGHT BY THE CONDITIONS SET AT THE GENEVA CONFERENCE ON COPYRIGHT.